Mold Removal in Winchester
When you experience water damage in your home, mold growth often accompanies it. Even the smallest plumbing leaks can create the warm, damp conditions where mold grows best. If you are concerned about a mold infestation in your home, call the professional technicians at ServiceMaster of Winchester right away.
We provide expert mold removal and remediation services to homes and businesses throughout the area, including mold inspections, abatement, and restoration services for mold damage. Our team is available 24/7 because, when it comes to mold in your home, time is of the essence.
Want reliable mold removal in winchester? Call(540) 579-5545 now orcontact us online!
How to Prevent Mold
Since mold cannot grow without a moisture source, preventing mold first involves getting to know where in your home moisture is present and then being proactive about eliminating opportunities for mold growth to begin. There is a reason moldy areas are most often found in bathrooms, kitchens, and basement. These spaces are commonly dark, damp, and have low airflow—three conditions ideal for creating a mold problem.
Ensure your bathroom has a working exhaust fan or operable window to allow for proper airflow, so that moisture after baths or showers evaporates quickly. Check for sufficient ventilation in other areas in your home, including the basement, crawl space, attic, laundry room, and any utility closets.
In the event of a burst pipe, leaking ceiling, or any other situation that creates wet or damp areas, call in restoration professionals who can eliminate water as quickly as possible. Our team at ServiceMaster of Winchester can help prevent the conditions that lead to mold or assist with removal and remediation of any existing mold infestations.
When Should I Get Professional Mold Removal?
Mold spores are always present in the air, but when mold is found in concentrated amounts indoors, it can cause health problems for many individuals. For small areas of growth on hard, nonporous surfaces, you may be able to kill mold with distilled white vinegar or commercial products or clean it up with soap and water.
However, you should always call a professional for mold removal and remediation if:
Anyone in your home is sensitive to mold, has severe allergies or asthma, or has a weakened immune system
You have elderly individuals or young children living in your home, as they are often more susceptible to mold-related health problems
The mold is growing on porous surfaces such as drywall, wood surfaces, carpet, ceiling tiles, etc.
The mold covers a large area
You can smell mold but cannot locate the source
You also have structural problems due to moisture or water damage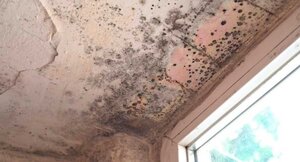 Is It Safe to Be Home During Mold Remediation?
Homeowners are often able to stay in the house during mold remediation. Our mold removal experts in Winchester use protective equipment and set up containment chambers with plastic sheeting as barriers to prevent mold spores from traveling and contaminating other areas during removal. However, in some cases of widespread infestation, it may be necessary for you and your family to vacate during our services. Some homeowners simply prefer to leave until the process is complete. We can help you determine the best course of action for your situation following our professional inspection.
Your Trusted Winchester Mold Remediation Company
ServiceMaster of Winchester is a locally owned and operated mold remediation company backed by a national name with more than 65 years of experience in the damage restoration industry. We are equipped with industry-leading technology to identify and eliminate mold problems quickly, efficiently, and—above all—safely. We are available around the clock, 24 hours a day, for emergency mold cleanup.
Get reliable mold remediation in Winchester now. Call us at (540) 579-5545 or contact us online now to schedule service!