July 2021 Contest
Happy Independence Day to America!
I have filled this big stars and stripes bowl with
Red Mounds bars, White PAYDAY candy bars and Blue Almond Joys candy bars.
For a twist, can you guess how many total calories there are in the bowl!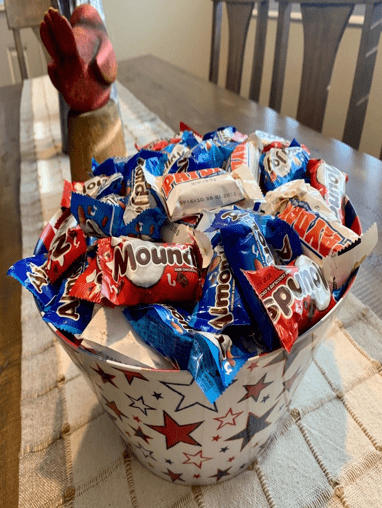 Here's a hint…there are between 7,000 and 8,000 total calories!!! Good Luck!
Click Here to Submit Your Guess
Remember, you get one guess per person, per office and your guesses
must be submitted by email by the last business day of the month!
The office who guesses closest will win lunch for the entire office,
courtesy of ServiceMaster by CGI. Good Luck and happy guessing.
Last Month's Winner!
Congratulations to Vicki Ngo with the Steve Yang State Farm Agency in Stafford!
There were 1980 sun flower seeds in the jar, and Vicki submitted the winning guess of 1,984 only missing by 4!
I will post their picture when I deliver their lunch later this month.