Smoke & Fire Damage Restoration in Ontario, CA
Fire Restoration Services Near You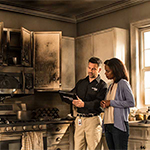 Fire is one of the most destructive things that can happen to property. Not only can hard-to-clean soot cover your walls and floors, but smoke odor can be present in your home for weeks post-fire. And that is the best case scenario for everything that survives a fire. Unfortunately, fire often burns items beyond recognition and use, or completely consumes them. It's a really stressful time, and you need empathetic professionals in your corner to help pick up the pieces. Turn to the team at ServiceMaster Restoration by EMT - Ontario to do just that.
Do you need help with fire damage restoration? Count on our team. You can reach out at (909) 551-2434 orcontact us online today.
UNDERSTANDING THE FIRE RESTORATION PROCESS
Our fire damage cleaning services are thorough and proven. Our fire restoration services include:
Identifying the source to determine the type of fire that occurred
Evaluating the areas that are wet as a result of firefighting that may need treatment
Remediating water damage (if any)
Evaluating sensitive materials that may be damaged by smoke and soot particles
Content removal and packout
Performing structural restoration
Cleaning, eliminating odors, and deodorizing surfaces to pre-loss condition
Returning items to the original location and helping to restore your normal life
Why Choose ServiceMaster Restoration by EMT - Ontario for Fire & Smoke Damage Restoration in Ontario?
While we're a locally owned fire restoration company, we're backed by a brand with nearly 70 years of experience in helping homes and businesses restore their properties to their best pre-loss condition. We understand the nature of disaster - it happens any time. That's why we're available 24/7 for your restoration emergencies. We put customer satisfaction first and will always be sensitive to your needs during the restoration process.
Why homeowners choose us:
Quick Response Time: We acknowledge the importance of time in fire damage restoration. Our team ensures a prompt arrival to assess the situation and initiate the restoration process without delay.
Expertise and Experience: Backed by years of experience in fire restoration, our technicians are highly trained and possess the knowledge and skills to manage fire damage of any scale. We employ advanced techniques and equipment for thorough and efficient restoration.
Comprehensive Services: Our services span the entire spectrum of fire restoration, from the initial assessment and emergency board-up to smoke and odor removal, structural repairs, and content restoration.
Insurance Assistance: Managing insurance claims can be daunting. We provide invaluable support in navigating the process and collaborate directly with your insurance company, ensuring a seamless and stress-free experience.
Customer Satisfaction: Your satisfaction is our ultimate objective. We strive to surpass your expectations by delivering exceptional service, meticulous attention to detail, and open communication throughout the restoration journey.
When your life is disrupted by a fire, there's no need to wait. Contact ServiceMaster Restoration by EMT - Ontario for reliable and professional fire restoration services you can trust. We are here to help you regain control and rebuild.
We'll help you get your home back to its pre-loss condition with professional fire restoration in Ontario - give us a call at (909) 551-2434 or reach out online.
Frequently Asked Questions:
Is this covered by my insurance?
If service is an insurance claim, ServiceMaster Restore generally collects only the deductible amount from you before work begins and bills the balance to your insurance provider as a service to you. If your project is not covered by insurance or you decide not to file a claim, a payment schedule must be agreed upon before any non-insured work begins.
How long will it take for the restoration process to be completed?
This depends on the variables and number of services involved with the process. You can check with your ServiceMaster Restoration by EMT - Ontario technician about estimated dates and phases of your restoration project!
How can I keep track of non-restorable items? What is restorable?
Make a list of items (including food items) deemed nonrestorable; have one copy for yourself and one for your insurance company. Personal items including electronics and furniture can be restored if they were not damaged by flames.