Water Damage Restoration in Ontario, CA
Reliable Water Damage Repair Near You
Water is an important element, but it also has destructive properties if it gets in your home or business due to a flood or leak. Water damage is the most common form of property damage because there are many sources inside and outside your property that can cause it including rain, floods, burst pipes, leaks, plumbing issues, and overflows.
The most important thing to do when you discover water damage is address it immediately because water will quickly spread by getting absorbed in building materials and furnishings. The affected materials will become stained, weakened, and vulnerable to mold growth, resulting in serious damage.
ServiceMaster Restoration by EMT - Ontario provides water damage restoration services in Ontario, CA to help homes and businesses affected by excess water and flooding. Our technicians can remove standing flood water and excess moisture using our advanced water extraction and drying equipment. Once the water and moisture are removed, we will clean up and restore the affected areas to return them to their original condition.
Looking for help with water damage restoration near you? Call(909) 551-2434 orREACH OUT online to get started TODAY.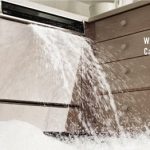 Water Damage Issues
Any amount of excess water or moisture, whether it is a leak or flooding, can result in serious damage in your home or building. Flood water causes serious damage right away as standing water quickly gets absorbed by surrounding building materials and furnishings.
This results in stains, rotting, and structural damage. Leaks and spills can cause significant damage over time as porous materials like wood, drywall, flooring, and insulation absorb the water and allow it to spread. If given enough time, leaks can result in structural damage as well.
One of the biggest risks with water damage is mold growth as mold thrives in moist conditions. The risk of mold increases greatly if water damage is not addressed within 24-48 hours and it will worsen the damage while putting the health of those exposed at risk. Reacting to water damage immediately will help contain its spread and prevent mold growth or serious structural damage.
Signs of Water Damage
Water damage in your home can have far-reaching consequences, ranging from structural damage to an increase in pests such as mold and mildew. It's important to know the signs of water damage so you can catch it early and stop further damage from happening.
You might notice:
Bubbling or peeling paint
Discoloration and warping in the walls or ceiling
Musty odors
Increased utility bills
Mold and mildew growth
Any of these signs should be investigated further by a professional well-versed in water damage restoration services to help prevent more costly lasting problems.
For water damage restoration services in Ontario, CA or the surrounding areas, contact our team at(951) 389-7626 orcontact us online.
Water Damage Restoration Ontario, CA
Our technicians will arrive quickly to your property in Ontario, CA to stop the spread of the water and begin the restoration process.
You can expect the following steps from our water damage mitigation experts:
Initial inspection: We will start by assessing the extent of the damage and determining how deep the water has been absorbed using moisture meters and thermal imaging cameras. This will allow us to locate hidden water damage.
Water removal: We use truck-mounted water extraction equipment to remove standing water from carpet, tile, flooring, and under cabinets. Our equipment will remove the water at a pace of 25 gallons per minute.
Carpet drying: Carpeting absorbs excess water which makes it highly susceptible to damage. We will determine if your carpet can be saved based on the age and condition of the carpet, amount of time it was exposed to water, and the type and temperature of the water. If the carpet and padding cannot be saved, we will remove it from your property.
Drying: We will strategically place air movers and dehumidifiers throughout your property to evaporate moisture from affected materials and air spaces. This process may take 3-5 days to complete.
Mold Removal: Our restoration contractors are licensed, trained, and experienced to remove mold growth at the source. A containment chamber is first set up to prevent it from spreading further, followed by using advanced products and methods to remove it.
Monitoring: During the drying process, we will keep an eye on the progress and check your property with moisture meters. We will also rearrange the dehumidifiers if necessary for more effective drying.
24/7 WATER DAMAGE RESTORATION NEAR YOU
Any amount of water damage is an emergency, so do not hesitate to call our professionals at ServiceMaster EMT if your home in Ontario, CA is affected by flooding or water.
You can expect our restoration contractors to arrive quickly so we can limit the damage and get your property restored as quickly as possible.
Dealing with water damage on your property? We're available 24/7 at(951) 389-7626 to respond to water damage restoration emergencies, orcontact our experts online today!