Mold Removal Services in Phoenix
Safe, Certified & Professional Mold Remediation Near You
Mold is one guest you're not likely to welcome into your home. It only takes a small amount of undetected water in the right environment to begin growing mold, which can become hazardous to your health.
At ServiceMaster Restoration by ORC - Phoenix, we understand how stressful it can be experiencing mold in your home, which is why we have 24/7 mold removal specialists ready to help at any moments notice. Our team can provide mold inspection to detect and remove toxic mold colonies, bringing clean air back to your home.
Some common indicators of mold in the home include:
Health Issues – allergy symptoms or onset asthma may appear when you're at home and disappear when you go out.
Damaged Walls – whether from warping, peeling, or bubbling on walls, these are signs that water may be hidden and harboring mold.
Discolored Spots – typically found on walls or ceilings, you might notice black, green, or other abnormal spots of color.
Rusted Pipes – condensation and pipe leaks can cause corrosion leading to rust, which may also result in mold growth.
If left untreated mold can lead to further structural damage, lingering odors, and worst of all severe health problems. If you suspect mold growth, it's essential to call in a mold restoration expert to ensure the source has been found and remediated.
If you're experiencing mold damage in your home, Call us at (623) 745-8211 for safe, thorough mold removal services in Phoenix.
Mold Treatment Process
Our mold removal experts use a comprehensive approach to ensure all contaminated areas are addressed in your home. The process includes an assessment to determine the location, extent, and type of mold contamination followed by containment and source control activities to stop the spread of spores.
Remediation and cleanup then proceed, which can involve air scrubbing, physical removal of affected materials or surfaces, application of biocides or treatments as needed, and proper disposal of removed items.
Finally, strict post-remediation steps such as proper ventilation and humidity control must be taken to prevent recurrence. Our team of experts not only take you through the whole mold removal process, but explain the steps moving forward so you can steer clear of mold damage in the future. If you spot mold in your home, reach out to our experts online to get rid of mold damage in your home!
Air Circulation to Prevent Mold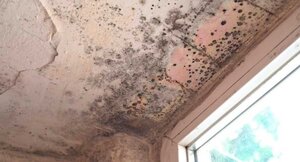 Even in dry climates like Phoenix, moisture can become trapped in warm, dark environments and cause mold growth – excessive moisture is the most common cause of mold in homes.
You can take precautions in your home to help keep mold at bay, including:
Using Fans
Adding a Dehumidifier
Opening Windows
Keeping Dryer Vents Clean
Emptying Exterior Vents Routinely
Removing HVAC Vent Obstructions
Scheduling Maintenance Checks
These extra steps promote increased ventilation throughout your home, which is an easy way to improve air quality by circulating fresh air rather than allergen spores. We have specialists available 24/7 for emergencies, and you can contact us online with questions any time of day.
Should Mold Be Removed By A Professional?
Removing mold is a very important task that should not be taken lightly. If left untreated or not removed properly, it could cause more structural damage to your home and can cause serious health issues for those who are exposed to it.
In order to ensure the safety of your family, friends, and colleagues it's best to professionally remove mold from any area where it has been found. Professional removal services have trained staff and the necessary tools and knowledge to get the job done safely and effectively without further damaging your property.
Taking care of this issue promptly as soon as you identify its presence can lead to excellent results. If you need fast and reliable mold removal in Phoenix, contact our mold damage experts for help!
If you notice signs of mold growth, call (623) 745-8211 for expert mold damage remediation in Phoenix to ensure your air quality is healthy.