Smoke and Soot Cleanup Services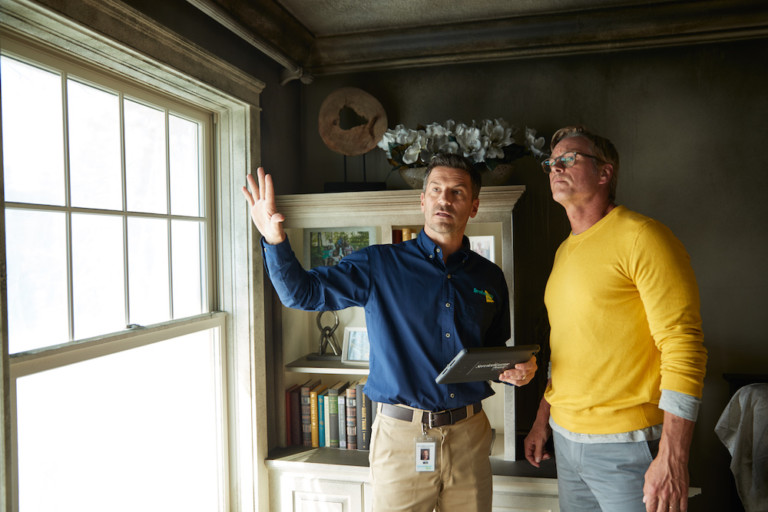 Fire damage involves more than just the charring of the fire. Once the fire is put out, there is still much-specialized cleaning to be done to ensure all soot and smoky odors are removed. The discoloration and black marks along the walls include charred materials and soot. Soot refers to a particular residue that remains after the charring process and often includes a wide variety of materials burned in the fire including paint, plastics, foams, fabrics, wood products, wool or other synthetic fibers. Because soot has such a complex makeup, it poses an incredibly dangerous respiratory health hazard. The particle size of soot is 2.5 microns, which a size associated with deep lung penetration. This fact is one of the most important reasons why it's so crucial to call in the professionals at ServiceMaster Restoration Services for smoke damage cleanup.
Smoke Damage Gets Worse with Time
This complex composition of soot also has corrosive properties. Whatever item, material, or surface it lays on will slowly deteriorate over time. Items made of metal will tarnish, walls will discolor, and glass or mirror-like materials will etch. Plus, the oils on your hands and fingertips compound the soot and make the problem worse. We never recommend anyone attempt to clean fire or smoke damages by themselves – no matter if it's a commercial or residential property. This is not a DIY job! You need special cleaning products and methods to properly remove the residual smoke and soot and rebuild the structural integrity of whatever collapsed in the fire. This is where we come in.
We're Experts When it Comes to Smoke Damage
Our technicians are trained and experienced in understanding the complex properties of smoke damage and odor removal. Every minute counts once the fire has been put out, so call ServiceMaster Restoration Services immediately so we can begin the restoration and cleaning process. The longer you wait to call in the professionals, the worse the damage will become. Don't risk your belongings. If you hope to return your property and personal items to the pre-loss condition, you must call the restoration experts at ServiceMaster Restoration Services as soon as you can.
We'll walk you through our process and ensure you feel comfortable with our restoration system and steps. We follow a clear protocol:
Emergency pre-cleaning and removal of dangerous items
Content pack out and cleaning services
Wall and ceiling cleaning
Deodorization
Odor control and removal
Full fire damage restoration, repairs, and remodeling if necessary
Fire and smoke damage can make you feel unsure of what to do next. We provide a proven system that works to clean any smoke and residual soot issues on your property. ServiceMaster Restoration Services provides expert restoration services to both commercial businesses and residential homes in Georgia, Alabama, and Florida. Contact us today.