Odor Removal Services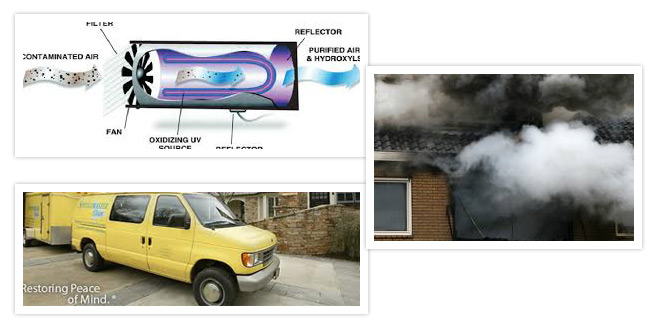 Lingering odor is a package deal when handling the aftermath of a water or fire disaster. The scent of mold and smoke don't automatically dissipate after cleaning. That's why our team of experts uses leading odor removal practices. With the use of ozone machines, air scrubbers, Hydroxyl generators and Nanotechnology, our team is able to effectively control odor. These tools allow us to treat each odor individually. The nanotech filters are used simultaneously with our air scrubbers and HEPA filters to remove all airborne odors.
Odors can become trapped in carpet, upholstery or hard surfaces. These materials all have unique care needs. Using our years of experience to remove odors from a variety of items is essential. Without proper care techniques, sentimental items can become damaged.
In addition to being an inconvenience, odors can be bad for your health. The source of the odor needs to be targeted in order to fully get rid of it. Masking the problem is a short-term solution that doesn't eliminate odor-causing particles. Don't fall for the trap of foul-smelling room sprays. Quick fixes will only just encourage the symptoms that accompany extreme odors including headaches, stress and physical illness.
Sometimes the source of the odor is unknown. Many areas of your home are prone to odors. Usually, these odors aren't serious because they dissipate with added airflow or cleaning.
The following sources are likely to cause odors:
Pets
Illness
Tobacco
Mold and fungus
Skunk
Garbage
Burned wood
Fuel oil
Burned plastics
Sewage
However, when odors won't go away, count on us. Our team of experts will walk you through the entire odor removal process. If you have an issue with odor, we would be happy to evaluate it for you and come up with a proposal to eliminate it.
To schedule an appointment, call 762-226-2114.