Water Damage Restoration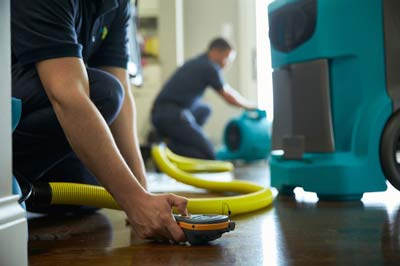 Water damage, big or small, grows the longer you wait to repair the damage. Hard floors can warp, upholstery can stain and mold can grow within hours of being exposed to moisture. The key to reducing water damage is to call a professional restoration team as soon as possible. ServiceMaster Restoration Services has a team of expert technicians standing by 24/7. You can count on us to restore affected areas quickly and effectively.
Water Damage Cleanup & Flood Damage Cleanup Restoration Process:
Initial inspection of loss.
Damage assessment with on-site contact.
Water removal / extraction
Anti-microbial application
Drying: air movement
Drying: dehumidifying
Drying: monitoring
Depending on the type of water damage you have, it can contain bacteria that is harmful to your health. Our team specializes in removing all types of water including potable, gray and black water. We use advanced products, procedures, and equipment to assure the highest level of clean to protect for property, furnishing and health.
Act fast to prevent further damage caused by water and floods. At ServiceMaster Restoration Services we can help you with the following services and much more.
Burst & Leaking Pipes
Roof Leaks
Sewer Backups
Appliance Leaks
Natural Disasters
Drying & Dehumidifying
Carpet Drying & Removal
Construction Services
From leaky pipes to flooding, contact ServiceMaster Restoration Services at (762) 226-2114. We're proud to serve our local community across the South Atlantic. The quicker you call, the more damage we can prevent.