Flood and Water Damage Restoration in Albuquerque
Experienced Water Damage Restoration Near You
At ServiceMaster of Albuquerque and West Mesa, we provide complete water damage restoration services for your home in Albuquerque. Our technicians are trained and equipped to deal with any level of water damage.
We're locally owned and operated. At the same time, we're backed by a national restoration company with over 65 years of experience in the industry.
For your peace of mind, we are available 24/7 to respond to emergencies. It is very important to respond to water damage immediately to stop its spread and prevent serious damage and mold growth.
Searching for reliable water damage restoration in Albuquerque, NM? Call us at (505) 257-6922 or reach out online to get started. We will help you rebuild!
Professional Water Damage Mitigation in Albuquerque
Our technicians use advanced water extraction, drying equipment, and restoration techniques to remove excess water and restore the damage.
We will immediately address the source of the water to stop it from spreading and form a plan to restore your property to its original condition.
Our water damage restoration services consist of the following steps:
Initial assessment. We will assess the full extent of the damage, as well as the source of the water to stop the damage from spreading.
Water removal. Our advanced water extraction equipment removes standing water.
Anti-microbial application. We will apply anti-microbials to the affected surfaces and materials to help prevent mold growth and eliminate potentially dangerous bacteria.
Drying. Dehumidifiers and drying equipment will be set up strategically throughout your property to dry the affected areas and materials. We will then monitor the drying process and make adjustments with our equipment as necessary.
Call us at (505) 257-6922 for professional water damage mitigation in Albuquerque. Or contact us online to request your service. We'll be there for you when you need us most.
Why You Should Respond Quickly to Water Damage in Albuquerque
Water damage, even if it involves a minor amount of water, can be destructive in a home or building.
Water Damage Destroys the Integrity of Your Home
Most building materials, including wood, drywall, insulation, carpeting, sub-flooring, and others are porous and will absorb the water.
As these materials absorb the water, they may become rotted, warped, or weakened, which can threaten their structural integrity.
The water will also continue to spread through porous materials and cover a larger area until it is removed.
Water Damage Can Cause Mold Growth
Mold growth is another potential problem caused by water damage, as mold thrives in wet environments.
It only takes 24 to 48 hours for mold to appear in areas affected by water and it will worsen the damage. Mold also makes the affected areas more dangerous because exposure can cause a number of allergic reactions.
How Long Does it Take to Restore a Home After Water Damage?
Depending on how much of your property was affected by water damage, it may take several days or weeks to completely restore your home.
There are usually two phases in the water damage restoration process: drying the property and restoring it. Drying may take 3 to 5 days or longer depending on how much of the home was exposed to water and for how long. Luckily, the drying process can begin when you call our Albuquerque water damage restoration experts and the standing water has been completely removed.
Restoration is what takes the longest -- it may go for a few weeks or more. At ServiceMaster of Albuquerque & West Mesa our water damage specialists will work hard to get the job done quickly and thoroughly and will always keep you updated regarding the restoration timeline and if there is anything that may delay parts of the process.
During the restoration, our specialists will identify what can be saved and what needs to be disposed of or removed and what changes are necessary. Usually, you and your family may stay at home during the restoration process, however, it mainly depends on the circumstances -- we want to make sure that you and your family are safe at all times. For information regarding water damage restoration, do not hesitate to reach out to ServiceMaster of Albuquerque & West Mesa at (505) 257-6922 -- our services are available 24/7.
We're available 24/7/365 to offer emergency water restoration services! Contact us online or call us at (505) 257-6922 to request your service.
What Causes Water Damage?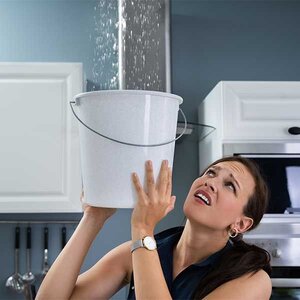 ​
Even though water damage is common in residential homes, it is still an emergency when it occurs.
Some of the ways water can end up in your property include:
Weather conditions like rain and natural floods,
Internal issues like leaks,
Plumbing issues,
Burst pipes, and
Overflows.
No matter how the water got into your property, it causes damage quickly as it gets absorbed in porous building materials and spreads through your property. If the excess water and moisture is not removed quickly enough, the affected materials can become seriously damaged and susceptible to mold growth.
What to Do When the Unexpected Happens
As soon as you find water damage in your home, call our experts at ServiceMaster of Albuquerque and West Mesa.
After calling us, you can help limit the damage by doing the following:
Mop and blot dry affected areas to remove water.
Remove wet area rugs from the affected areas, but do not try to remove permanent flooring and carpeting.
Get draperies off the floor by looping them through a coat hanger and putting the hanger on the rod.
Wipe excess water from wet furniture and put aluminum foil under the furniture legs to protect your flooring.
Put vulnerable objects like paintings, photos, and documents somewhere safe.
Keep water damaged books packed tightly together on the bookshelves to prevent the pages from warping. We can treat wet books with a specialized process.
Open all internal doors, closets, and cabinet doors to help the drying process.
Make sure you avoid the following actions after experiencing water damage:
Entering a flooded room while the electricity is on
Removing water with a regular vacuum cleaner
Pulling up permanent flooring or carpeting
Using electrical appliances before they are checked
Cleaning mold growth
Removing water damaged books from their shelves
Call ServiceMaster of Albuquerque and West Mesa for Water Damage Restoration
If your home or business is damaged by flooding, leaks, or any other source of water, call our professionals at ServiceMaster of Albuquerque and West Mesa right away for water damage restoration.
Our professionals will arrive ready to limit the spread of the damage and start the restoration process to return your property to its previous condition. We are available 24 hours a day to help homes and businesses in Albuquerque and all of New Mexico.
We're here for you in the event of a water disaster - let us help you get back to normal with professional water restoration services. Call (505) 257-6922 or reach out online for help!