Air Duct Cleaning in Elgin, IL
Despite the important role that HVAC systems play in homes and other buildings, they are typically overlooked until something goes wrong. Essentially, these systems circulate hot and cold air throughout your building and include everything from the actual heating and cooling components and fans to the air vents that they utilize.
As dust, pollen, and similar debris clog these systems, they begin to run less efficiently, which leads to a number of negative consequences. At ServiceMaster Kwik Restore, we provide air duct cleaning services to property owners in Elgin, IL, to sanitize their HVAC systems.
Dirty Air Ducts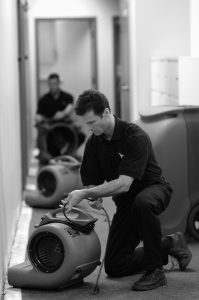 ​We have all seen homes and other buildings that had air vents lined with dust and debris. This is a telltale sign of dirty air ducts. When this occurs, the HVAC system is required to work harder than it should to adjust the temperature of the building.
As a result, it runs less efficiently, and eats up more electricity. This increases your electric bill, as well as your odds of needing to hire technicians to repair your HVAC system.
Since the air ducts are lined with dirt, dust, pollen, and other allergens, every room in the building will be exposed to lower-quality air. This can result in allergic reactions and worse.
Professional Air Duct Cleaning
At ServiceMaster Kwik Restore, we can eliminate the risks above with our effective air duct cleaning services. Through this service offering, you have a choice between two different sub-services:
Maintenance Cleaning: This method is ideal for property owners that have had their air ducts cleaned within the last 5 years. It is seen more as upkeep than a potentially large restoration project.
Restorative Cleaning: This method is designed to assist property owners that have not had their air ducts cleaned within the last 5 years. It involves deeper levels of inspection and cleaning.
Regardless of the method you choose, you will benefit from high quality services. Our technicians are certified to utilize advanced sanitization equipment and procedures to effectively clean your air ducts and component parts.
When Should I Hire Out Duct Cleaning Services?
Depending on your lifestyle, you will need air duct cleaning with varying frequency. In general, property owners should have their air ducts cleaned every 2 to 5 years.
Typical circumstances and conditions that require you to get your air ducts cleaned more often include the following:
Smokers live in the house
You recently moved into a new home
You recently completed remodeling work
Pets live in the home
Residents suffer from allergies or asthma
If your home has been impacted by heavy indoor smoking, we understand cleaning the air ducts may not be enough. That's why we offer smoke damage restoration services that will professionally sanitize and restore your entire home!
Through our air duct and comprehensive cleaning services, you will benefit from a more efficient HVAC system and greater overall health. We offer these services to property owners in the Elgin, IL, area.
To learn more about our other cleaning services, visit our specialty cleaning services page.
To Schedule an Appointment with Our ServiceMaster Kwik Restore Technicians, Contact Our Representatives at (847) 513-9018.