Fire Damage Restoration in Elgin, IL
Fires can occur with little to no warning, and the damage can be devastating. Buildings can be destroyed in a matter of minutes or hours, and everything within them can be lost.
At ServiceMaster Kwik Restore, we offer complete fire damage restoration services to property owners in need in Schaumburg, IL.
Through these services, we respond rapidly to limit the extent of the damage and do everything possible to restore your building and belongings.
Fire, Smoke, and Soot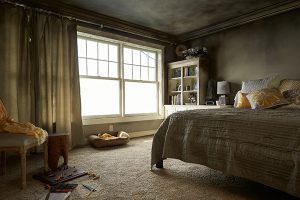 ​While fires are known to engulf essentially everything in their paths, their resulting smoke and soot actually do most of the damage in a majority of cases.
This is because these elements are corrosive and continue to damage surfaces until they are removed.
If they are not addressed quickly, then everything in their way will be at risk of etching, corrosion, and discoloration.
Return your home to normal with fire damage restoration near you. Call (847) 513-9018 now or contact us online now to schedule service!
Emergency Restoration Services in ELgin, IL
At ServiceMaster Kwik Restore, we offer 24/7 emergency response capabilities to limit the damage caused by fires and their byproducts.
Safely evacuating everybody from the building, and getting the fire put out, should be your top priorities. As this is being completed, you should contact our representatives.
Our Elgin fire damage restoration team responds swiftly to provide critical pre-cleaning services that give affected surfaces and items in your building the greatest odds of being fully restored.
Our technicians are all highly trained and qualified to provide industry-leading fire damage restoration services.
We utilize precise chemical cleaners to eliminate the damaging effects of smoke and soot based on the materials that are affected (such as brass, tile, aluminum, upholstery, carpeting, etc.).
We also make use of professional-grade sanitization equipment and restoration procedures to return your property back to normal.
Whether your building has suffered extensive physical destruction, or your important belongings are damaged, we will do everything possible to get them restored back to their original condition.
Another issue that results from fires is the development of lingering odors. This occurs because the smells get absorbed by porous materials on-site.
We work to eliminate these odors so that you do not need to have a daily reminder of the devastating event.
How to Prevent Further Fire & Soot Damage
When a fire takes place on your property, there are certain things that you should not do:
Do not use your air conditioner or furnace
Do not try to clean drywall, wood, or similarly porous surfaces
Do not use electronics until they have been inspected
Do not attempt to move large objects
Do not consume any food that may have been exposed to fire, smoke, or soot
If you are in need of fire damage restoration services, we encourage you to contact us as soon as possible. We are happy to address any of your question or concerns, and we respond rapidly to disasters in the Elgin, IL, area.
In the event your fire damage is accompanied by water damage, have no fear! We also provide water damage restoration services to Elgin, IL and the surrounding areas. Our Elgin fire damage restoration work crew dedicated to making your home a happy and healthy environment again.
Our ServiceMaster Kwik Restore Representatives are Available 24/7 at (847) 513-9018.