Commercial Water Damage Restoration in Elgin, IL
Trusted Commercial Water Damage Repair Services Near You
What do you do when your Elgin business suffers water damage from torrential rains, a leaking pipe, or some other disaster? Call ServiceMaster Kwik Restore right away! Whether the excess water in your commercial building is from a burst pipe, severe storms, a leak, flooding, a sewage backup, or something else, your building and its contents are at risk of becoming permanently damaged. At ServiceMaster Kwik Restore, we offer complete water damage restoration services to prevent this. We utilize professional-grade water extraction and drying equipment to remove excess moisture, and advanced restoration procedures to return your building and belongings to their original condition.
Call us 24/7 for commercial water damage restoration in Elgin: (847) 513-9018.
Common Causes of Commercial Water Damage in Elgin, IL
Not only can water damage in the workplace negatively impact your business, but it can also expose your employees and customers to health and safety hazards. Since commercial water damage can be more complex than residential water damage, our commercial water damage restoration team in Elgin has the knowledge, experience, and tools to mitigate the damage, extract water from the property, make the necessary repairs, and restore your business and livelihood.
The following are the most common causes of commercial water damage in Elgin, IL:
Roof leaks

Broken or damaged pipes

Broken or damaged windows

HVAC system leaks

Sprinkler system leaks

Sewer clogs

Foundation issues or poor drainage

Severe weather and natural disasters
Excess Water and Moisture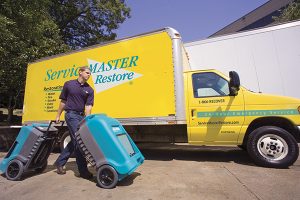 ​When water penetrates your property, it can quickly lead to extensive damage.
This is because many buildings are constructed from porous materials that allow the water to pass through them, such as wood, drywall, and insulation.
As these elements take on water, they become weakened, which can lead to buckling, warping, and even structural damage.
Similar consequences result when furnishings and personal belongings are exposed to excess water and moisture.
They can quickly become discolored and permanently damaged if the water is not addressed quickly.
In both cases, mold is more likely to grow, which only adds further complications to an already difficult scenario.
Water Damage Repair Elgin, il
At ServiceMaster Kwik Restore, we offer the services of some of the most highly trained and experienced water damage restoration technicians in the industry.
Elgin water damage restoration has years of experience delivering industry-leading results and abide by IICRC-500 guidelines.
In essence, we will respond rapidly to contain the damage and prevent the water from spreading, set up our dehumidification and drying equipment, and restore affected areas and belongings.
When necessary, we can provide corrosion control and anti-microbial applications, as well.
There is a lot that can go wrong in the case of water damage, which is why we offer a comprehensive approach to recovery. When you choose to work with us, you can expect the following:
24-Hour Availability: Water damage emergencies can occur at any time. For this reason, we remain available 24/7 to respond to your needs.
Developing a Plan: Each water damage scenario is unique. We inspect the extent of the damage when we arrive, determine the cause of the excess water, and quickly develop a recovery plan.
Water Extraction and Drying: Through the use of our state-of-the-art water extraction and drying equipment and techniques, we will strategically and effectively remove standing water, and dry affected materials.
Reinstallation and Cleaning: Once excess water and moisture have been eliminated, we will clean affected areas and belongings, and return items to their original locations.
Restoration and Repair: We will repair any structural damage that occurred to your building (such as to your floor, drywall, and woodwork), and restore affected belongings.
Whether you notice small amounts of moisture where it should not be, or large amounts of standing water, we encourage you to give us a call.
In many cases, the damage is much worse than it appears at face value. We proudly provide water damage restoration services to property owners in Elgin IL.
Our Elgin flood cleanup team is available 24/7 at (847) 513-9018.