Mold Remediation in Pompano Beach
ServiceMaster Mold Removal Can Eliminate Your Infestation
Water damage is quite common in homes throughout Pompano Beach. Once water starts to spread, it will continue leaking through absorbent materials until it's put to a stop. And where there's water damage, there's typically a prime environment for mold to grow.
At ServiceMaster Restore®, our expert technicians are available 24/7, every day of the year. They can quickly respond and assist with emergency situations. Addressing the problem with mold cleaning services as early as possible helps save more possessions and money on insurance claims.
Contact our Pompano Beach mold damage restoration professionals at(954) 710-6346 today!
What is the difference between mold remediation and mold removal?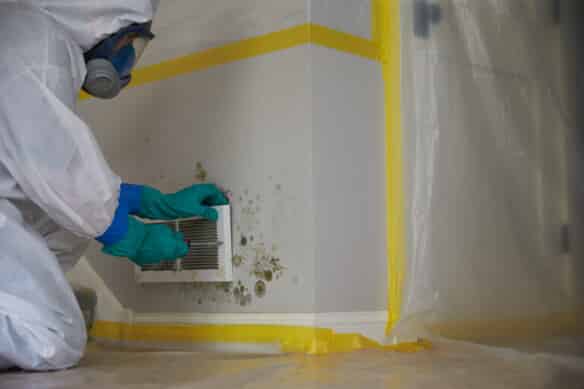 Mold removal is similar enough to remediation that they are often used interchangeably. However, there is an important distinction between the two.
First, it's important to understand that ridding mold entirely is not possible. There will always be a certain level of mold in properties, which is normal.
The first step in mold remediation identifying potentially harmful colonies (including toxic black mold). Mold remediation focuses on taking the steps to return mold levels to a natural, safe level. Mold removal, on the other hand, cleans the infestation away at least temporarily by focusing on removing the source.
Call for a mold inspection and removal right away if you notice signs of mold in your home:
Sudden allergy symptoms
Severe onset asthma
Consistent feelings of fatigue
Musty smells that don't dissipate
Black, green or other abnormal discolorations
Dark tile grout after a recent leak
Peeling, cracking wallpaper
If you are uncertain as to which method is ideal for your home, reach out to our experts for advice. We can conduct a mold inspection, determine the root cause, and educate you on the best options available for your specific situation.
Do you think you may have mold in your home? Contact our expertsonline or at(954) 710-6346 for mold inspection and remediation services in Pompano Beach, Fl.
Where to Look for Mold
It only takes a small undetected leak to begin wreaking havoc. There are many materials in the household that mold can develop in, including (but not limited to):
Carpet glue
Shower and bathtub
Bathroom rugs
In, on, and under sinks
Behind the stove
Mattresses
HVAC vents
Fireplace and chimney
Insulation
Near a sump pump
Window leaks
Around pipes
Fabric and upholstery
Indoor plants
Refrigerator
Water-using appliances
Behind the toilet
Wallpaper
Drywall

It can certainly feel like a hassle to stay on top of checking for mold, especially when it can form in so many places. Ultimately, in the long run, taking actions to prevent it can help keep you from getting sick and avoid mold damage to your home.
How Does Air Circulation Help Prevent Mold Problems?
It's fairly common knowledge that excess moisture is the primary cause of mold growth. But did you know that proper air flow plays a critical role in keeping damaging mold at bay? Beyond being an unwelcome visitor to your home, mold is a health hazard. When left unattended, it can become dangerous. This is especially true for individuals battling allergies, asthma, or weakened immune systems.
Luckily, there are steps you can take at home along with professional inspections to ensure your home environment is healthy.
Here are a few easy tips to implement in your household:
Open Windows
Install Fans
Add a Dehumidifier
Clean Exterior Vents
Empty Dryer Vents
Remove HVAC Vent Obstructions
Schedule Maintenance Checks
Increasing ventilation in your home is a great way to improve air quality. Allowing clean air to circulate helps prevent the accumulation of allergens. Poor ventilation can create the perfect environment that mold thrives in – dark, humid, areas with low air flow. This will lead to the need for mold damage restoration.
How to Get Rid of Mold
The truth is that it is impossible to eliminate all mold and mold spores indoors. You can control or prevent mold by controlling moisture indoors (e.g., opening windows, run the bathroom fan, etc.).
If there is a moldy area in your home, you must clean up the mold—whether on your own or with professional assistance—and fix the water issue (e.g., leaking pipe, hole in the roof, improve ventilation, etc.). The Environmental Protection Agency (EPA) says that if the growth is less than 10 square feet (about 3 feet by 3 feet), you can safely remove the mold yourself.
There are different types of mold removers available to purchase. On the other hand, you can create a mold removal solution with some common household items, such as undiluted white vinegar, dish soap, and hydrogen peroxide.
However, if the mold growth covers more than 10 square feet, there has been a lot of water damage, or you are dealing with toxic black mold, you must hire a professional mold remediation contractor.
At ServiceMaster Elite - South Florida, we can thoroughly inspect your home, find the source of the mold, identify the type of mold, contain the moldy area, filter out the mold spores in the air, clean and disinfect moldy surfaces, restore furniture and other household items, and address any humidity and moisture issues.
Give us a call at(954) 710-6346 any day, any time, orcontact us online to learn more about mold remediation in Pompano Beach.