Floor Care in Prescott Valley
Carpet Cleaning
If you live in Prescott, Sedona, Cottonwood or Prescott Valley – or anywhere in Yavapai County – we're ServiceMaster of Prescott. As the hometown team, we've dedicated our business and our family to this area for decades. Call us for professional floor care services. We're your experts in carpet, upholstery and tile.
Nothing in your home absorbs more wear and tear than your carpet does everyday. We'll make your home sparkle today with clean, fresh carpets. Our business is backed by ServiceMaster Clean® and we have over 50 years of experience in cleaning carpets. We get the job done fast! ServiceMaster of Prescott can't wait to meet you and share our care for you and the community. With our whole team, the job isn't finished until you say it is!
What are the Professional Procedures for Good Carpet Cleaning?
The following procedures are what leading carpet manufacturers recommend when you have your carpets professionally cleaned:
Carpet should be pre-inspected for soil conditions.
Pilate the carpet with a specially designed rake to loosen matted carpet fibers in traffic areas to increase soil removal.
Vacuum entire carpeted area, including edges when required.
Move and replace furniture in its original position when required.
Pre-treat spots and stains.
Pre-apply carpet cleaning solution to help remove stains and loosen soil in the carpet.
Rinse and extract with clear water to ensure that the cleaning solution and soil are removed along with the rinse water.
Re-treat spots and stains as needed.
Pilate the carpet after cleaning to align fibers for even appearance.
Apply fiber protector when requested.
We're deeply experienced in every type of carpet cleaning. We recommend following these procedures:
Truck mounted cleaning: the most effective cleaning method for carpets, and highly recommended by carpet manufacturers.
Hot water extraction: leaves your carpet free of soil and detergents.
Built-in water softener: leaves your carpets soft and fresh.
ServiceMaster carpet cleaning and stain removal offers a wonderfully professional cleaning service for all of your carpet care needs.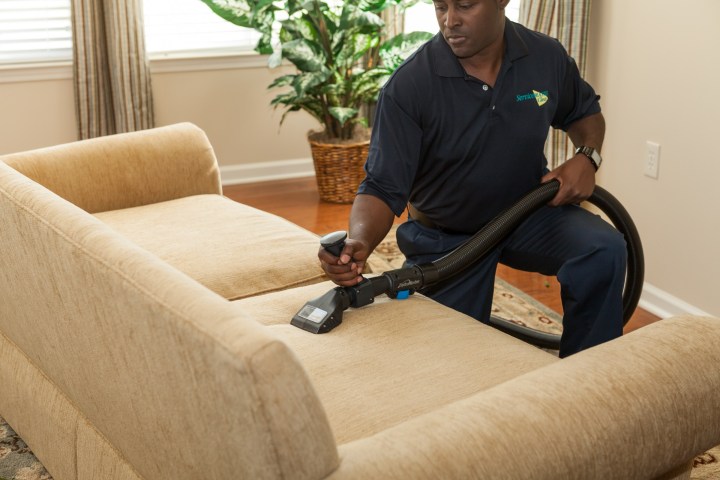 Upholstery Cleaning
ServiceMaster of Prescott provides upholstery cleaning, specialty cleaning, and a variety of wet or dry professional furniture cleaning for all kinds of fabrics. Our team specializes in professional upholstery cleaning. Ask us how our upholstery cleaning can save you money on an unnecessary and expensive replacement.
ServiceMaster of Prescott his backed by ServiceMaster Clean and we have been working for 50 years to make sure that maintaining your furniture investment is easy and affordable. At ServiceMaster of Prescott we work to make sure your furniture looks brand new — with a clean that can't be beat. Your satisfaction is priority number one at ServiceMaster of Prescott — we'll get there fast and keep you informed every step of the way.
Here are our best in class procedures for professional upholstery cleaning:
Pre-Inspection: We groom body contact areas to improve vacuum cleaning efficiency. We use a high-power vacuum to clean and remove loose grit and soil (including crevices). We pre-treat spots and stains.
Cleaning Steps: We pre-spray the body contact areas to accelerate soil release before the rinse extraction step. We rinse-extract fabric using high performance extraction equipment.
Post Cleaning Steps: We remove loosened soil residues and excess moisture with absorption pads. We clean and polish trim as required. We post treat spots and stains. We groom to set fabric for efficient drying and uniform appearance. We inspect all areas.
We also ensure that:
We pre-test each piece of upholstery to determine the best cleaning method.
Both wet and dry cleaning options are available.
We pre-groom contact areas. This helps loosen dirt and improves vacuum cleaning efficiency.
We pre-vacuum. We will thoroughly vacuum the entire piece of upholstery, including crevices, to remove dry, loose soil.
We pre-treat spots and stains when required. Pre-apply cleaning solution. This allows it time to work on the soil. We dry clean any upholstered fabrics that allow dry cleaning.
We apply hot water extraction to wet-cleanable fabrics.
We apply fabric protection.
ServiceMaster of Prescott also offers our customers:
Truck mounted cleaning: the most effective method for cleaning upholstery, and highly recommended by upholstery manufacturers.
All delicate fabrics are cleaned by hand, with our special designed solutions for sensitive fabrics.
Specialty Cleaning
Our technicians are highly trained and certified to take care of your valuable belongings, such as:
Oriental area rugs
Custom made area rugs
and much more…
We have upholstery cleaning and professional furniture cleaning. ServiceMaster of Prescott has amazing specialty cleaning and wet dry fabric cleaning. Call for an appointment today!
Tile and Grout Cleaning
Tile cleaning, dirt removal, grout cleaning, and floor cleaning – that's us! Contact ServiceMaster of Prescott today to schedule in Prescott, Sedona and Cottonwood.
While tile floors can be beautiful and functional, it can be difficult to keep grout clean with tile floors. Kitchen floors take a lot of abuse from splattering cooking grease, over flowing sauces, wine spills, muddy shoes, pets, and children. Bathrooms can be just as challenging to keep clean; dirt, grime, soap scum, mold, and mildew can build up until it seems impossible to get tile and grout clean again.
Cleaning grout can be challenging and exhausting. Not for us! ServiceMaster of Prescott gets the job done fast and stress free. Our six-step tile and grout cleaning process gets your grout clean and keeps it looking its best. Our proprietary process is proven for ceramic, porcelain and stone and is ideal for kitchens, baths, countertops, and other tiled areas of your home. Call today for a free quote: a price that is sure to leave you smiling.
The ServiceMaster of Prescott, Tile Cleaning and Grout Cleaning process includes:
A preliminary inspection of your tiled areas is conducted to assess the best cleaning method
We have a dirt removal process where dirt and ground-in soil are removed with high pressure cleaning that also rinses and extracts excess water
Corners and baseboards are carefully cleaned
Tiled areas are efficiently dried
Grout lines are sealed to preserve cleanliness and prevent long term damage (optional)
ServiceMaster of Prescott has over 50 years of experience in the floor cleaning industry. Our reputation for quality, service, professionalism, and customer satisfaction is unparalleled.
Benefits of getting your tile and grout cleaned by ServiceMaster of Prescott:
No need to scrub grout on your hands and knees- we will wash and scrub with a high-pressure water and vacuum combination
ServiceMaster of Prescott tile cleaning can save you money- by cleaning your tile instead of you having to replace it.
Grout cleaning gets rid of health hazards like mold, mildew, and dirt
ServiceMaster of Prescott tile cleaning is effective on any tile, indoors or outdoors, kitchen, bathrooms, anywhere!
Tile cleaning and grout cleaning are just part of our floor cleaning regimen. We also provide commercial cleaning services for businesses in the region. At ServiceMaster of Prescott we take pride in dirt removal.
Give us a call today at (928) 272-6095!