Commercial Water Damage Restoration in Fort Dodge
Damage Restoration Experts Near You
Water damage at a commercial facility might feel like a never-ending barrage of issues. In the Fort Dodge community, we haven't experienced several consecutive floods, but in 2019, a flash flood shut down the city and created chaos for business owners. While we hope to never have to deal with the aftermath of a flood, water damage can happen even without a significant weather event.
Fortunately, ServiceMaster by Rice - Fort Dodge is here to help your business recover after a burst pipe, sump pump failure, leaky commercial appliance, and more. We're highly trained and knowledgeable restoration service professionals specializing in commercial water damage repair.
Contact us online or call (515) 575-2369 for commercial water damage restoration in Fort Dodge.
Our Commercial Water Damage Restoration Services
You can count on us to offer:
Detailed inspections
Honest damage estimates
Pre-loss planning
Prompt repairs
Consider us your partner in water damage restoration, designing a plan that helps your employees acclimate to remote work, reduce further damage to your commercial space, and keep your doors from closing permanently.
How Much Does Commercial Water Damage Cost to Repair?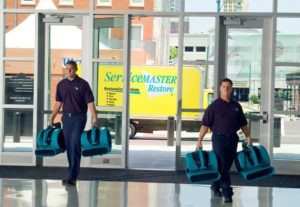 Water damage not only brings moisture to your commercial facility, but could cause mold, foundation weakness, and electrical issues. We include these problems in our comprehensive assessment that we send to your insurance provider. The cost of repairing commercial water damage will depend on the size of your space and the extent of the damage.
If you've experienced destruction after a severe water event, you can contact us to discover how we can help and schedule time for us to inspect the damage first-hand.
What's Included in Our Water Damage Assessment?
To provide an assessment of the damage, we have to perform a thorough inspection of your businesses. Once we have all the information we need and an itemized list of damages and recommended repairs, we will give you a detailed report of our findings.
Our water damage assessment includes:
Water damage categories – Our water categories are listed from 1 to 3, ranked by the number of bacteria that determines the water's color. Black water is a category 3, and we suggest you steer clear of a room with dark-colored water.
All damaged business items – We itemize damaged commercial equipment, including electronics, furniture, and building components.
The extent of the damage – Along with listing everything that experienced water damage, we also detail the type of damage in our assessment.
Current images of the destruction – For further evidence and documentation, we take pictures of all the damage in case your insurance provider has questions about anything. We can easily show them in real-time.
A repair estimate – After our evaluation is complete, we recommend the repairs and estimate the price to also give to your insurance company to approve.
Dealing with the aftermath of water damage can leave you confused and frustrated with how and where to start to restore your livelihood. Our restoration specialists will guide you through the process to help expedite the recovery and get your business up and operating.
With 24-Hour restoration service support from the experts in Fort Dodge, you can't go wrong. Call (515) 575-2369 or contact us online today.