COMMERCIAL WATER DAMAGE CLEANUP
STOP WATER DAMAGE WITH SERVICEMASTER RESTORE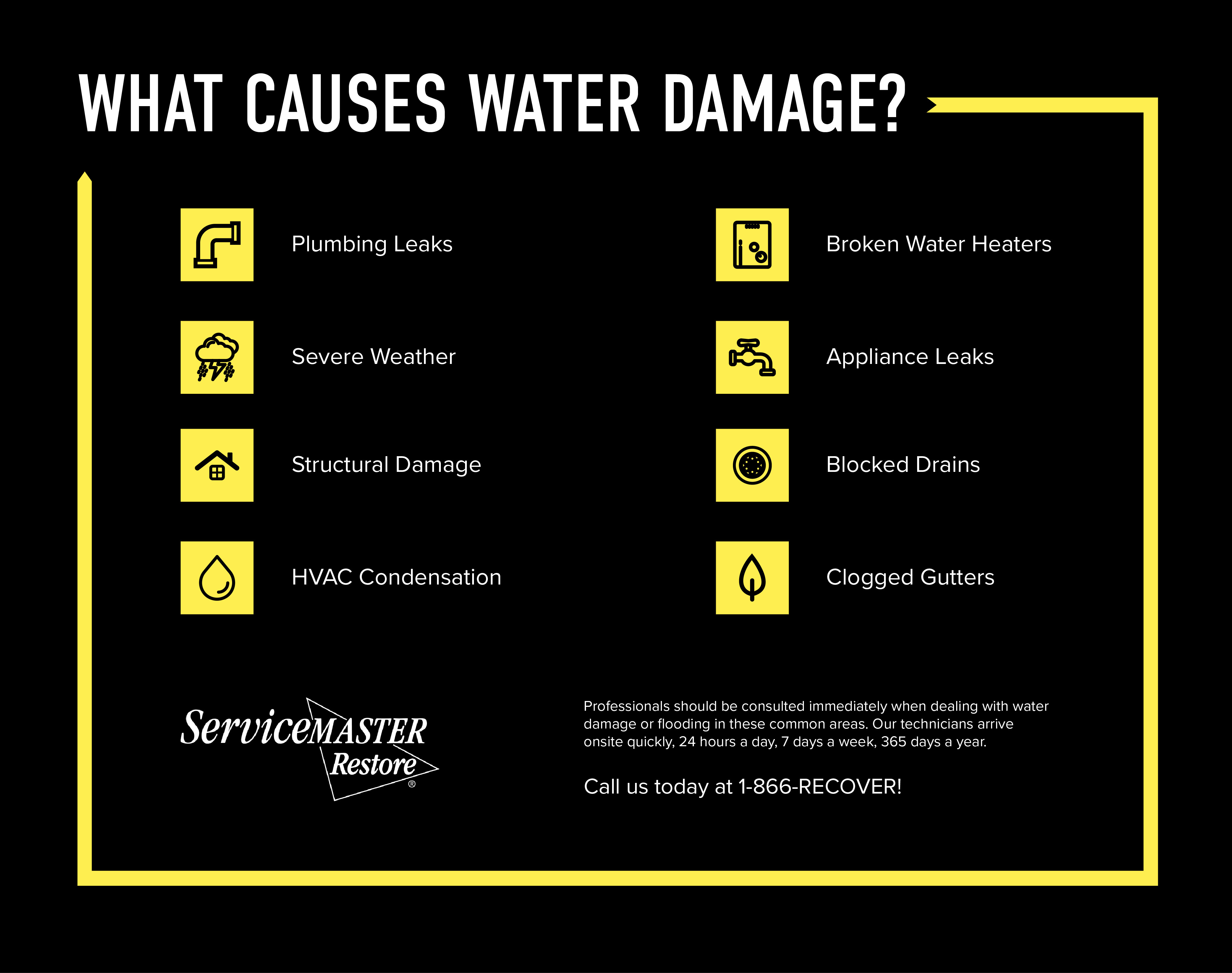 When water damage strikes your business unexpectedly, the best thing you can do is minimize the destruction with swift and effective action. During regular working hours and in the middle of the night, a ServiceMaster Restore team is ready to dispatch to your Whatcom or Skagit County location. Our IICRC trained restoration technicians have the equipment and experience to minimize water damage to your business, equipment, and furniture so your team can get back to work.
FULL-SERVICE COMMERCIAL DISASTER RESTORATION SERVICE
Without swift, effective action, water-soaked items can quickly become unsalvageable. After a flood, water can hide. A saturated wall may look normal until the damage is irreversible. A squishy area of carpet may go unnoticed as it weakens the subflooring. Moisture left for an extended period in organic material invites mold. In a commercial setting, this can be devastating. With our professional meters and tools, we find even hidden water because we know effective action now saves you from potentially expensive repairs down the road.
ServiceMaster Restore provides a full range of commercial disaster restoration services. In addition to drying, dehumidifying and water extraction, we restore and recover everything we can according to the highest industry standards. Our licensed and insured technicians efficiently manage any services you require including:
Complete Building and Contents Cleaning
Electronic Equipment Restoration
Data and Document Recovery
Carpet, Rug and Upholstery Cleaning
HVAC Duct Cleaning
Antiques and Fine Art Restoration
Furniture Refinishing
Biohazard Cleaning
WORKING WITH YOU FOR THE INSURANCE CLAIM
While our first priority is clean-up and repair to get you back in business, we keep the gears of your insurance claim turning with each step. You get the paperwork you need to make the process as smooth as possible. In addition, to estimate repairs our technicians use Xactimate, a third-party company with prices already approved by most insurance carriers.
INDUSTRIAL CLEANUP EQUIPMENT
Whether the job is large or small, we have the tools and experience for complete cleanup and repair after a flood, water leak, or sewer backup. The equipment we use includes:
Truck Mounted Extraction Units
Air Movers
Dehumidifiers
Diesel Water Pumps
Deodorizing Units
Trailer Mounted Desiccant Dehumidifiers
Commercial Sized Air Filtration Units
Thermal Imaging Cameras
Insurance Industry Pricing Using Xactimate
If some items need safe storage during clean up and repair, we provide professional pack out and storage services. Our storage facility is complete with heat, security, and fire suppression.
Disasters can happen to anyone. It's the speed of your response that determines how quickly you recover. ServiceMaster Restore gets your business back on track. Contact us immediately to get started.