Disinfection and Coronavirus Sanitizing Services
At ServiceMaster Disaster Associates, Inc., we deal in unique renewal and renovation scenarios that impact our customers both physically and financially. From mold and trauma scenes to vandalism and foul odors, our company has the tools and experience to deal with these specialized issues to get the job done quickly and efficiently. We make use of advanced disaster restoration tools and technology including thermo-imaging, moisture meters, hygrometers, dehumidification units, MSM, Dry Track, and iPads to find and remove water that can lead to mold and property damage.
ServiceMaster Disaster Associates, Inc. provides coronavirus cleaning and disinfection services for businesses and commercial buildings in Stoneham, Rochester, NH, Wilmington, Boston, MA, and the surrounding areas.
We are offering full-service specialized sanitizing and disinfection cleaning service options to help: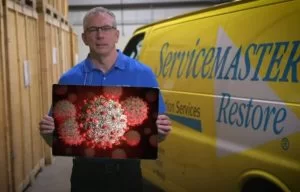 Office buildings and other workplaces
Schools and universities
Assisted living facilities and nursing homes
Childcare facilities
Gyms and fitness centers
Grocery and department stores
Other public and commercial buildings
COVID-19 Cleaning
The best way to guarantee you're prepared is to start planning now! Let us be part of your preparation.
ServiceMaster Disaster Associates is proud to offer a range of essential services, including preventative and post exposure cleaning and disinfection for viruses including Covid-19.
Our Services Include:
Preventative Planning: As experts in creating clean, safe, and healthy environments, let us help you prepare for preventive protocols for your office, school, or commercial property.
Full-Service Disinfection (Precautionary & Post-Exposure): No matter the size of your property, our trained professionals can handle the complete cleaning and disinfection of the affected areas for you.
Our Disinfection Procedures include:
A cohesive approach. Working with your unique circumstances, we'll help create the most effective plan to clean and sanitize.
Disinfect critical points of exposure and high touch areas.
Disinfect all other areas as appropriate.
Use EPA registered and approved products for disinfection appropriate to the situation.
Aligned with CDC and EPA recommendations, we properly dispose of contaminated cleaning materials.
Provide a letter of services to display for customers, staff, or students.
Pricing for services will vary based on time, materials, supplies, and square footage
Disinfection Cleaning – Watch Our ServiceMaster Video:
For commercial disinfection cleaning services in Stoneham, MA, Boston, Wilmington, Rochester, NH, or the surrounding areas, contact ServiceMaster Disaster Associates, Inc. at (800) 649-6369.
Our Commercial Cleaning and Disinfection Services include: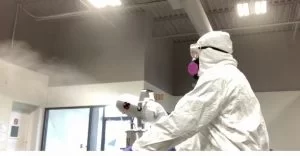 Physically wiping & hand sanitizing of all "high touch areas"
Misting of large areas, or as needed
Help with contamination mitigation
Electrostatic sanitizing equipment
Call us today for coronavirus disinfection cleaning and sanitizing for commercial and residential properties.
Dry Ice Blasting
Dry ice blasting is a cleaning process in which tiny dry ice pellets (the solid form of carbon dioxide) are shot out of a high-pressure apparatus, causing minimal abrasions. This process is an extremely effective cleaning agent, as it removes the top layer of dirt or contaminate to reveal a cleaner, stronger surface beneath.
The following is a complete list of our specialty services:
Disinfection cleaning
Vandalism cleanup
Trauma and crime scene cleaning
Deodorization services
Indoor air quality control and purification
Dehumidification and drying
Complete structure and content drying
Oil spills
Sewage backups
Debris removal
Wall and ceiling cleaning
Pet odor removal
Dry ice blasting
Pressure washing
Floor care
Biohazard cleaning
From fire and water damage restoration to mold remediation and trauma cleanup, we are the experts in commercial and residential restoration. Give ServiceMaster Disaster Associates, Inc. a call at (800) 649-6369 for our specialty services in Stoneham, MA as well as Essex and Middlesex counties in Massachusetts and Strafford and Hillsborough counties in New Hampshire.