COMMERCIAL MOLD DAMAGE IN YOUR BUILDING? WE CAN HELP!
No matter your type of building, mold damage is an important concern for employees, customers and residents.
If your building has sustained water damage, it may be time to contact a team of IAQA skilled profes­sionals. Service­Master by Gilmore staff is trained and CMR & CMRS Certified to properly reme­diate mate­rials affected by mold. People suffering from allergies and asthma are partic­u­larly sensitive to the presence of mold. Avoid prolonged exposure to mold in your building by calling us today—we have a number of protocols we can utilize to effec­tively resolve the problem in commercial buildings such as:
RESTAURANT/HOSPITALITY
COMMERCIAL REAL ESTATE
PROPERTY MANAGEMENT-HABITATIONAL
PUBLIC SECTOR/NON- PROFITS/HUMAN SERVICES
MUNICIPALITIES
BIOTECH, LABS, PHARMACEUTICAL AND HOSPITALS
COLLEGES/UNIVERSITIES/HIGHER EDUCATION
HIGH SCHOOLS/MIDDLE & ELEMENTARY SCHOOLS
RETAIL
HOTELS
MANUFACTURING
ASSISTED LIVING
HOUSES OF WORSHIP
CALL SERVICEMASTER BY GILMORE TODAY AT (800) 783-0552 TO GET STARTED TREATING THE MOLD IN YOUR HOME.
What Is Mold Remediation?
"Mold remediation" refers to the process of identifying, removing, and cleaning and treating a building that has experienced mold growth. While some businesses may only specialize in mold removal, our team of remediation specialists provide full remediation services from beginning to end. Our team will:
Identify the scope of the mold issue

Work to contain and properly ventilate the area where the mold issue is found

Provide thorough cleaning and disinfection services to remove any trace of mold

Provide preventative services to ensure the mold doesn't come back

Schedule clearance testing from an outside expert to ensure the job was done correctly according to the ANSI/IICRC S520 Standard and Reference Guide for Professional Mold Remediation.
When Is Mold Remediation Required?
In cases where the mold is affecting an area of more than 10 feet, it's recommended that you hire a professional. Mold, if not treated quickly and properly, can have deleterious health effects. If you aren't sure where to begin with treating the mold in your building, call our team of mold removal specialists today for help.
What To Look For During A Mold Remediation?
When performing selective demolition for mold remediation:
Work areas should be placed in containment and kept under negative pressure via air scrubbers equipped with HEPA filters.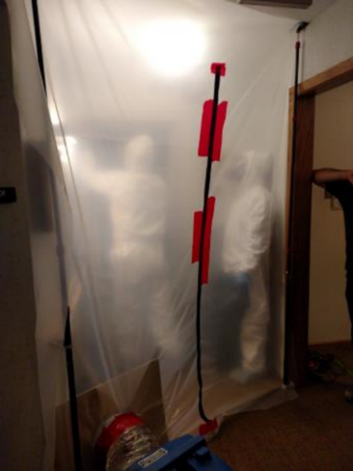 ​
Mold and water-impacted building materials should be removed.

Building materials that cannot be removed, such as structural components, should be remediated in-place via application of antimicrobial cleaners, inhibitors, and sealants, surface removal or other methods.

Remediation waste should be bagged within containment and removed from the work area for proper disposal.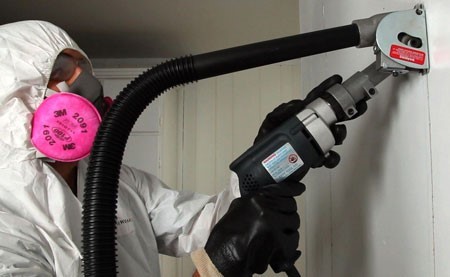 More information about mold from the CDC and EPA
https://www.epa.gov/mold/what-difference-between-mold-and-mildew
https://www.epa.gov/indoor-air-quality-iaq
The Key To Mold Control Is Moisture Control -US EPA https://www.epa.gov/mold