Commercial and House Cleaning Services – Barrington, IL
It's important to keep your home or business clean and sanitary, but it can be tough to stay on top of cleaning when your schedule is busy, or you don't have a dedicated custodial staff. Dirty rooms are embarrassing when visitors arrive, and customers don't want to deal with businesses that can't keep showrooms or restrooms clean. Without regular cleanings, allergens like dust and mold can build up and make allergy sufferers feel worse.
For over 30 years, ServiceMaster Kwik Restore has provided high quality residential and commercial cleaning services for clients in Barrington, IL. We use the most advanced cleaning products and equipment in the industry to deep clean and remove all traces of dirt, stains, allergens, and other debris. Our cleaning services will make your home or business look beautiful and smell fresh. We can provide one-time cleaning services, such as before a major event, or we can work with you to create a cleaning schedule that keeps your home or business looking its best at all times.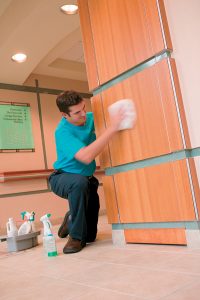 A great deal of time and money is spent on the carpeting and upholstery in your home or business, so it's important to protect your investment. Daily use pushes dirt deep into the fibers, leading to stains and discoloration that can't be removed even with daily vacuuming. Debris that pushes against fibers for too long wears them down and leads to thin spots and holes. This makes the furniture and carpet look shabby, which in turn makes the entire room look unkempt. The experts at ServiceMaster Kwik Restore clean carpets and upholstery in Barrington, IL using the hot water extraction method. This safely and effectively removes even deeply embedded dirt and stains from carpets and upholstery, and dries within 24 hours with no sticky residue. This method can be done in one visit and helps extend the life of carpets and upholstery.
Many homes and businesses choose hard surface flooring because they're durable and easy to clean. These surfaces, including laminate, tile, hardwood, and vinyl, still require regular cleaning to remove dirt and debris from the cracks between pieces that can affect the adhesive and damage the finish. If the finish is cracked, the surface of the floor is vulnerable to dirt, stains, and further damage. The specialists at ServiceMaster Kwik Restore use advanced cleaning products and equipment to safely and effectively remove dirt and stains from a variety of hard surface flooring in homes and businesses in Barrington, IL. Our techniques restore the original appearance of your floors to help them last longer.
ServiceMaster Kwik Restore offers comprehensive residential and commercial cleanings services, including:
Carpet and Upholstery Cleaning
Tile and Grout Cleaning
Hard Surface Floor Cleaning
Air Duct Cleaning
Hoarding Cleaning
Post-Construction Cleaning
Crime Scene Cleaning
These are just a few of the reasons why ServiceMaster Kwik Restore is the name to trust for cleaning services in Barrington, IL:
All of our professionals are carefully screened prior to being offered employment.
They receive continuing education in cleaning techniques both in the classroom and in the field.
We use only the most effective products and equipment available to the industry.
We also provide high quality disaster restoration services to residential and commercial clients in Barrington, IL.
To learn more about how ServiceMaster Kwik Restore can help your home or business look its best, contact us at 847-908-5914.