About ServiceMaster Kwik Restore - Cary
Marion E. Wade Expert Award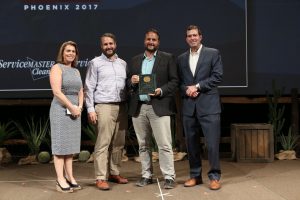 We are honored to receive the ServiceMaster's 2017 Marion E. Wade Expert Award at the ServiceMaster Franchise Services Group Convention in Phoenix, AZ.
Mary Kay Wegner, the President of the Franchise Services Group at ServiceMaster, presented the Marion E. Wade Expert Award to ServiceMaster Kwik Restore owners Kevin Kallas and Nathan Kallas.
The Marion E. Wade Expert Award is the top award given by ServiceMaster to its franchisees. Each year, four franchises in the United States and Canada are chosen by the ServiceMaster corporate office to receive the award. The winners are chosen according to the quality of their work and customer service, their growth as a franchise, and their leadership and involvement in the community.
History of ServiceMaster Corporate
Marion E. Wade, who began his own moth proofing service at age 31, began "on-location" (in the home) carpet cleaning in 1937, using products he had developed. When temporarily blinded by a moth proofing accident in 1944, Mr. Wade began thinking about his life and decided to dedicate his business to God. For the rest of his life, Mr. Wade regarded the Bible as his management guide and later wrote a book titled "The Lord is My Counsel" explaining his devotion. Mr. Kenneth N. Hansen joined Marion Wade in 1947. In 1952, the first ServiceMaster Residential/Commercial franchise was sold. The franchises began operating as "ServiceMaster-masters of service, serving the Master". Mr. Wade recruited Kenneth T. Wessner in 1954. Together Wade, Hansen, and Wessner developed the four Company objectives, which are still used by franchises today:
To honor God in all we do
To help people develop
To pursue excellence
To grow profitable
History of ServiceMaster Kwik Restore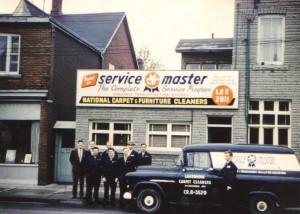 Wayne and Clara Lutz purchased the ServiceMaster Barrington Lake Zurich franchise in May of 1977. The franchise has a main area of concentration of Barrington, Lake Zurich, Killdeer, Long Grove and Wauconda, but includes all of Lake County, Illinois, and the Barrington area of Cook County.
In 1981 the business was expanded to include the ServiceMaster Cary Crystal Lake and Algonquin franchise, which included the entire area of McHenry County, Illinois. The businesses provided residential and commercial cleaning services on a project basis, as well as disaster restoration services for the insurance industry. The business was run as a proprietorship until 1992 when it was incorporated as W.A. Lutz Inc.
Current Management Team
Kevin Kallas: President
Kevin started with ServiceMaster in 1999 working for his now father-in-law Wayne Lutz. After 8 years of working with Wayne, Kevin purchased the business in 2007, 30 years after Wayne started it in 1977. Kevin's leadership and vision has helped the business grow, and he attributes a lot of that to ServiceMaster's corporate objectives and the people he surrounds himself with.
Matt Willis: Partner: Vice President of the Fire Division
Matt has been with ServiceMaster since 2000. Matt's parents were ServiceMaster distributors and owned their own franchise since 1972. Matt took over his parents' business and thrived before selling it in 2016 to ServiceMaster Kwik Restore. Matt now runs the fire division for ServiceMaster Kwik Restore.