Fire Damage Restoration in Camarillo
Fire Damage Cleanup in Los Angeles
Are you in desperate need of a fire damage restoration company in/near the Los Angeles area to get your home or office back to normal as efficiently and quickly as possible? If so, you've come to the right spot…
Here at Service Master Restore we know how devastating it can be when a fire occurs to your home or office. Dealing with the physical damage can be hard enough as it is, not to mention the emotional distress that follows.
Often times the physical effects of a fire are deeper than the eye can perceive and even the smallest of fires can have lasting effects on your home. The physical destruction can have severe implications on your home or office structure such as charred sections, broken pipes, and crumbling infrastructure.
If you're looking for damage restoration in los angeles, you can contact us online or give us a call a (805) 293-8064 today!
Some of your most prized possessions may have been compromised like photo albums filled with fun, loving memories, important documents, amongst other very meaningful belongings that can make dealing with such a catastrophic event that much harder.
On top of the variety of emotions that you could be feeling from the fire, such as sadness, feeling lost, confused, overwhelmed, your home or office that used to feel to safe and secure – you now no longer feel comfortable in and it's interfering with daily life. The worse part is that the lasting smoke damage in itself, if left unchecked, can negatively affect the health of you and anyone else in the environment.
As if you didn't have enough to worry about! Just the thought of wondering if your home of office is even safe to be in is probably one of the worst feelings one can face let alone, just the confusion itself of not knowing what to do, where to turn or how to pick up the pieces – can be very overwhelming.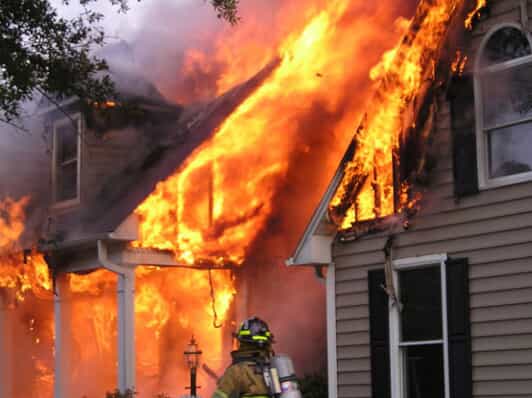 But the Good news is that no matter how big or small the fire damage is, we want to reassure you that your home or office can indeed regain its security, feel safe again and provide you the comfort it once did. And that is our exact mission here Service Master Restore, to get your beautiful home or office back to its safe sanctuary and fully restored so that you and your loved ones can return back to normal living.
Top 5 Reasons To Work With Our Fire & Smoke Damage Cleaning Service
The pros at Service Master Restore are fully prepared with over 60 years of experience in fire water restoration and are well-equipped with the latest technology, equipment and trained in only the best, latest fire damage restoration techniques. Our water restoration company strongly believes and lives by doing things the right way.
We make it our duty to get your home or office fully restored and safe for you and your loved ones to return to normal life as quickly as possible. Apart from our solid reputation in the fire damage restoration service industry, below are a few more reasons why we are the best solution to handle all your fire damage needs:
State-of-the-art Equipment

Fire damage restoration can be quite extensive. Part of being the best in our field requires us to always be prepared to restore residential houses and commercial buildings no matter the extent of the fire damage. We are well-equipped with the top of the range restoration equipment to tackle everything from the heavy-duty aspect of rebuilding your structure from scratch to detecting and fixing even the smallest traces of fire and smoke damage, including odors, and stains. At Service Master Emergency Services Restoration, we pride ourselves on being able to restore your home or place of business to its original state as quickly and efficiently as possible.

24/7 Availability

Because a fire calamity can strike at any time, we are always just one call away. Fire damage is degenerative; the longer you wait, the worse the damage becomes. We understand the need for a timely response which is why our phone lines are always open all day, every day. We are here to answer all your queries and to offer you sound advice on what steps you should take following an unfortunate fire disaster.

Skilled Professionals

In the wake of a fire disaster, you need fire damage restoration professionals with our level of skill and expertise to ensure smooth sailing for you, your family members or your co-workers during the entire fire restoration process. We have continued to set the standards in the industry and always aim to provide the best service possible.

Commitment

Our commitment to the task at hand is what separates us from the rest. We offer a guiding hand to our clients at their time of despair and walk them through the best solutions from the start of the fire restoration process to the end. Our focus on the task at hand stems from the strong culture of thoroughness and integrity that we have built here at Service Master Restore Pros over the last six decades of operation.

We Prioritize You, the Customer

Customer satisfaction means a lot to us, which is why our job is never done until you, the customer, is happy with the results. Throughout the whole restoration process, we are open to your suggestions and feedback and are eager to meet and exceed your expectations.
So if you are in desperate need of an emergency fire and water restoration company near Los Angeles and need an expert to walk you through the next steps after a devastating fire, are looking to start the restoration process or just have general questions, our phone lines are open 24 hours a day 7 days a week, 365 days a year to serve you. Give our fire damage restoration Los Angeles experts a call today at (805) 293-8064 or contact us by filling out thecontact form on our website.
We know how devastating a fire can be and make it our duty to serve and help you anyway possible during this challenging time.
Call (805) 293-8064 for help from our fire restoration cleaning company in Camarillo. Remember you will get through this and come out stronger!