Mold Removal in Apple Valley
Mold Remediation for Apple Valley & the Surrounding Area
It only takes a small water leak or a day of high humidity for mold to begin quietly creeping into your home or business. Mold spreads rapidly and should be treated with urgency. Unfortunately, it has the potential to spread through the entire premises within 48-72 hours in high humidity months. Not only is mold unsightly, but it can produce allergens and irritants that have a negative effect on your health (chronic coughs, watery eyes, rashes, headaches, respiratory problems, etc). Mold can be especially dangerous to children, the elderly or anyone with respiratory issues. Additionally, it can cause significant damage to your property, reducing its value, or even disrupting a real estate transaction if not treated properly.
WHAT TO DO NEXT - Call the Professionals at ServiceMaster Apple Valley – with our rapid response team, we can provide you with an honest assessment of damages and efficient treatment of the affected area.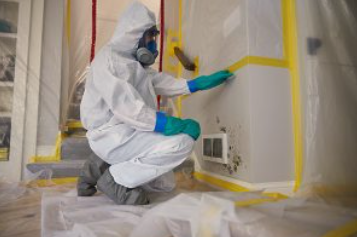 Steps for your protection will include:
Mold Assessment
Using advanced moisture-meter equipment, we locate moisture in your walls, floors, ceilings and/or cabinets. From there, our infrared cameras help identify the source of the water and determine how much damage has occurred.
Mold Extraction and Removal
Our certified water technicians will be on the job using commercial grade water extractors and dehumidifiers to dry out your floors, carpets, walls, etc., to abate the spread of mold.
Mold Containment
One of the most important steps is the containment of the mold affected areas. Using heavy duty plastic sheeting, we are able to encapsulate the area and create negative air pressure to direct the mold away from indoor space.
Contaminated Surface Disposal
Next, we remove any porous materials such as drywall, insulation, carpet, soft furnishings, clothing, etc., which have been contaminated by the moisture. Materials such as glass, hard plastics and non-porous metals can be cleaned, sanitized and reused. We will may every attempt to salvage any objects of importance to you, and items are only disposed of once you have signed off with permission.
Home Disinfection
Once contaminated contents have been removed, we then get to work disinfecting all remaining surfaces, sealing any areas that are salvageable with microbial sprays and removing any airborne contaminants with air scrubbers.
Repair and Reconstruction
With a full reconstruction division, we can mobilize our skilled craftsmen to rebuild the damaged premises, if needed. Juggling carpenters, plumbers, electricians and more can be a difficult task, but we take the pain of reconstruction by managing the whole process for you. We get the process started quicker to restore your home or business to its pre-loss condition (or better) condition!
Mold is a serious issue and it will not disappear on its own…it only multiplies! So give ServiceMaster Apple Valley a call today and let us help you cleanup and restore your premises!
Can You DIY Mold Removal?
DIY mold removal is possible if you're trying to remove a small area temporarily. Unless the root problem is professionally addressed, it will probably grow back.
Can I Remove Black Mold Myself?
This is one of those, "You can, but you really shouldn't" things. If you absolutely have to clear a certain area, maybe if you have a guest coming over before an appointment with a remediation company, you should wear:
Gloves up to your elbows
An N95 mask or a respirator
Goggles
Scrubbing mold is likely to move spores into the air, so it's definitely not something you want to do with an uncovered face. You obviously don't want to breathe in the mold spores, but what many people don't know is that toxic mold can also cause a few different eye infections/symptoms, such as blurred vision, vision loss, and conjunctivitis. That's why goggles are so important. And professional removal services.
How to Remove Mold From Walls
Removing mold from drywall is possible in the short term. Infested drywall should always be replaced in the long term.
Something very important to note is thatyou can never be sure of the toxicity of a mold just by looking at it. There are toxic forms of mold in nearly every color.
Because of this, you should treat all mold as potentially dangerous, and follow the precautions listed above for black mold. Many people use bleach to rid their walls of mold, but it actually is not the most effective DIY method. Vinegar or a commercial mold removal work much better. You should spray the affected area with your solution of choice, wait an hour or two, and then scrub.
Check out more mold FAQs or give us a call at (860) 850-2772!