Hartford county Mold Removal Services
Restoring Your Home, Health & Happiness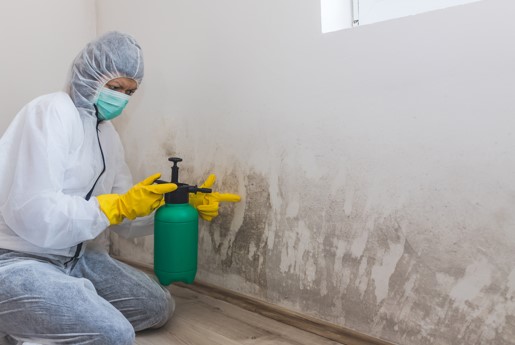 It only takes a small water leak or a day of high humidity for mold to begin quietly creeping into your home or business. Mold spreads rapidly and should be treated with urgency. Unfortunately, it has the potential to spread through the entire premises within 48-72 hours in high humidity months.
Not only is mold unsightly, but it can produce allergens and irritants that have a negative effect on your health and can cause significant damage to your property, reducing its value, or even disrupting a real estate transaction if not treated properly.
At ServiceMaster Apple Valley, our experts are specialized in all types of processes in getting rid of mold such as mold treatment, mold inspection, mold remediation, mold removal, and so much more. We take pride in providing top quality mold treatment services to the Hartford CT community, as our experts want to help restore your property and keep you and family safe!
Dial (860) 850-2772 or contact us online for mold remediation in hartford, ct today!
TRUSTED MOLD Damage REMOVAL HARTFORD County
Trust ServiceMaster Apple Valley with your mold removal, repair and reconstruction needs. We combine our advanced technology, equipment and years of expertise to restore your property back to a healthy condition, getting rid of all mold in your home!
Our experienced technicians will start the project with a thorough evaluation of the extent of the damage and determine the best course of action for each situation, bringing tailored solutions to fit your individual needs. We provide top-notch mold removal services, without disrupting your home, so you can be at peace of mind. Our team is also certified in removing hazardous materials while following all regulatory mold removal guidelines.
With our team by your side you can be sure that your home or business will be safely restored, giving you peace of mind. Our team Trust ServiceMaster Apple Valley for all your mold removal needs! Contact us today to get started!
Our Mold Removal Process
Mold removal can be a tricky and delicate process, doing it on your own cannot ensure full removal of the mold or the stoppage of spreading which can be very dangerous.
Our trained mold removal expert can help guide you through the process of mold removal, inspect the mold, find the severity of it, and remove the mold before it spreads even more. Our experts will even provide you with information on how to prevent mold growth in the future!
Our mold removal process includes:
Mold Assessment - Using advanced moisture-meter equipment, our mold inspectors locate moisture in your walls, floors, ceilings and/or cabinets. From there, our infrared cameras help identify the source of the water and determine how much damage has occurred.

Mold Extraction and Removal - Our certified water technicians will be on the job using commercial grade water extractors and dehumidifiers to dry out your floors, carpets, walls, etc., to abate the spread of mold.

Mold Containment - One of the most important steps is the containment of the mold affected areas. Using heavy duty plastic sheeting, we are able to encapsulate the area and create negative air pressure to direct the mold away from indoor space.

Contaminated Surface Disposal - Next, we remove any porous materials such as drywall, insulation, carpet, soft furnishings, clothing, etc., which have been contaminated by the moisture. Materials such as glass, hard plastics and non-porous metals can be cleaned, sanitized and reused. We will may every attempt to salvage any objects of importance to you, and items are only disposed of once you have signed off with permission.

Home Disinfection - Once contaminated contents have been removed, we then get to work disinfecting all remaining surfaces, sealing any areas that are salvageable with microbial sprays and removing any airborne contaminants with air scrubbers.

Repair and Reconstruction - With a full reconstruction division, we can mobilize our skilled craftsmen to rebuild the damaged premises, if needed. Juggling carpenters, plumbers, electricians and more can be a difficult task, but we take the pain of reconstruction by managing the whole process for you. We get the process started quicker to restore your home or business to its pre-loss condition (or better) condition!
Call our team at (860) 850-2772 or contact us online to schedule your hartford mold inspection today!
Mold damage risks
Mold left unattended and not properly treated can cause serious damage to your home and health. It is important to consult with a professional if mold growth or mildew damage is found as mold can be very discrete and can spread quickly.
Structural Damage Caused by mold
Mold can cause structural damage to your home including:
Warping and buckling of floors, walls and ceilings
Structural instability caused by rot damage
Damage to insulation in the walls or attic as well as other spaces
Symptoms of Mold Sickness
Mold can also cause severe health risks, most notably "mold sickness" with common symptoms including:
Headaches, coughing, sneezing and asthma
Sinus congestion or runny nose
Itchy eyes, skin rashes and other allergy-like symptoms
Respiratory problems
Allergic reactions such as coughing, wheezing and sneezing
Skin rash or irritation
If you think your home may be at risk of mold damage, it is important to contact a professional like ServiceMaster Apple Valley for help. We're certified to handle a wide range of mold-related problems, from cleanup and removal to air treatment and odor control.
Dial (860) 850-2772 orcontact us online to consult with a black mold removal expert today!
Frequently asked Questions
PROVIDING YOU WITH ALL THE INFORMATION YOU'RE LOOKING FOR
Can you DIY mold removal?

DIY mold removal is possible if you're trying to remove a small area temporarily. Unless the root problem is professionally addressed, it will probably grow back.

Can I remove black mold myself?

This is one of those, "You can, but you really shouldn't" things. If you absolutely have to clear a certain area, maybe if you have a guest coming over before an appointment with a remediation company, you should wear: gloves up to your elbows, an N95 mask, or a respirator, and goggles.




Scrubbing mold is likely to move spores into the air, so it's definitely not something you want to do with an uncovered face. You obviously don't want to breathe in the mold spores, but what many people don't know is that toxic mold can also cause a few different eye infections/symptoms, such as blurred vision, vision loss, and conjunctivitis. That's why goggles are so important. And professional removal services.

How to remove mold from walls?

Removing mold from drywall is possible in the short term. Infested drywall should always be replaced in the long term.




Something very important to note is that you can never be sure of the toxicity of a mold just by looking at it. There are toxic forms of mold in nearly every color.




Because of this, you should treat all mold as potentially dangerous, and follow the precautions listed above for black mold. Many people use bleach to rid their walls of mold, but it actually is not the most effective DIY method. Vinegar or a commercial mold removal work much better. You should spray the affected area with your solution of choice, wait an hour or two, and then scrub.

What to do after mold remediation?

Once the source of moisture has been eliminated, it is important to monitor the area for any further signs of mold. Regularly checking for signs of moisture, such as discoloration or a musty smell, can help prevent mold from returning. Additionally, it is important to keep the area clean and dry, as mold can grow quickly in damp conditions.




It is also beneficial to use a dehumidifier to reduce the humidity in the area. This can help prevent mold from growing and spreading. Additionally, using an air purifier can help to remove spores and other airborne particles from the air in the area.




Finally, it is important to consider the use of mold-resistant materials and paints when redecorating the area. Mold-resistant paints and other materials can help to prevent mold from returning in the future.

How long does mold remediation take?

The time it takes for mold remediation can vary depending on the size and scope of the mold problem, the type of mold involved, and other factors such as the location of the mold and accessibility.




In general, mold remediation can take anywhere from one day to several weeks or more. For example, a small area of mold on a non-porous surface may only take a day or two to remediate, while a larger area of mold on a porous surface such as drywall or carpet may take several days to a week or more.




If there is significant mold growth or damage, additional time may be required to repair and replace affected materials. It's important to note that the safety and effectiveness of mold remediation should never be compromised for the sake of speed, so it's important to hire a qualified and experienced professional who can properly assess the situation and provide an accurate estimate of the time required for remediation.