Fire Damage Restoration Middletown
We've been to thousands of homes just like yours in the aftermath of a fire and understand just how stressful it can be. That's why we make the restoration process as fast and stress-free as possible.
Fire damage to your property is overwhelming but we're here to help 24/7/365. Our crews are on standby and our trucks are loaded and ready to go – give us a call now and we'll be on site ASAP to provide board-up or tarp-up services to prevent further damage.
24/7 Emergency Service in Middletown, NY
Help is Available Now
Fires are extremely destructive and the extent of the damage goes beyond what you see on the ceilings, floors, walls etc. Often there is damage to electrical systems, HVAC systems and structural issues. This creates a far more complex problem than a typical homeowner or contractor is equipped to deal with.
ServiceMaster Restore has spent decades helping property owners recover from fire damage. Our technicians go through continuing education programs to ensure that they understand the latest technology, equipment and cleaning processes to effectively restore your property and belongings. Our company takes care of the entire process, leaving you only one company to deal with and less to worry about.
You can trust ServiceMaster to get the job done right and get your life back on track as quickly and as stress-free as possible.
Our Fire Damage Restoration Process:
Inspection & Assessment

We are not making you wait when a disaster strikes and your life is in chaos. We will be on site within the next few hours to assess the damage and put our plan together.

Emergency Board Up

We will board-up and tarp any compromised areas including windows, walls, doors or your roof to prevent further damage to your home.

Structural Drying

We dry the areas that are wet from the fire extinguishing process with our special equipment, preventing mold growth or water issues.

Content Pack-Out

Rest assured that your household belongings are handled carefully until they can be returned.

Removal & Cleanup

Fire damaged materials and surfaces are removed or cleaned as necessary.

Smoke Odor Removal

Odor from smoke and fire damage can ruin your belongings. Over the course of a few treatments, we remove the odors from your home with our professional equipment.

Restore

We provide complete reconstruction services if your situation requires repairs, returning your home to it's previous condition or better.
Repair and Reconstruction After a Fire
ServiceMaster Restore By Calco Clean is a full service construction company able to rebuild any areas of your home that can not effectively be restored. Structural repairs are often necessary after a fire and you need a team of experts that will care for your property as if it were their own.
Content Inventory, Pack-out and Storage
After a fire damages your home and your valuable items are at risk, we have a content pack-out procedure that will help you keep your possessions safe. Most of the time, your contents are restored on site, but if your home was damaged extensively, we take your belongings off-site for proper restoration.
Our crews are trained in inventory management and packing. They know how to handle, clean and store your cherished possessions to provide you with peace of mind throughout the restoration process.
Our Pack-out and Restoration Process:
Inventory and careful packing of your items.
Transport to climate-controlled storage.
Provide you a list of inventoried items.
Restoration of items. Includes cleaning and deodorization.
We track and document your items throughout the process.
You are provided easy access to your belongings if needed.
Return your items to your home.
Smoke Damage
The structural damage from the fire itself is only half the battle. The other half is smoke damage. The smoke from a house fire permeates throughout the entire building. When combined with humidity, the smoke can form corrosive residues. This causes a lot of damage to surfaces inside your home that weren't even in contact with the fire itself.
Soot Removal
The damaging effects of soot can quickly become permanent if not taken care of. Soot is made of up tiny particles of material that were burned in the fire and are carried throughout your building during a fire.
Types of Soot:
Dry Soot
This is a very fine soot that is usually caused by a very high temperature and fast burning fire. Fast and hot burning materials like wood and paper emit this dry soot. Easier to clean on smooth surfaces but can present a real challenge on porous materials.
Wet Soot
Soot from a slower burning, lower heat fire. Having a higher moisture content, this soot has a much stronger odor and is very difficult to remove. Plastic materials and oils usually create this type of soot when burned.
Oil Based Soot
This type of soot comes from puff backs from your heating oil furnace. It's oily nature makes it hard to clean.
Protein Soot
Protein soot is actually light in color. This comes from food or other organic materials, usually in a kitchen fire. It can discolor paint but is difficult to see on its own.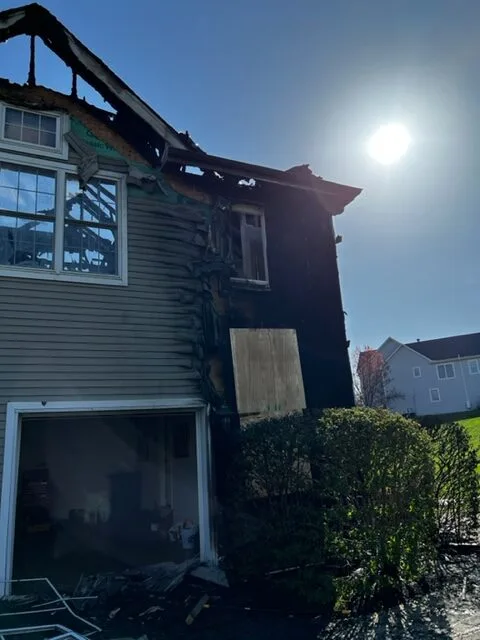 ​