Fire Damage Restoration in Azusa
Helping You Get Back to Normal
Even when the fire is out, the damage continues. Much of the material found in furniture and flooring is synthetic, and when burned, it can create a variety of complex chemical reactions. These chemical reactions create soot, residue, and other corrosive byproducts. After only a few days, these byproducts can cause items to go from cleanable to unsalvageable.
The professionals at ServiceMaster by T. A. Russell provide complete fire damage restoration and cleanup services for affected homes and businesses in Azusa, CA and the surrounding areas in southern California. We will help rebuild structural damage to your property caused by the fire and clean up the effects of smoke and soot.
Our experts understand the chemical combinations that can effectively clean and salvage belongings damaged by smoke, soot, and corrosive residue. We can even remove soot from at-risk items such as brass, aluminum, chrome, marble, tile, and porcelain, as well as fabrics in upholstery and carpeting, thus helping to avoid additional expenses.
Your fire damage recovery starts here! Dial (866) 634-4764 or contact us online for FIRE DAMAGE RESTORATION IN AZUSA today!
Our Fire Restoration services
At ServiceMaster by T.A. Russell, our fire restoration team in Azusa and the surrounding areas are available 24/7. Our experts work quickly to assess the damage, rebuild your property, and help you reclaim your life.
Our team specializes in all fire restoration services to ensure your home or business is restored to its pre-loss condition as quickly and safely as possible. From soot, smoke and odor removal to full fire damage reconstruction, our experienced technicians have the expertise to handle it all.
Our fire restoration services include:
Carpet And Upholstered Furniture
Tarping And Boardup
Wall, Ceiling, And Cabinet Washing
Clothing And Fabric Cleaning
Soot, Smoke, And Odor Removal
Content Cleaning And Restoration
Fire Damage Repair
We understand that dealing with fire damage can be overwhelming. That's why our team is here to provide you with the support and compassion you deserve. We'll work diligently to salvage as much of your property as possible, while also providing guidance and support throughout each stage of your fire restoration journey.
Soft Goods Restoration
Our Soft Goods Restoration department can now restore over 90% of all damaged soft contents. These soft contents include clothing, bedding and linens, stuffed animals, shoes, hats, belts, purses, leathers and furs, plus, a full range of sports equipment, helmets, pad, rollerblades, skates, and ski boots. Even ceramic dolls can be safely and effectively cleaned with our Esporta Wash System.
The Esporta Wash System is patented and proven to effectively clean soft contents affected by soot, sewage, water damage, and bio-contamination.
Fire and Smoke Damage Restoration in Southern California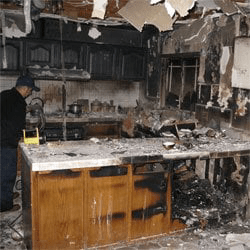 Fires cause immense damage within a home or building. The fire itself causes serious structural damage that can leave your home or building unstable. This type of damage needs to be stabilized immediately to prevent collapse.
The damage is not done once the fire is out, though, as the smoke, soot, and other corrosive byproducts created by the fire will linger and cause additional damage. If materials damaged by smoke and soot are not quickly cleaned and restored, the damage will become permanent.
We use the latest equipment and supplies in our five-step fire and smoke restoration and cleanup process:
Emergency pre-cleaning
Content cleaning
Content pack-out
Wall and ceiling cleaning
Deodorization
ServiceMaster by T. A. Russell understands how much time you may have when a disaster strikes in the home. Helping you assemble your belongings is another way we help restore your peace of mind.
Risks of Smoke & Fire Damage
Unfortunately, when a fire does strike, the damage is not counted as done even once it's extinguished. Smoke, soot, and other corrosive byproducts created by the fire can linger in an environment for far longer than the flames themselves; and this subsequent damage is often just as bad, or sometimes even worse, than the original fire.
Left unattended or untreated, fire and smoke damage post fire can cause:
Structural damage
Affected indoor air quality
Lingering odors
Discoloration of walls and ceilings
Severe health risks
This is why it is important to consult with an after fire cleanup company, to ensure damages from fire and smoke are minimized post fire. Our team can repair fire damage effectively and quickly, using advanced cleaning methods and specialized equipment, restoring your home to its pre-fire state in no time!
No matter how large or small the job may be, you can trust us to get it done right! Contact ServiceMaster by T. A. Russell today!
Repair fire damage in your home today! Contact our team online for help with fire remediation services near you!
Emergency Check List
VALUABLES:
Prescription Medications
Eyeglasses
Credit Cards & Cash
Family Albums & Journals
Firearms & other Weaponry
Jewelry & Heirlooms
ELECTRONICS:
Cell phone & Chargers
Laptop
TOILETRIES:
Personal Hygiene items
Feminine Supplies
DOCUMENTS:
Copies of Insurance Policies
Identification [SS Card, licenses, Passport] & Bank Account Records
FAMILY:
Infant Formula & Diapers
List of Family Physicians
Special items for infants, elderly or disabled family members
MISCELLANEOUS:
Extra set of car & house keys
Change of clothing
Intimate Items
Books, games, puzzles, & other activities for children
Pet Food & extra water for your pet
Emergency FIre Damage Repair
If your home or building is affected by a fire, make sure you call our professionals at ServiceMaster by T.A. Russell in Los Angeles as soon as the fire is out. Our technicians will start to clean up the fire damage and prevent the spread of smoke and soot.
You can reach us 24 hours a day at (866) 634-4764 for emergency fire damage restoration and cleanup in Azusa, CA and the surrounding areas in southern California.
Frequently Asked Question
How long does smoke damage last?
Smoke damage can be very destructive to property and the effects of smoke damage often linger for years. In order to completely remove smoke damage from walls, ceilings, wood furniture, and other surfaces, smoke damage restoration is necessary. Professional smoke damage restoration experts have access to special cleaners and equipment that can help to restore smoke damaged items to their previous condition.
Moreover, smoke residue can also penetrate into hard-to-reach places like air vents, carpets, and textiles which requires an experienced smoke damage specialist in order to restore such items. Ultimately, smoke damage restoration is often a lengthy process that ensures that smoke damage does not remain present in a property or items for an extended period of time.
What is salvageable after a fire?
After a fire, it is possible to save some property depending on how well it was protected by nearby structures or other objects. Metal items may be spared due to the materials being more resilient to high temperatures, while furniture and fabric items are more likely to be damaged beyond repair.
It can be difficult to determine the extent of salvageable property before an inspection of the scene and an assessment by professionals, so it is important to reach out for help as soon as possible if a fire has occurred on one's property.
If a building or home has been affected, an experienced team should be called in to make sure any items that can possibly be saved are not overlooked during the recovery process.
Do fires lead to mold growth?
When properties get damaged by fire, mold growth is often a consequence. This is because the firefighting efforts usually involve large amounts of water, which increases moisture levels leading to a favorable environment for mold growth.
The combination of heat and water provides the ideal circumstances for mold spores to grow. Moreover, soot and smoke damage can also worsen mold growth as they contain organic materials that help it grow.
The longer your home is exposed to water and moisture, the more likely mold growth becomes. It's essential to address any water damage as quickly and thoroughly as possible to avoid mold growth.
At ServiceMaster by T.A. Russell, we understand the risk of mold growth. Our fire damage restoration technicians work hard to prevent it while restoring your property. Contact us today to learn more.
For more information on fire restoration services, dial (866) 634-4764 or contact us online today!