Fire Damage Restoration in Azusa
Even when the fire is out, the damage continues. Much of the material found in furniture and flooring is synthetic, and when burned, it can create a variety of complex chemical reactions. These chemical reactions create soot, residue, and other corrosive byproducts. After only a few days, these byproducts can cause items to go from cleanable to unsalvageable.
The professionals at ServiceMaster by T. A. Russell provide complete fire damage restoration and cleanup services for affected homes and businesses in Azusa, CA and the surrounding areas in southern California. We will help rebuild structural damage to your property caused by the fire and clean up the effects of smoke and soot.
Our experts understand the chemical combinations that can effectively clean and salvage belongings damaged by smoke, soot, and corrosive residue. We can even remove soot from at-risk items such as brass, aluminum, chrome, marble, tile, and porcelain, as well as fabrics in upholstery and carpeting, thus helping to avoid additional expenses.
Soft Goods Restoration
Our Soft Goods Restoration department can now restore over 90% of all damaged soft contents. These soft contents include clothing, bedding and linens, stuffed animals, shoes, hats, belts, purses, leathers and furs, plus, a full range of sports equipment, helmets, pad, rollerblades, skates, and ski boots. Even ceramic dolls can be safely and effectively cleaned with our Esporta Wash System.
The Esporta Wash System is patented and proven to effectively clean soft contents affected by soot, sewage, water damage, and bio-contamination.
Complete Fire and Smoke Damage Restoration in Southern California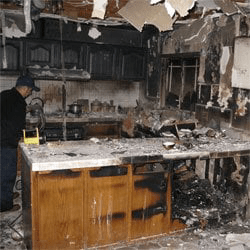 Fires cause immense damage within a home or building. The fire itself causes serious structural damage that can leave your home or building unstable. This type of damage needs to be stabilized immediately to prevent collapse.
The damage is not done once the fire is out, though, as the smoke, soot, and other corrosive byproducts created by the fire will linger and cause additional damage. If materials damaged by smoke and soot are not quickly cleaned and restored, the damage will become permanent.
We use the latest equipment and supplies in our five-step fire and smoke restoration and cleanup process:
Emergency pre-cleaning
Content cleaning
Content pack-out
Wall and ceiling cleaning
Deodorization
ServiceMaster by T. A. Russell understands how much time you may have when a disaster strikes in the home. Helping you assemble your belongings is another way we help restore your peace of mind.
Emergency Check List
VALUABLES:
Prescription Medications
Eyeglasses
Credit Cards & Cash
Family Albums & Journals
Firearms & other Weaponry
Jewelry & Heirlooms
ELECTRONICS:
Cell phone & Chargers
Laptop
TOILETRIES:
Personal Hygiene items
Feminine Supplies
DOCUMENTS:
Copies of Insurance Policies
Identification [SS Card, licenses, Passport] & Bank Account Records
FAMILY:
Infant Formula & Diapers
List of Family Physicians
Special items for infants, elderly or disabled family members
MISCELLANEOUS:
Extra set of car & house keys
Change of clothing
Intimate Items
Books, games, puzzles, & other activities for children
Pet Food & extra water for your pet
Contact Us
If your home or building is affected by a fire, make sure you call our professionals at ServiceMaster by T.A. Russell in Los Angeles as soon as the fire is out. Our technicians will start to clean up the fire damage and prevent the spread of smoke and soot. You can reach us 24 hours a day at (866) 634-4764 for emergency fire damage restoration and cleanup in Azusa, CA and the surrounding areas in southern California.