AZUSA MOLD REMOVAL & INSPECTION
Professional mold remediation services near you
It takes as little as 48 to 72 hours for mold growth to start under the right conditions. All it takes is a mold spore, a food source, and moisture for mold to start growing. Out of these three, water is the one component we can control. That is why we say, "Don't wait to mitigate" when a structure has been affected by a water damage. Once started, mold can spread quickly throughout a structure.
Health Problems Caused by Mold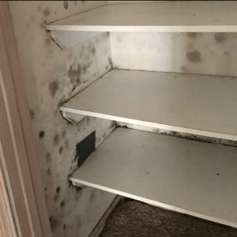 Mold can affect people with compromised immune systems and is believed to cause an array of medical problems in humans. There are thousands of types of mold species and they can all have different odors; however most have an earthy, musty odor. The visible part of mold is the actual fungus, not the spore, as spores are too small to see with the naked eye.
Mold remediation is about spore counts and eliminating spores in the structure to a safe level, along with taking measures to prevent new growth. Mold can cause discoloration and damage to surfaces as it spreads, so it needs to be remediated quickly. If you see brown or black marks on surfaces, and/or smell musty odors, you should contact a mold remediation company right away to address the problem.
ServiceMaster by T.A. Russell provides mold removal and remediation services to eliminate mold growth from homes and restore the resulting damage.
Dealing with Mold in your home? Contact our specialists for professional mold removal near you!
ServiceMaster's Mold Remediation Process in Azusa
Our mold clean up technicians at ServiceMaster by T.A. Russell are highly trained to eliminate the cause of the mold. We are also experienced in removing existing mold growth from commercial and residential structures.
We can provide inspections for mold, lab analysis, and complete remediation plans working with nationally recognized testing facilities. We also work with your insurance provider to help coordinate related claims.
What is Involved with Mold Remediation?
Our basic mold remediation process includes the following steps:
Mold Inspection: We'll perform mold testing and assess the extent of the mold growth and damage along with identifying the source(s).
Insurance Claim: Report our assessment to your insurance carrier, provided you have mold coverage in your policy
Containment: Isolate the affected areas through containment and negative air pressure to stop the spread
Mold Treatment Plan: Prepare a remediation plan according to environmental testing and mold types from a certified Industrial Hygienist
Removal & Clean-up: Remediate the mold using the guidelines per the

Institute of Inspection Cleaning and Restoration Certification

(IICRC S520 Standard and Reference Guide for Professional Mold Remediation)
Why We Are the First Choice for Mold Remediation in Azusa
We're here 24/7 for you and your home, so whether you need to schedule a mold inspection as soon as possible or you've spotted mold growing in your home, give us a call. We're always here to answer any questions you may have and start the mold remediation process today to get your property restored to its pre-loss conditions quickly.
Customers love ServiceMaster by T.A. Russell because:
We've been serving our region for nearly 45 years
We're recommended by several local insurance agencies
We've helped restore more than 1,000 properties and counting
We're professionally trained, licensed, and experienced
We're known for always providing comprehensive solutions
But don't just take our word for it – check out our online reviews to learn more about why we're becoming the go-to provider for all things mold clean-up and damage restoration in Azusa and the nearby areas.
Our mold clean up team is trustworthy, always on time for scheduled appointments, and dedicated to making sure mold is completely eradicated from your property – along with the chance of it ever returning!
Call our our emergency hotline, 24 hours a day, at (626) 963-4048 for more information about ServiceMaster by T.A. Russell's mold remediation services or to schedule an appointment.
Azusa Mold Cleanup Specialists
If you discover mold growth in your home or commercial building, make sure to contact ServiceMaster by T.A. Russell immediately for mold removal and remediation services. If left untreated mold can lead to structural damages, lingering odors, and worst of all severe health risks.
Dealing with mold removal can also be a dangerous process which is why contacting a mold specialist is highly advised. Our mold experts are highly specialized in all mold treatment and mold mitigation process, and can take you through the process ensuring your home is rid of all mold.
We provide free estimates for our mold remediation and removal services and work with nationally recognized testing facilities to help remove and prevent the mold from returning.
Mold Remediation & Removal IN AZUSA - FAQ
When is Mold Remediation Required?
mold is a serious issue that can cause a lot of problems in your home. Not only is mold unsightly, but it can also cause respiratory problems and other health issues. If you suspect that mold is present in your home, it's important to have mold remediation performed as soon as possible.
Mold remediation professionals will have to first identify the source of the mold that is causing it to grow and then remove it all which requires the use of specialized equipment and cleaners to ensure it doesn't come back. If you have mold in your home, it's important to call a mold remediation company to have the problem addressed before it gets worse.
What is the Difference Between Mold Removal and Remediation?
Although both mold remediation and mold removal get rid of mold, they are two completely different processes. Mold remediation is the process of cleaning up mold that is already present, while mold removal, on the other hand, is the process of preventing mold from growing in the first place.
While both mold remediation and mold removal are important, they serve different purposes. Mold remediation is necessary when mold has already started to grow, while mold removal is a preventative measure that can help to keep mold from becoming a problem in the first place.
Our mold specialists are specialized in both mold remediation and mold removal, so if you're in need of help with either process contact us today!
For any questions or concerns with mold remediation & removalcontact our experts for help today!