Water Damage Restoration Company in Azusa
Flooding and Water Damage Restoration Services Near You
Water damage is caused by a variety of different reasons such as from a storm, flooding, a broken pipe, or another source, but the result is the same: water-logged drywall, carpets soaked through with water, and furniture stained by water. If left untreated water damage can cause structural damage, lingering odors and worst of all growth of mold which can lead to severe health risks.
CALL OUR Azusa Restoration COMPANY TODAY AT (866) 634-4764 ORSCHEDULE water damage restoration SERVICES near you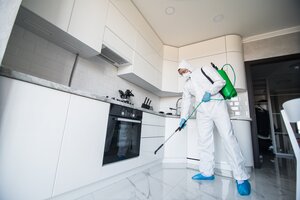 At ServiceMaster by T. A. Russell, we understand dealing with water damage can be an overwhelming and stressful experience, which is why our water damage repair experts are here to help! We have the knowledge and experience to quickly assess the water damage and begin the water damage repair process. We will work with you to ensure that your property is restored to its pre-damage condition.
Water damage restoration is an emergency business. That's why ServiceMaster by T. A. Russell is on call 24 hours a day, 7 days a week, 365 days a year to provide water damage restoration services. Our quick response reduces your suffering and saves money.
The water mitigation professionals at ServiceMaster by T. A. Russell provide water damage restoration and flood cleanup services in Azusa, CA and the surrounding areas of South California.
We use advanced products, procedures, and equipment to assure the highest level of cleaning performance and protection for property and furnishings. We will start by limiting the spread of the water and will thoroughly dry the affected building materials and furnishings.
Call(866) 634-4764 orcontact our water damage company online to get started. We're available 24/7 to help you!
Water Damage Restoration and Flood Cleanup
What Is Water Mitigation?
Water mitigation involves getting rid of standing water and reducing any damage caused by a flood, overflowing sink, backed-up toilet, burst pipe, or other water leak. The point is to mitigate the damage the leak could bring to your property.
The first step will be to shut off the water main valve, gas, and electricity as needed. Next comes saving any items that have become or are at risk of becoming waterlogged. Then, we will work quickly to extract any standing water. From there, we will move on to drying and cleaning the affected areas.
It is crucial that water mitigation is done right and completed quickly, as mold can begin to grow in as little as 48 hours. The longer you wait, the more time it has to blossom into a mold colony.
How Is Water Mitigation Different from Water Damage Restoration?
Water damage restoration is the process of repairing the water-damaged area and restoring it back to how it was before. That may mean replacing floorboards, walls, roofing, or areas of the ceiling that are beyond repair.
Restoration comes after water mitigation/extraction. As such, these two water damage services tend to go hand in hand. This is especially true when emergency restoration services are needed, such as flood restoration.
At ServiceMaster by T.A. Russell, we offer both water mitigation and water damage restoration services. But if you have already completed water extraction, we are happy to provide only restoration services. At the same time, we can assess the area to see if any damaged spots or materials were missed during extraction, potentially saving your property from further damage down the road.
Need to get rid of water damage? Contact our water mitigation experts!
ServiceMaster Water Damage Restoration Process – 6 Steps
Inspection and assessment
Water extraction
Anti-microbial application
Drying: air movement
Drying: dehumidifying
Drying: monitoring
Water Extraction Services in Azusa and Southern California
You can count on ServiceMaster by T. A. Russell to extract the water and the worry. Excess water can also be quite destructive as it gets absorbed in porous building materials and furnishings, which results in damage to these materials and allows the water to spread further. For this reason, water damage is one of the most common and potentially destructive problems you can face as a home or business owner.
Water extraction services on their own are usually not enough to remove all the moisture from a home or business after a flood or water damage event. Water can hide behind walls, under flooring, or in your HVAC system and vents.
At ServiceMaster by T. A. Russell, we provide expert drying and dehumidification services to remove moisture from the air and affected materials. With so much at stake, we will make sure your life gets back to normal quickly.
When Unexpected Water Damage Happens in Southern California
What To Do:
Call ServiceMaster by T. A. Russell for professional Help and Guidance
Remove as much water as possible by mopping and blotting
Lift draperies off the floor, loop through a coat hanger, and place the hanger on the drapery rod
Remove wet area rugs or other floor coverings not permanently attached.
Wipe furniture, prop up wet furniture cushions for even drying, and place aluminum foil under furniture legs
Move photos, painting, and art objects to a safe dry location
Keep books on bookshelves. Pack them tightly to prevent warping of the pages until a water mitigation professional can begin specialized drying
Open drawers, closets, and cabinet doors to enhance drying
What NOT To Do:
Do not enter a room with standing water until the electricity has been turned off
Do not use a regular household vacuum to extract water
Do not attempt to start removing wall to wall carpet
Do not lift tacked down carpet without professional help
Do not use electrical appliances while on wet carpet or flooring
Do not disturb visible mold
Do not remove books from shelves
Dealing with water damage in your home? Contact our water damage restoration experts for help today!
Why People Love Our Water Damage Restoration Company
Whether you've noticed signs of a possible leak or are searching for professional clean-up and restoration after a major water-related disaster, our water restoration company can help you assess the problem and help you decide on what steps to take next to fix things.
Customers who rely on ServiceMaster by T.A. Russell for their water damage repairs in Azusa love us because:
We're Experts – For over 44 years, we've been helping businesses and homeowners alike restore their property and belongings to normal after a disaster.
We're Trusted – As you can tell by our over 200 5-star online reviews, we've become Azusa's trusted professionals for water damage restoration and more – we're even recommended by several local insurance agencies throughout the area!
We're Always Here – We're ready to help you with water damage whenever you need us, and we mean whenever. We're open 24/7, 365 days a year, to restore your home after damage.
We're Quick – You won't find yourself waiting around for us – ever. After just one call to our team, we can be there within hours to start the water mitigation and restoration process.
Our qualified professionals are well-equipped with trusted processes and cutting-edge technology to take care of flood damage and repair leaks caused by heavy rainfall, sewage backup, plumbing disasters, and more. We provide various services based on advanced scientific methods, techniques, and products, customized to meet the specific size and type of damage your home has been dealt.
24/7 Water Damage Cleanup
At ServiceMaster by T.A. Russell, we understand water damage can happen at any moment, which is why we have 24/7 water removal experts ready on standby to help you! If you are dealing with water damage, it is important to act quickly to prevent further damage to your home and to restore damaged parts of your home.
Our experts are highly specialzied in all water damage cleanup processes to help ensure your home is rid of all water damage and to ensure your satification.
Call ServiceMaster by T.A. Russell for help if your home or building has experienced water damage. We are ready to provide professional water damage restoration in Azusa and the surrounding areas of Southern California.
ServiceMaster by T.A. Russell has AVAILABLE water damage restoration 24 HOURS A DAY at(866) 634-4764.