GRANTS PASS WATER DAMAGE Restoration and Repair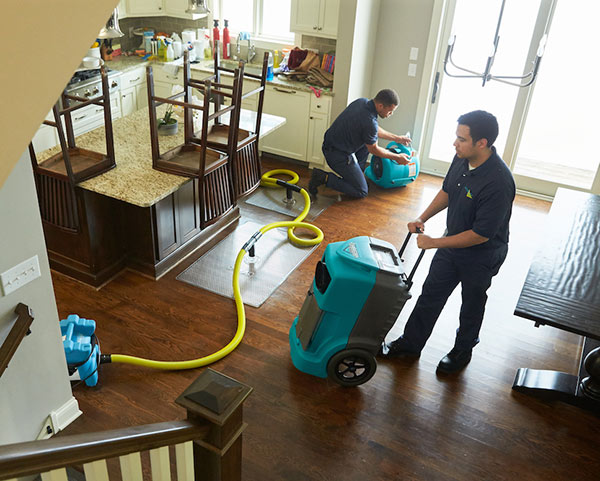 Water damage can strike at any time. That's why you need ServiceMaster Recovery Services. Our team is here when you need us most with 24/7 water damage cleanup services.
We'll help you every step of the way, from water mitigation and removal to water restoration and repair. We serve Southern Oregon including Grants Pass, Medford and Gold Beach.
Quick recovery is vital to reducing cost and damage. That's why it's imperative to call professionals who have the equipment and know how to assess and immediately start the restoration process. ServiceMaster Recovery of Grants Pass has your back when you need water damage repair and restoration.
Water Damage Restoration Professionals
Water damage in your home can pose a danger to you and your family if you are not careful. While you are waiting for professionals to show up here are important Do's and Don'ts to keep you safe.
DO'S
Shut off the water source until further assessment of the leak or flood is made.
Turn off circuit breakers in the areas of the home affected (Only if can be done safely).
Move furniture to dry areas of your home.
Wipe excess water from exposed surfaces such as furniture, or personal items.
Allow clothing to hang dry.
Remove excess water from floors if possible.
DON'Ts
Do not enter a room if there is a risk of electrical shock.
Avoid any and all hazards that may lead to electrical shock.
Do not use a vacuum to remove water from carpet or floors.
Do not turn on any light fixture if the room is wet.
Do not use appliances such as a tv if the room is wet
Do not leave printed items (magazines, newspapers) on a wet floor as they may cause staining.
Remember, dealing with water or flood damage can be dangerous and costly to fix if the proper precautions are not taken. Be safe and call the professionals at ServiceMaster Recovery Services. We are here for you 24/7, every single day. Proudly serving Grants Pass and the surrounding areas.
Frequently Asked Questions about Water Damage Restoration
Can water damage be fixed?
At some point, many homeowners will face water damage in their homes. It can be an overwhelming and stressful situation, but the good news is that water damage can be fixed with the right tools and techniques.
First things first, it's important to address the source of the water and make sure it's no longer flowing into the affected area. Then, the damaged materials need to be removed and properly disposed of. It's crucial to act quickly to prevent mold growth and further damage.
At ServiceMaster Recovery, we specialize in restoring homes to their pre-loss condition after water damage. Our team of professionals will assess the damage, develop a plan of action, and work efficiently to restore your home. Don't hesitate to contact us for help fixing your home's water damage.
What should I do if I have water damage?
When faced with water damage, it can be tempting to try and fix the problem yourself. However, we highly recommend hiring a professional to handle the situation. Water damage can be tricky and there may be underlying issues that only a trained eye can spot.
Professionals have the equipment and knowledge to assess the damage carefully and determine the best course of action. Most importantly, they can ensure that the affected area is properly restored and that potential hazards, such as mold growth, are eliminated. Don't wait until it's too late, trust the experts at ServiceMaster Recovery to handle your water damage concerns.
How long does water damage restoration take?
Water damage restoration typically takes anywhere from a few days to several weeks, depending on the extent of the damage. The process can be complex and time-consuming, as it involves removing any water that has accumulated in affected areas, drying out all wet items and materials, cleaning up any mold or mildew growths caused by moisture buildup and making repairs where necessary. Additionally, if there is structural damage such as wall or ceiling collapses due to water exposure then additional time may be needed for repairs before restoration can begin.
Can opening windows help to dry furniture and carpet faster?
Opening windows can be an effective way to help dry wet carpets and furniture. The fresh air from outside will circulate through the room, helping to evaporate any moisture in the carpet or furniture. Additionally, if there is a breeze coming in through the window it will further speed up drying time by creating additional airflow around wet surfaces. It's important not to leave windows open too long as this could cause mold and mildew growth due to increased humidity levels indoors, so be mindful of outdoor weather conditions.
There is a musty smell in my home. Should I be worried?
While a musty smell can be normal during the drying process, it can also indicate something wrong. Musty smells can indicate mold and mildew growth, which can cause serious health issues if left untreated. Additionally, it could mean that there is still moisture present in the walls or other areas of the home where it shouldn't be. If not addressed properly, this could lead to further damage to your property and even more costly repairs down the line.