RESIDENTIAL MOLD REMOVAL SERVICES in Chicago
Our Mold Remediation Team is Available 24/7!
Mold is one of the worst contaminants you can find in your home. Though not always visible or easy to spot, it can silently wreak havoc on your property.
Mold can grow anywhere indoors where there are wet or damp surfaces, including on ceilings, wallpaper, wood, drywall, and insulation material. It can begin growing on a wet surface within 48 hours. And if mold is left unchecked, it can impede your quality of life and put the structure of your home at risk.
Why Choose Our Mold Remediation in Chicago
ServiceMaster DSI is here to protect your home from mold damage thanks to our mold detection and removal services. We're IIICRC certified, backed by positive reviews, and offer trusted mold removal services in Chicago.
Need mold removal in Chicago? Count on our expert and courteous team. Call us at (773) 729-1757 to request your service.
Protect Your Home & Health From Mold
There is no denying that mold is unattractive. Unfortunately, that's only the start of the problem.
In addition to being harmful to the walls, ceilings, and floors of your home, it can also pose a risk to the health of you, your family, and anyone else in your home.
It's important to call our mold remediation company in Chicago at the first sign of a problem to avoid serious damage to your home and health.
Mold infestation can lead to:
Structural damage to foundations, HVAC systems, drywall, roofing, gutters, furnishings, and other areas

Health problems that include headaches, skin irritation, allergic reactions, breathing difficulties, aggravation of asthma symptoms, and more
Our mold removal staff members are Indoor Air Quality Association (IAQA) Certified Mold Remediators. This means that the ServiceMaster DSI team has received extensive training in microbiological contaminants and removal techniques.
Paired with our decades of mold removal service for homes and businesses, you won't find a more thorough and efficient mold removal team.
Give us a call today at (773) 729-1757 for mold remediation near you or contact us online to request your service. We offer complete mold inspection and removal services throughout Chicago.
When is Mold Remediation Required?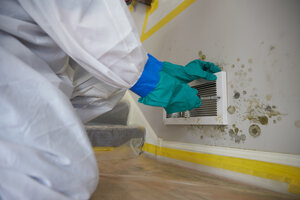 When it comes to mold, it's always better to intervene sooner rather than later.
If you have noticed visual evidence of mold in your home covering several square feet of your property, particularly if that mold appears black and/or slimy, call a professional mold remediation service ASAP.
It's also worth scheduling a professional mold inspection if you smell a mildewy odor on your property that you can't quite figure out, which may indicate a hidden mold problem that needs to be investigated.
These types of issues often arise after plumbing leaks or floods, so if you know you've had water intrusion on your property recently, be on the lookout for mold growth and contact a mold specialist at the first sign of a problem.
Should I Call a Professional Mold Remediation Company?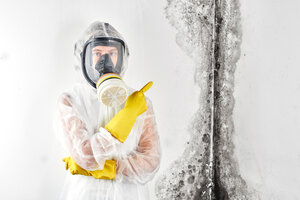 Yes - if you discover mold in your home, you should call a Chicago mold removal company for help.
Avoid trying to clean up the mold yourself. Without the right tools and training, you can easily spread the mold around, making the problem much larger and more challenging to remedy and posing a threat to your health.
At ServiceMaster DSI, our mold remediation specialists know it can be scary to find mold. But that's why we're here. We'll get you through this process and help get your home back to normal. You can count on that.
Do you have a hunch that you have mold in your home but aren't sure? Reach out to us at (773) 729-1757 for a thorough mold inspection. We're available 24/7!
Difference between mold removal and mold remediation
There are two key ways to deal with mold in your home: mold removal and mold remediation. There are differences between mold removal and mold remediation.
What is Mold Removal?
Mold removal is the process of physically removing mold from your home, while mold remediation is the process of cleaning and treating mold that remains in your home.
Mold removal is typically the best option when mold is widespread and difficult to treat, or if you have allergies or sensitivities to mold. Mold remediation is typically the best option when mold is localized and easier to treat.
Mold removal typically involves the use of strong chemicals and extensive scrubbing. This can be difficult and time-consuming, and it is important to make sure that all mold is removed before beginning mold remediation.
What Is Mold Remediation?
Mold remediation typically involves the use of natural or chemical cleaners to kill mold and remove it from surfaces. It is important to remember that mold can cause serious health problems, so it is important to take precautions when cleaning mold.
When you can't tell if you need mold removal or mold remediation, it is always best to consult with a professional mold removal or remediation company. Their mold remediation experts will be able to assess the situation and recommend the best course of action.
We handle both mold removal and mold remediation in Chicago. Request your service online or call our team at (773) 729-1757.
Our Process for mold remediation in Chicago
Isolating and containing mold with physical barriers or other techniques
Using the latest technology to capture, filter, and scrub mold spores from the air
Removing mold itself with EPA registered antifungal and antimicrobial products
Drying sources of water contributing to mold growth
Disposing of mold-contaminated material
Cleaning and deodorizing belongings as necessary
Repairing and reconstructing damaged areas of your home
Whether the Chicago humidity has affected your home, you've experienced flood damage, or you have had leaky plumbing in the past, you may have mold hidden somewhere in your home. The best action you can take is to immediately call a professional Chicago mold remediation specialist.
We'll help make sure your home is always safe and secure – and provide mold remediation and any other restoration services needed if we find your structure is at risk.
Frequently Asked Questions
How Long Does Mold Take to Grow?
Depending on the environment and type of mold, the amount of time it takes for growth can vary. Often, mold will grow in just 24-48 hours once conditions are ideal for its proliferation.
How Long Does Mold Remediation Take?
Generally, mold remediation should not exceed three to four weeks from start to finish so long as no complications occur. However, the severity of the mold problem, the weather, and the location of the problem need to be taken into account when determining how long mold remediation will take. The aftermath may require additional visits from a professional for monitoring purposes or follow-up treatments, but these visits will only increase the total duration by a minimal amount.
To schedule a mold inspection in Chicago today, call(773) 729-1757 or fill out our service request form.