Mold Removal in Union, NJ
Mold eats away at the surfaces it grows on. That means your drywall, flooring, ceilings, and other surfaces in the home are at risk to experience extensive damage. Mold can also cause various illnesses in occupants of the building. Contact a home remediation team that will have mold specialists capable of locating and eliminating all traces of mold from your property.
ServiceMaster by Timeless provides mold remediation in Union, NJ. Our mold removal teams are IICRC-certified and on standby 24/7 to respond to calls for mold inspection and mold abatement. When our mold specialists arrive, we will locate all traces of mold on the property and safely contain the spread. Then, our team will apply advanced cleaning solutions to eliminate the mold from the property. Lastly, we will ensure all affected areas are treated so the mold does not return.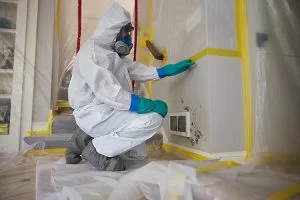 We also work with insurance if you have opened a claim for the mold cleanup.
Our mold remediation services in Union, NJ include:
24/7 response teams for scheduling mold inspection and mold removal appointments
Tracing location of mold on the property
Safe containment of mold to prevent further spread
Application of latest mold abatement methods and advanced cleaning products
Elimination of mold and treatment of affected areas to prevent new growth
Moisture extraction and drying if necessary
Repair and restoration of mold damaged surfaces
Assistance with insurance claim regarding the mold damage
Contact Us for Mold Remediation in Union, NJ
If you discover mold on your property or suspect you may have a mold or mildew problem, contact ServiceMaster by Timeless for professional mold removal.
We are available 24/7 at (973) 554-3002 to provide mold remediation services in the Union, NJ area.