Water Damage Restoration, Scottsdale, AZ
Water is a common cause of property damage in homes and businesses because of how it can affect a property. Water damage is likely to occur when there is flooding or heavy rain, and it can happen if there is a water leak, plumbing issues, appliance malfunction, burst pipe, or sewage backup. Any amount of water can lead to damage because it gets absorbed in porous building materials and furnishings. This allows the water to spread throughout the property and cause damage to the affected materials. If the water is not removed, it will continue to spread and lead to serious issues like structural damage and mold growth.
ServiceMaster All Care Restoration provides water damage restoration services to remove flooding and excess water from homes and businesses in Scottsdale, AZ. Our technicians can remove any amount of water using advanced extraction and drying equipment and ensure that the damage is restored. We can also address mold growth that occurred from the water damage.
Problems Caused by Water Damage
Excess water and flooding is dangerous within a home or building because of how it spreads and causes damage. Water spreads so quickly because many building materials are porous, including drywall, insulation, wood, flooring, and furniture. As these materials absorb more water, they can become stained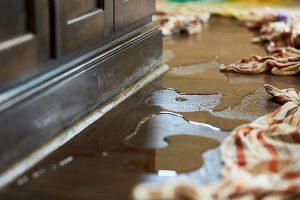 and warped. Excessive water damage to materials like wood and drywall can lead to serious structural damage as these materials weaken.
The other issue caused by water damage is mold growth as mold generally appears in areas where there is excess moisture. The appearance of mold will lead to further damage and make the situation more dangerous as exposure to mold can cause allergic reactions and infections.
Professional Water Removal
As soon as you notice water damage on your property, you need to call our professionals. We use advanced water extraction equipment that can remove any amount of water and our drying process will extract the remaining moisture from affected materials. Once the water is removed, we will restore the resulting damage and address any mold growth that has occurred.
The water damage restoration services we provide include the following:
Evaluation of the full extent of the damage and identification of the water source
Removal of flood water with advanced water extraction equipment
Thorough drying with dehumidification equipment and air movers
Cleaning and restoration of the damaged areas
Deodorization and anti-microbial applications to prevent mold
Cleaning and restoration of personal content including electronics and data and document recovery
Make sure you call our water damage professionals at ServiceMaster All Care Restoration if your home or business in Scottsdale, AZ is affected by flooding or water damage. Our professionals can effectively remove the water and moisture and ensure that the resulting damage is restored. We are available 24 hours a day at (623) 486-0700 to provide emergency water damage restoration in the Scottsdale, AZ area.