Fire & Smoke Damage Restoration in Clifton Heights, PA
Helping Restore Your Home To Its Pre-Loss Condition
Home fires can cause extensive structural damage, smoke and soot damage, water damage, and electrical damage as well as damage to the electrical system. In addition to destroying property, fires can also cause emotional turmoil for those affected. Due to this, it is crucial that homeowners hire a fire restoration company that has experience restoring homes after fires.
As an expert fire damage restoration company, ServiceMaster by Artec assists homeowners in recovering quickly from fire and smoke damage. To provide our clients with the highest quality restorative services, our technicians use the latest tools and techniques.
When a disaster occurs, time is of the essence. In order to get your home back to its pre-loss condition as quickly as possible, we prioritize a fast turnaround and offer 24/7 emergency services.
Have your experienced a house fire? For fire damage restoration in Clifton Heights, PA,contact us online or call(484) 249-0539.
Fire Damage Restoration Services Backed by Cutting-Edge Tools and Proven Techniques
When salvaging property after a fire, every minute counts. Smoke and ash continue to seep into your home after flames disappear, causing decay and deterioration. Smoke residue can also cause significant health problems, such as asthma attacks and other respiratory conditions. Make sure you aren't caught off guard. Make sure your family and valuables are protected by a professional before it's too late!
ServiceMaster by Artec follows a tried-and-true fire and smoke restoration process. It entails:
Comprehensive Damage Inspection – We'll inspect the damage done to your residential structures and make a game plan on how to proceed with the restoration task.

Protecting Your Property – We will help secure your property by putting up a fence around your property, removing dangerous debris, sealing off exposed holes, and boarding up vulnerable/damaged sections with tarping.

Demolition (If Necessary) – We will tear down and replace compromised flooring, drywall, and other infrastructure.

Water Extraction – If there is a leak or flooding, we will remove water quickly and dehumidify the wet areas to avoid mold.

Soot & Smoke Removal – We will apply deodorizing agents to eliminate foul smoke odors and other airborne contaminants.

Construction & Restoration – We'll restore your fire-damaged property (your roofing, electrical system, walls, ceilings, floors, fixtures, etc.) to its pre-loss condition.
Why Hire a Professional Fire & Smoke Damage Restoration Company?
In addition to specialized cleaning products to remove ash and soot, fire restoration companies use powerful ozone machines to remove odors caused by smoke or chemicals used to extinguish a fire; also, their expertise helps identify hidden problems, such as mold growth, which results from high humidity levels left behind after floods caused by fighting the fire. If you hire an experienced fire restoration company, you can rest easy knowing that all possible issues related to your property have been addressed to your satisfaction.
Trusted Fire & Smoke Damage Restoration in Clifton Heights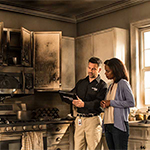 To restore both the property itself and the products inside, our fire restoration experts utilize a variety of techniques. With our expertise and experience, we know what treatments work best for woods, metals, and fabrics. Furthermore, we will eliminate any last traces of fire through our deodorization process.
The fire & smoke damage restoration technicians at ServiceMaster by Artec are equipped with the necessary training and tools to complete the job quickly and efficiently. We are a locally owned and operated business, plus we are backed by a brand with over 65 years of experience, offering cutting-edge techniques, and expert training. If your home has been damaged by a fire, you can trust our team to restore it to its pre-fire state.
Our team is available 24/7 to help you restore your home to its pre-damage condition. Get in touch with our fire damage restoration specialists today by contacting us online or calling(484) 249-0539.