Mason City Residential Water Damage Services
24/7 Water Damage Restoration Near You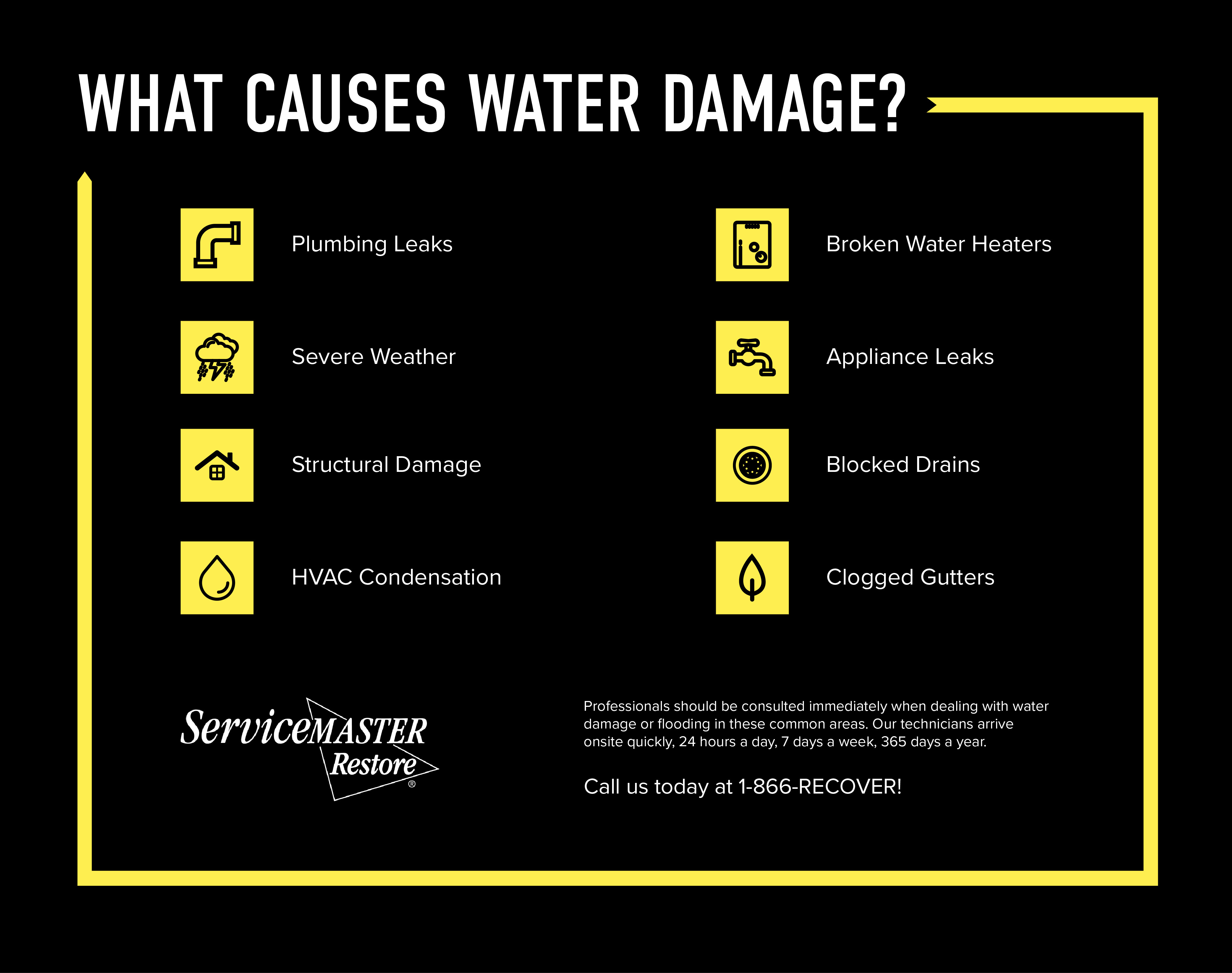 Water is a natural resource with life-giving properties but can also be destructive in certain circumstances. Mason City, IA, typically gets 39 inches of snowfall annually (higher than the national average of 28 inches). And once the snow melts, you may experience the negative effects of water damage to your foundation and possessions.
Fortunately, ServiceMaster by Rice – Mason City has restoration services to give you peace of mind when you're in the throes of water damage. As homeowners like you, we know how quickly water damage can turn your life and property into chaos. Are you dealing with burst pipes, a leaky roof, or water from a previous snowfall? No matter the case, we can help.
We're the qualified team you can trust to complete the job correctly and leave you satisfied with our workmanship. We're available 24/7 to support you when water infiltrates your space at all hours of the day or night.
Get the help you need today by calling us at (641) 329-3837! Or contact us online. We're ready to help you rebuild.
Our Water Damage Restoration Services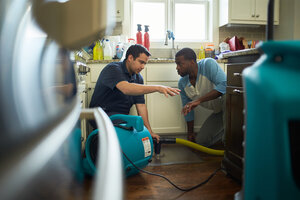 We provide you with:
Water damage inspections
Water damage repair
Water remediation
Property drying techniques
Deodorization support
When you need assistance, you can count on our team to deliver water damage solutions that get your home back to pre-loss condition. Our Mason City restoration service experts help homeowners like you get life back on track.
How Destructive Can Water Be?
When unwanted water invades your space due to broken pipes, inclement weather, leaky appliances, and more, it can do significant damage and leave with the devastating aftermath.
Mold Growth
Mold spores can lay dormant until heat and moisture cause mold to spread and wreak havoc in nooks and crannies, leaving you with unexplained health issues.
Bacteria Growth
Water from floods or plumbing damage can carry billions of harmful and potentially life-threatening bacteria.
Foundation Damage
Water can weaken joists, subfloors, etc., resulting in an extremely hazardous and uninhabitable space.
Ceiling Damage
Water can invade your home and pool inside your ceilings if you have a roof leak, resulting in water stains, peeling paint, and drywall deterioration.
Plumbing Corrosion
Water with high concentrations of oxygen can speed up rust and severely damage your pipes.
Wood Rot
When pooling water rests on untreated or unstained wood for long periods, the wood is susceptible to rotting.
Foul Odors
After floodwaters have dissipated, what's left is dirt, debris, and microbes that cause foul smells to permeate your home.
Are you in the throes of water damage? Don't panic - reach out to us online or call us at (641) 329-3837 to get started. We will help you rebuild!
Why Choose ServiceMaster by Rice – Mason City?
Our Mason City team has technical and on-the-job training to deliver superior quality restoration services that help you avoid the issues above.
At our Mason City water damage restoration company, we're:
IICRC certified - "IICRC" stands for Institute of Inspection Cleaning and Restoration Certification. Being IICRC certified means we're thoroughly trained in restoring your home after water damage.
Available 24/7/365 for emergency water damage services
Locally owned and operated. We're also backed by a nationally recognized water damage restoration company (that happens to set the industry standards)
Ready to work directly with your insurance company
At ServiceMaster by Rice – Mason City, we're committed to guiding you from crisis to resolution!
Time is always of the essence for any restoration project, and we won't keep you waiting long. Our team double-checks your foundation and structural components, ensures the electricity is off, and gets to work remediating any water damage we find.
Allow us to help you through this challenging time in your life. Call (641) 329-3837 to get started today!
Water Damage | FAQs
How long does it take for water damage to cause mold?
Unfortunately, it only takes 24 to 48 hours for mold to develop on surfaces exposed to water. If left unaddressed, the mold and mildew can rapidly spread.
It's critical to call us as soon as you suspect or notice signs of water damage. It won't take long for mold to start growing which only makes the situation worse.
What is the difference between water mitigation and water damage restoration?
Water mitigation is the process of removing the water from your home. With water mitigation, we're also addressing the source of the water damage to help prevent further damage.
With water damage restoration, we're restoring your home to its pre-loss condition.
Bother water mitigation and restoration are essential to addressing the issue and getting your home back to normal. We'll handle the whole process for you!