Trauma Scene Cleaning Services in Azusa
Help with Crime Scene Cleanup & Biohazard Cleaning in Los Angeles
In the United States, violent crimes and serious accidents that result in significant injuries or even death happen every day. Even so, most people will likely never be a witness to such an incident or go through such an experience. However, it is still important to know what actions to take if you are ever to encounter that scenario. To begin, you always call 911 for help. Keep your distance from the scene itself, especially if there are biohazard materials like blood. Biohazard materials can cause infections and/or disease, so you need to stay away from them. The only people who should come into contact with such materials are licensed professionals who know how to properly clean and dispose of them.
ServiceMaster by T.A. Russell helps clean up scenes contaminated by biohazard materials with the trauma scene cleaning services we offer in Azusa, CA. We employ licensed professionals who are properly equipped to safely remove biohazard materials and will be considerate of those who have just lost one of their loved ones.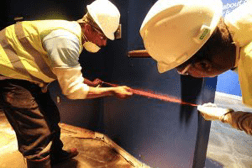 Oftentimes, trauma scenes have blood, bodily fluids, tissues, and other biohazard materials present. Being exposed to these biohazards puts people at risk for disease or infection. This is because the biohazard materials may contain harmful substances like bacteria. Because of this, the best course of action to take in such a situation is to have professionals conduct the cleaning. Doing it yourself is too hazardous.
Our technicians have the necessary cleaning products and equipment to clean up biohazard materials in a safe manner. Additionally, we limit the potential for disease or infection from spreading by disinfecting the affected area. To protect themselves, our technicians use personal protective equipment (PPE). When the biohazard materials are removed, they are transported to a medical waste facility for disposal.
The following steps are included within our biohazard and trauma scene cleaning services:
Biohazard material removal and cleanup
Scene cleaning and disinfection to limit infections from spreading
Biohazard material transportation for disposal at medical waste facility
Regulation compliance at local, state, and federal government levels
When dealing with a serious accident or violent crime, it can be tough, but it's even more difficult to deal with if it involves losing a loved one. This naturally leads to family and friends grieving their loved one, which is why we are always compassionate and respectful with those we work with. To protect your privacy, we will arrive to the scene in an unmarked vehicle. We will work efficiently to restore your property to its normal setting as soon as possible. If a crime has been committed, our technicians will cooperate with law enforcement so that the investigation isn't disrupted.
If you encounter an accident or crime scene, do your best to remain calm, and be sure to keep your distance and call 911. After emergency responders arrive, contact ServiceMaster by T.A. Russell at (866) 634-4764 for our trauma scene cleaning services in Azusa, CA.