A Leader in Disaster Restoration
ServiceMaster Central of Corpus Christi has set the industry standard for disaster restoration services. Our team is available 24/7/365 to help you rebuild your life after damage to your home or business. When things seem at their worst, you can be confident that your home or business restoration is in the most capable hands.
We are experts in our field and understand that in this tough time you need more than just a restoration company, you need a genuine team of experts who care about your safety, happiness, and well-being. Our locally owned restoration company is backed by a national franchise network with over 65 years of experience and we are committed to delivering total customer satisfaction.
Restoration Services | FAQs
What is the difference between water mitigation and water restoration?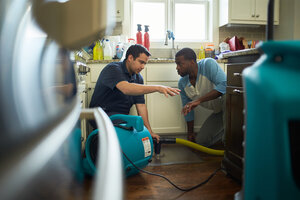 Water mitigation is the process of removing the water or moisture from your property. Water mitigation is essential in helping prevent further damage to your property.
At ServiceMaster Central of Corpus Christi, some of our water mitigation processes include:
Checking your property's structural stability
Disinfecting and cleaning materials that can be salvaged
Taking precautions to protect your property's integrity
Removing the water from your property
Water mitigation is basically a temporary fix to water-damaged property.
With water restoration, we're restoring your property back to its pre-water-damaged state.
We offer water mitigation in Corpus Christi, TX and water restoration. No matter how significant your property's damage may be, count on us to help you rebuild.
When is mold remediation required?
Mold can cause structural damage to your home or business. That is why it is best to call professionals for mold remediation as soon as you notice mold growing. A few indicators that you have a mold problem and should call experts right away include:
A musty order in your home or business
Staining on your walls or ceiling
An area that has water damage or leaks
Allergies in your home or building or possible flu-like symptoms
Getting professional mold remediation done as soon as possible can help limit the damaging effects of mold.
Mold removal is not a project you should undertake on your own. Many DIY fixes end up spreading the mold and making the growth worse. Our expert team is trained to effectively remove mold and treat affected areas to stop the spread!
Are you in need of damage restoration Services in Corpus Christi? Call our experts today at (361) 203-8356 or schedule an appointment online!