Water Mitigation and Water Damage Restoration in Spokane, WA
Expert Water Damage Restoration Company Near You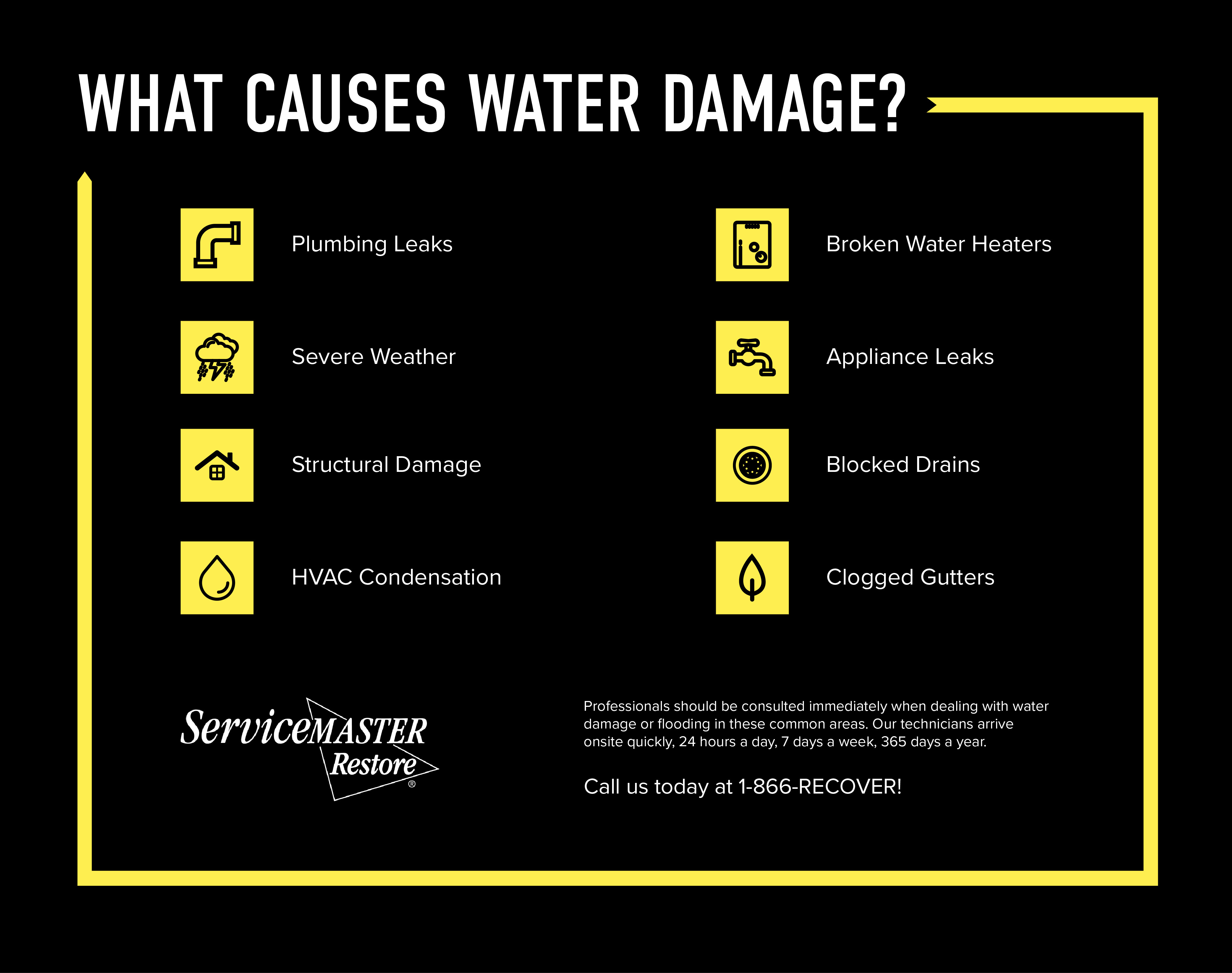 Addressing water damage fast is critical to securing the structure of your building. You need prompt action by an experienced restoration team. It makes all the difference in mitigating structural damage to property. ServiceMaster by Compass is at your service 24 hours a day, 365 days a year.
We provide expert water damage restoration in Spokane and the surrounding areas. Hiring local water damage restoration experts is important if you want the job done right. ServiceMaster by Compass handles major and minor water damage disasters. The most common causes we see are from fire, flooding, pipe breaks, and storms.
Looking for water damage restoration service near you? Call us at(509) 646-7488 orcontact us online now!
Spokane Water Damage Restoration and Water Mitigation
We create a fast, effective water damage mitigation and restoration plan to remove the water and dry your home or building. Our goal is to address the current water damage and prevent further damage. We use our own state-of-the-art water extraction along with drying and dehumidification equipment. Plus, we have moisture reading equipment to detect water in places you can't see, like walls and ceilings.
Our Spokane Water Damage Mitigation Services
Emergency Response Mitigation 24/7/365
Water Extraction
Moisture Detection & Monitoring
Dehumidification & Structural Drying
Sanitization
Pack Outs & Content Storage
Content Cleaning
Demolition
Reconstruction
Will assist with all aspects of your insurance claim
Dial(509) 646-7488 orcontact us online to learn more about water damage mitigation today!
Why You Need a Professional for Water Damage Restoration
Water damage can affect the structural integrity of your home, and the longer it is left untreated the more rot can take place. Additionally, mold growth can begin as soon as a couple of days after water damage occurs. Mold can cause serious health issues to those in the home. It is important to get water damage properly dealt with to prevent the damage from getting any worse.
Our professionals at ServiceMaster by Compass in Spokane are equipped to handle even the toughest water damage restoration projects. We have the equipment and training needed to quickly begin drying your home and reconstructing where the damage occurred.
What Is Water Damage Restoration?
Water damage restoration is the process of restoring a structure, object, or area back to its pre-damaged condition after it has suffered from water-related damages. It involves water mitigation and repair services to help clean up and dry out affected areas and fix any damages caused by the water.
At its heart, this is a multifaceted service meant to restore not just a property but also the lives of those affected as best we can. From responding quickly and acting promptly with industry-leading processes and products to providing emotional support for those in distress, our goal is always to return your property to its pre-loss condition reliably and efficiently.
What is Water Mitigation?
Water mitigation is an important part of safeguarding a house from water-induced damage. This process entails identifying and removing any sources of water infiltration, as well as ensuring that moisture levels are balanced in the property.
The key objective is to minimize damage by swiftly reducing the presence of excess moisture in walls and floors, preventing larger issues such as mold growth or weakened structural integrity down the line. By being proactive in mitigating potential water damage, homeowners can keep their property in good condition for years to come.
How Long Does Water Damage Restoration Take?
It typically takes about 72 hours to pump out the water and dry out where any moisture is. However, if several rooms were affected by water damage, then this could take longer. Each project length can differ based on how bad the damage is and how much of your home was affected.
Next is the reconstruction process, which will usually take a few weeks. But again, this can vary from home to home. Contact our professionals to get a better idea of the timeline for your particular water damage restoration project.
Has your home suffered from water damage? We've got you covered! Call us today at(509) 646-7488 or contact us online.