Mold Remeditation in Salem, OR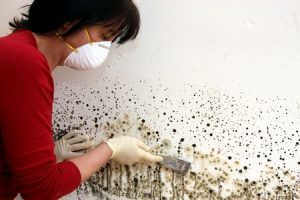 Mold is a topic that people should be educated on and made aware of the dangers and risks it presents. Mold and mold spores exist in the outdoor environment that we live in every day. Mold that grows indoors can have serious health risks and eventually cause odor problems and will cause structural damage to a home or building as well.
ServiceMaster of Salem works with nationally recognized testing facilities and can provide mold inspection, laboratory analysis, and written mold remediation plans at a reasonable price. We know how to identify and eliminate the source of what has caused the mold and implement the proper processes in order to eliminate mold growth. We can clear the contamination while Restoring Peace of Mind®.
For safe and professional mold remediation in Salem, Oregon, call (503) 212-6925 or contact us online.
What Is Mold Remediation?
The process of mold remediation involves identifying the source of the mold growth in your Salem home, eliminating the conditions allowing it to thrive, safely removing the mold spores, and cleaning up any damage left behind.
You may also hear the terms mold removal or mold abatement and, though technically there are subtle differences between them, they will often be used interchangeably with mold remediation. The end goal is the same: stopping mold growth and keeping you and your family safe.
How Does Mold Growth Happen?
Mold grows in damp, humid conditions. This is why it is commonly found in bathrooms, kitchens, basements, and laundry rooms. However, anywhere your home experiences a water leak or spill is susceptible to mold growth.
Mold can start to grow in as little as 48 hours. Taking prompt action to prevent its spread in the event of water damage is important. By identifying and eliminating the source of the water and implementing rapid drying processes, mold growth can be curtailed.
Our Water Damage Mitigation Methods
The most effective drying techniques involve the use of sensitive tools to measure and record the temperature, humidity, and moisture content of both the structure and contents of the home or building. Professional water damage restoration can mean the difference between a small water problem and a structure covered with mold.
ServiceMaster of Salem's professionally trained technicians use the latest water restoration and drying techniques to deliver quality results. The best mold remediation plan is effective water damage mitigation, and our experienced team provides both of these Disaster Restoration services to Salem homeowners.
Don't wait! Call (503) 212-6925 or reach out online for mold remediation in Salem as soon as possible. ServiceMaster is ready to help.