Mold Remeditation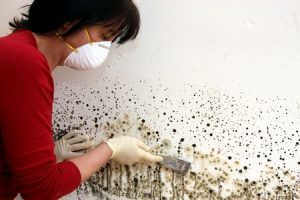 Mold is a topic that people should be educated on and made aware of the dangers and risks it presents. Mold and mold spores exist in the outdoor environment that we live in every day. Mold that grows indoors can have serious health risks and eventually cause odor problems and will cause structural damage to a home or building as well.
Mold can start to grow in as little as 48 hours. Taking prompt action to prevent its spread in the event of water damage is important. By identifying and eliminating the source of the water and implementing rapid drying processes, mold growth can be curtailed. The most effective drying techniques involve the use of sensitive tools to measure and record the temperature, humidity and moisture content of both the structure and contents of the home or building. Professional water damage restoration can mean the difference between a small water problem and a structure covered with mold. ServiceMaster Restore's professionally trained technicians use the latest water restoration and drying techniques to deliver quality results.
ServiceMaster Restore works with nationally recognized testing facilities and can provide mold inspection, laboratory analysis and written remediation plans at a reasonable price. We know how to identify and eliminate the source of what has caused the mold and implement the proper processes in order to eliminate mold growth. We can clear the contamination while Restoring Peace of Mind®.