Our History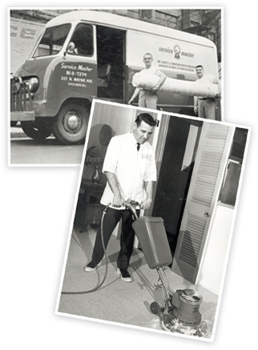 ServiceMaster Restore of St. Charles, North County, Clayton, Westport & Metro East was established in 1982 and has grown to be one of the largest fire and water damage restoration companies in the greater St. Louis area.
Prior to starting this business, our founder, Bob Smith, served as Resident Manager and then Regional Operations Manager for the Missouri area for ServiceMaster Industries. In 1982, he acquired the rights to conduct business in the St. Louis area and started our franchise with a handful of customers, three employees, and the goal of being the best in the business.
Three decades later, we have served thousands of residential and commercial customers, grown our staff to over forty industry certified employees, and acquired over 1,000 pieces of locally ready equipment.
To this day, we remain a family owned and operated business and operate out of nearly 43,000 sq. ft. of office and warehouse space throughout the St. Louis, St. Charles and Metro East area.
ServiceMaster Corporate History
As a ServiceMaster franchise, we share in rich history of our corporate founder who established a business model that has defined the residential and commercial service industry for more than 85 years. Marion E. Wade founded ServiceMaster in 1929 as a moth-proofing company that he operated out of his home. He had a strong personal faith and viewed individual employees and customers as worthy of dignity and respect.
His dedication to his employees, customers and the business led to the company's eventual expansion into the carpet cleaning business in 1952 where it established one of America's first franchise businesses. This experience in carpet cleaning naturally lead to the creation of the ServiceMaster Restore business to focus on providing more comprehensive fire and water damage restoration services.
ServiceMaster Corporate Today
Today, ServiceMaster is a publically traded company that includes successful businesses under the ServiceMaster Restore, ServiceMaster Clean, Merry Maids, Furniture Medic, American Home Shield and AmeriSpec brand names. The company still operates under many of the same tenets of Marion Wade's original purpose: to deliver exceptional service and quality to customers.
Like our company's founder, we believe in being:
Dependable
Accountable
Expert
Responsible
Respectful
Accessible
When we do these things well, we're living up to the ServiceMaster legacy.