Water Damage Restoration
When you choose ServiceMaster to provide emergency services for your water damage, you have selected the right people to do the job. ServiceMaster has years of experience in returning homes back to normal and helping families and individuals, just like you, make us the best choice for emergency services.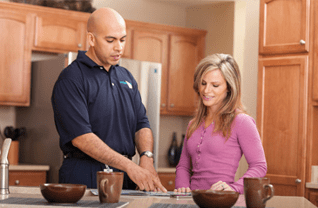 At ServiceMaster, we take the time to explain the water restoration process and then communicate with you regularly throughout the project.
Whenever a flood occurs, there is a risk of contamination and odor from microbial residues. ServiceMaster technicians are industry accredited, and certified to clean, restore, and eliminate contamination and odors in your home or business. In addition to our years of experience, our qualified technicians have completed advanced training in water mitigation, dehumidification systems, mold remediation, and corrosion control.
Our goal is to restore your property as quickly and efficiently as possible. At ServiceMaster, we are restoring peace of mind.

Act Immediately
Flood cleanup needs to start as soon as possible after the flood. This will minimize damage from the water and keep your cleanup costs down. ServiceMaster Restore® has the equipment needed to quickly remove the water. Our professionals are also trained to see different types of water damage and where the home is damaged. Start by calling a professional and taking pictures of the damage for your insurance company.
We can be on site quickly, 24 hours a day, 7 days a week. With rapid response, floors, walls, and personal property can often be restored. When you call, our staff will give you the personal attention you deserve.
Restoration Done Correctly
The correct water removal and drying process, as part of the flood cleanup, helps to minimize overall damage. If left standing, water causes hardwood floors, loosens vinyl and causes carpets to mold. If the water evaporates on its own, it may absorb into the ceiling tiles and other items, causing secondary damage and increasing cleanup costs in the long run. It is always best to hire a professional to clean up the flood damage the right way.
Our Process
It is our goal to restore your property as quickly and efficiently as possible. The drying and restoration may require up to three phases before completion.
Inspection & Evaluation
Extraction & Drying
Restoration & Construction
If applicable, after the drying process is complete, structural damage is assessed and the repair phase can begin. At this time, drywall, ceilings and floors will be repaired, If carpet or other flooring cannot be salvaged, new carpeting, padding, flooring and possibly subflooring will be installed.
Tips & Tricks
After water damage to your home, your prompt action can minimize further damage. The safe, timely steps listed below can assist you in restoring your home to the condition it was in before your crisis. Incorrect actions can be costly mistakes. These "do's" and "don'ts" are guidelines for your information and guidance.
Do's
If the outside temperature is above 60 degrees, use dehumidifiers if available.
Use fans to circulate the air and assist in drying.
Remove as much water as possible by mopping and blotting.
Wipe furniture dry.
Lift draperies off carpet, loop through a coat hanger, and place the hanger on the drapery rod.
Prop up wet furniture cushions for even drying and place small wood blocks or aluminum foil under furniture legs.
Remove wet area rugs or other floor coverings.
Open furniture drawers, closet doors, and luggage to enhance drying.
Move photos, paintings, and art objects to a safe, dry location.
Remove wet fabrics and dry them as soon as possible. Hang furs and leather goods to dry separately at room temperature.
Remove damp books from shelves and spread out to dry.
If damage occurs during a cool season, leave heat on; if in summer, use an air conditioner if available.
Don'ts
Do not use an ordinary household vacuum to remove water.
Do not use electrical appliances while on wet carpet or wet floors.
Do not go into rooms with standing water if the electricity is still on.
Do not lift tacked down carpet without professional help. Lifting the carpet incorrectly could promote shrinkage.
Do not wait to call for professional help. Damage from the water and bacteria growth can begin within hours.