Extraction & Drying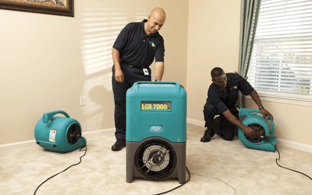 Remove Water
The first step in taking care of a water damaged area is to remove the water and all objects in the area where the water damage occurred. ServiceMaster Restore® professionals have special sensors and moisture readers to find hidden water and eliminate pockets of water and moisture that can cause higher humidity levels and ultimately, mold growth. We also remove water from the carpets, the padding, and the upholstery in order to prevent mold from growing.
Eliminate Moisture
Once most of the water is gone, the next step is to make sure all the moisture is out of the air. Leaving any moisture behind makes the area susceptible to mold and mildew, which can eventually cause health problems.

Dehumidifiers are used to draw out the moisture while high-velocity blowers move the air around to dry the area. This process works to bring the humidity levels in the home back down to normal.
Getting rid of the moisture also means removing all the wet items from the area. Including:
Furniture
Linens
Curtains
Rugs
Padding
Typically, water damaged carpet will have to be removed temporarily before drying it and putting it back in place. The padding needs to be replaced in almost all cases since it soaks up the water just like a sponge. It rarely cane be dried out enough to be reused.
Clean & Sanitize
Once the area is dry, ServiceMaster Restore® technicians clean and sanitize all the contents of the home. We make sure that everything is completely dry and clean so mold doesn't form and no microbial growth can cause health issues later on. Cleaning and sanitizing as part of flood restoration will also help to keep odors to a minimum.
Area rugs can be taken to our warehouse for special care as they need to be dried carefully to minimize bleeding of colors and discoloration.
Restoration & Construction
Once the area is sanitized and free of water and moisture, we can move to the restoration phase of our process.