Our Owners
ServiceMaster has been a family owned and operated business since its inception in 1982, when Bob Smith purchased his first franchise. Over thirty years later, Bob remains active in the business, but his son-in-law, Josh Kijanko serves as the Managing Partner.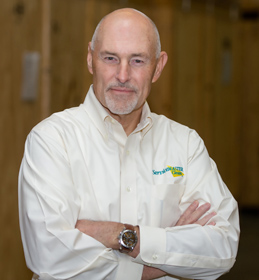 Bob Smith
Co-Owner
Bob Smith
Bob Smith joined ServiceMaster in 1977 in the management services division, and served as Resident Manager and then Regional Operations Manager in the Missouri area. In 1982, Bob purchased his first ServiceMaster Franchise. Over the years, Bob acquired additional franchises, thus providing restoration, construction, and janitorial services to the St. Louis area.
He has held a variety of offices within ServiceMaster at the corporate level, including his position as Chairman of the Franchise Council from 2005 to 2010. He has also served as the National Franchise Association Chairman, and is currently the Franchisee representative to the International Franchise Association.
Recognition
In his nearly four decades with ServiceMaster, Bob has received over 200 franchise awards. In fact, Bob is the only 3-time winner of the Marion E. Wade Award of Honor, ServiceMaster's most prestigious franchise recognition.
Education & Community Involvement
Bob earned his bachelor's degree in business administration and systems from Taylor University and over the years, has served in many community and business leadership capacities locally, nationally and even globally. Locally, Bob has been active in a number of organizations over the years.
Missouri Baptist University (Served on Board of Trustees from 1995 – 2005)
St. Charles County Chamber of Commerce
Commissioner of the Merit System Commission for St. Charles County
BOMA international
Better Business Bureau
Missouri Merchants and Manufacturers Association
Bob has been a member of First Baptist Church of Harvester for over 35 years where he has served on the Board of Stewards. He and his wife, Becky, have 3 daughters and five grandchildren and counting...
​
Josh Kijanko
Co-Owner & Managing Partner
Josh Kijanko
Josh joined the organization in 2006 Josh after a successful career in the financial services industry where served as Assistant Vice President of the premier retail brokerage firm, Smith Barney, a division of Citigroup Global Markets, Inc. In 2007, he and Bob purchased an additional ServiceMaster license in Troy, Missouri and Josh assumed the role of General Manager and then Executive Vice President in 2009.
Josh's leadership resulted in a large expansion of the organization's sales territory, which then led Josh and Bob to purchase additional licenses in Hannibal, MO (2009) and the Metro-East area in Illinois (2011). This growth led Josh and Bob to open two additional office locations in St. Peter's, MO and Collinsville, IL.
Recognition
Josh received the Marion E. Wade Achiever award in 2011 and the President's Achievement Recognition Award in 2009, and 2010 for an ancillary business, Furniture Medic.
Education & Community Involvement
Josh earned a Bachelor of Science in business systems and finance from Taylor University and a Master of Business Administration degree from The Ohio State University. He has been a guest lecturer at The Ohio State's Working Professional MBA program and a guest speaker at Taylor University in Upland, Indiana. Josh has been married for 11 years and is a proud father of three children. He has one son and two daughters. Josh is a covenant member at Matthias Lot Church in St. Charles and is an active committee member for local non-profit organizations including Youth In Need and Unlimited Play.