Hoarding Cleanup
Not only does a hoarding situation require experts who can navigate the issues, but also people who treat each client with compassion and respect. Dramatic action is required to address the hoarding problem and help the customer get on the road to recovery. At ServiceMaster of Tacoma, we provide compassion, professional expertise, an effective strategy, and the right equipment. Our professionals ensure proper debris removal, biohazard disposal, content cleaning for salvageable items, and general cleaning, sanitizing, and deodorizing services.Our process is proven to help resolve hoarding situations, large or small.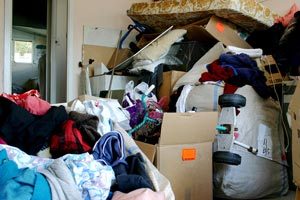 When you call us, you can expect a sincere and pragmatic approach paired with skills that can only come from specialty training. There's no need to be embarrassed if you find yourself, a family member or a friend dealing with a hoarding situation. It is estimated that 2-5 % of people in the world have some degree of hoarding issues. Compulsive hoarding is a complex disorder that can make it difficult for someone to part with possessions regardless of value.
A home that has been affected by hoarding can be unhealthy, dangerous or both. For a compassionate and professional approach to solving a serious problem, ServiceMaster of Tacoma is your trusted choice. Call us to talk to an expert who can create a customized plan for you.
Our services include:
Remove clutter and clean up debris
Help locate lost jewelry, hidden money and/or other valuable items
Coordinate recycling and shredding
Help distribute donations
Assist in distributing kept items to family members (local and national)
Help facilitate paperwork required by local governments or agencies
Our process is divided into three phases:
Phase 1:
Our first step is building trust. We work with the family and individuals to make sure everyone is on board, always keeping the customer in charge. This may include a reference to a local therapist or social services. We make the effort to fully understand the problem and connect with the customer before proceeding.
Phase 2:
The next step is to develop a restoration plan that serves as a roadmap to the entire cleanout. This step involves reorganizing spaces and remaining possessions. We handle all the details such as donation, recycling, and disposal of unwanted items and help families sanitize and display kept items in the home. We can also sort, document and help deliver donated items to the customer's selected nonprofit organization.
Phase 3:
The last step is to ensure the individual and family create a plan to keep and maintain a clean home, including short-term phone follow-up to see if the home is being maintained or if additional help is needed. Whether we're working with family members, a therapist, or the customer, we bring professional insight that will help the entire process be successful.
For hoarding and estate cleanup in King, Pierce, Thurston, Kitsap and Mason counties, call ServiceMaster of Tacoma. We're experts who have been serving the area since 1979. Our restoration professionals are available to help you when you need it most.