Water Damage Restoration in Tacoma, wa
Disaster Restoration Services Near You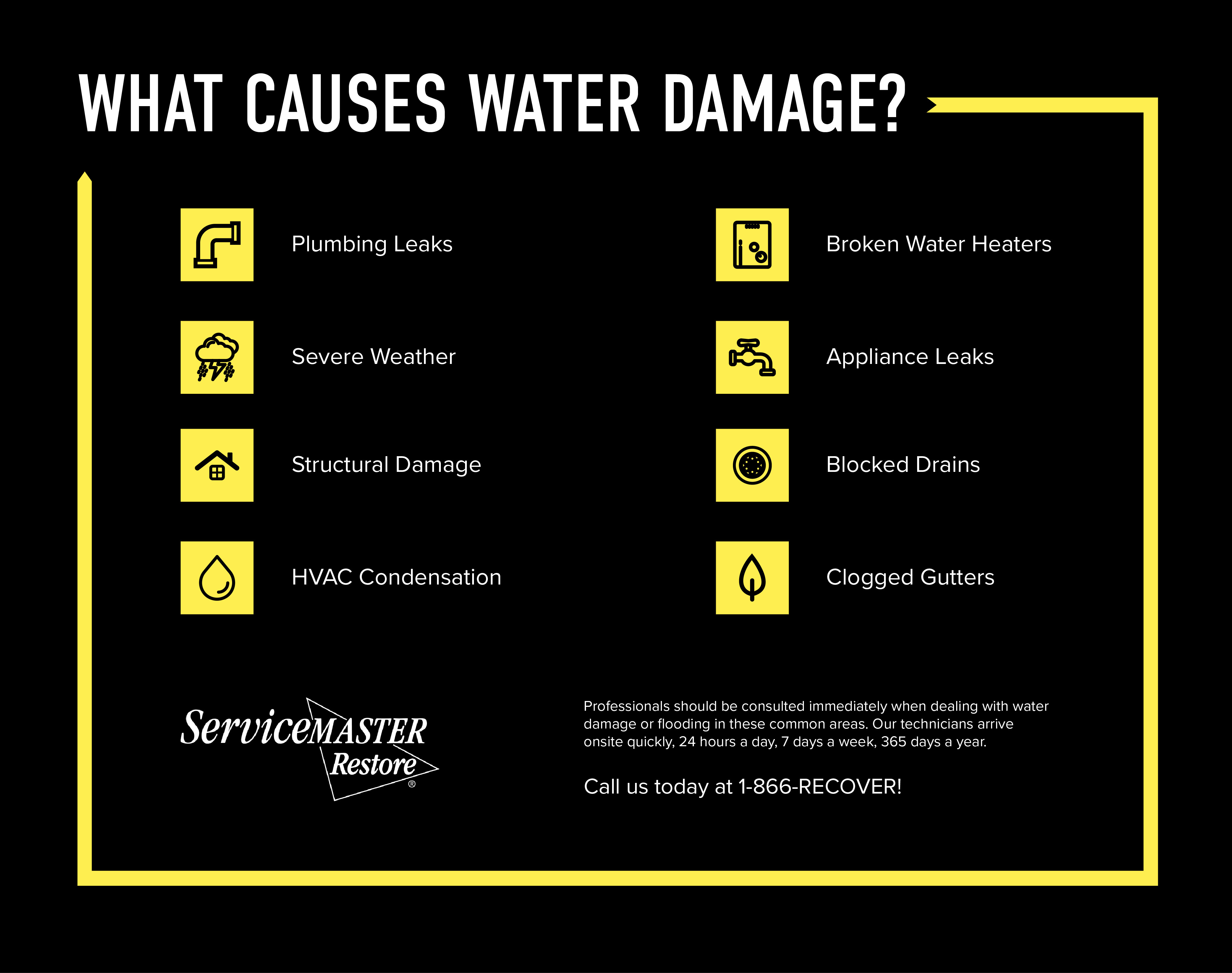 Water damage can happen at any moment and without warning. Here at ServiceMaster of Tacoma, we know that damage caused by water can increase substantially if prompt action is not taken. Water spreads rapidly from the source and will take the easiest path it finds—often downward into lower floors or through porous materials such as wood and sheetrock.
Serious damage can occur to flooring, drywall, furniture, cabinetry and much more. In addition to material damage from moisture, the possibility of a mold infestation increases if the area is not properly dried.
Contact us online or call (253) 201-1270 for water damage restoration in Tacoma, WA.
Emergency Water Damage Restoration Services in Tacoma
When water damage strikes your home or business, you need emergency services as soon as possible. That's why ServiceMaster of Tacoma is available 24 hours a day, 7 days a week, 365 days a year. Our skilled water restoration professionals can begin work within 2 to 4 hours of your call.
Our water restoration professionals are highly trained and experienced. Our team has been certified in water damage mitigation, mold remediation, and dehumidification with the most effective equipment. We arrive prepared to quickly and efficiently begin water removal, drying, and restoration to save your home or business and its furnishings.
How does our water restoration process work?
One of our highly trained technicians will arrive on-site within two to four hours of your call. After a thorough examination using specialized equipment and determining the extent of the damage, we will form the most effective plan for returning your property to pre-loss condition.
After the initial examination, we begin the process of water removal and drying. This involves the extraction of water from all the affected areas and setting powerful air movers and dehumidifiers to speed up the drying. We will schedule periodic inspections to make any adjustments as needed.
The last step is reinstallation and cleaning. This involves replacing affected items and cleaning where necessary. We use advance deodorizers and sanitizers to help return your property back to normal.
Contact the Restoration Pros at ServiceMaster of Tacoma
From your initial phone call until the job is finished, we make sure you have a full understanding of what will happen during the water restoration process. We help you understand each step of the process, so you can have peace of mind that things will return to normal. If you need restoration services in Tacoma, Pierce, Mason, Thurston, Kitsap, or King County, call ServiceMaster of Tacoma.
Looking for reliable emergency water damage restoration services near you? Contact us online or call(253) 201-1270 24/7 to hire our restoration specialists!
Frequently Asked Questions about Water Damage Restoration
How long does water damage restoration take?
Water damage restoration typically takes anywhere from a few days to several weeks, depending on the severity of the damage. If the initial water incident wasn't widespread and there wasn't enough time for water to really soak into material, your property should be restored and dried in just 2-3 days. However, if water damage is more extensive and enough time has passed for materials to become compromised, the restoration and repair process can take many weeks.
Can opening windows help speed up the drying process?
Opening the windows and getting fresh air circulating into your home can help out with drying. However it's important to check the humidity levels, as high humidity could have the opposite effect.
Why is there a musty smell in my home?
Musty odors are a common occurrence during the drying process. It doesn't always indicate the presence of mold, but it is an important possibility to consider. To err on the side of caution, our team can perform mold testing to check for the presence of mold and address them with mold remediation.