Water Damage Restoration in Indianapolis
water Restoration NEar You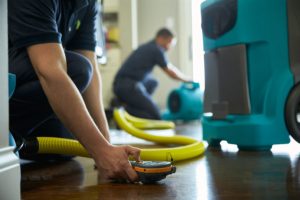 Experiencing water damage to your property can be a difficult and stressful experience. The uncertainty of both the extent of the damage as well as the repair process causes further anxiety and concern. Fortunately, you don't have to go it alone with these issues - our experts specialize in water restoration in Indianapolis and are ready to help 24/7.
\Water damage repair is a complex process that typically involves water extraction, drying, sanitizing and deodorizing affected areas, repairs to any structural damage, and restoring the area to its original condition.
Give us a call at (317) 648-5270 orcontact us online for water restoration in Indianapolis today!
It can be caused by burst pipes, leaking roofs or appliances, backed-up drains or sewers, water seepage from cracks in exterior walls, or water that has been on the ground for an extended period of time.
At ServiceMaster by Crossroads, our professionals are highly specialized in all water restoration solutions and are with you through every step of the recovery process. We work with you to ensure your home is quickly and effectively restored to its previous condition.
Our Indianapolis Water Damage Restoration Process
The water extraction process involves removing standing water from all affected areas. This can be done using a variety of methods, such as water vacuums and pumps. Once the water is removed, it must be thoroughly dried and ventilated to prevent mold and mildew growth. Dehumidifiers and fans may also be used to help with the drying process.
As part of the water damage repair process, any structural damage will also be addressed. This could include replacing drywall and flooring, repairing plumbing systems and electrical wiring, or patching holes in walls and ceilings.
Finally, our experts will take any final steps to restore affected areas to their original pre-damage condition. This includes replacing furniture, appliances, carpeting and other items. Depending on the severity of water damage, some items may need to be replaced entirely.
Why Partner with ServiceMaster by Crossroads After a Water Disaster
It is important to take the right steps when dealing with water damage in your home or business. Do not attempt water damage restoration yourself, as this could cause further issues and lead to dangerous mold growth.
It is also important not to ignore water damage for an extended period of time, as this can worsen existing problems and lead to more repairs and expenses down the road. So partner with our local restoration company right away when faced with indoor flooding and soaked-through materials.
Looking for water damage restoration near you? Dial or contact us online to get started!
You Have Questions & We Have Answers
PROVIDING YOU WITH ALL THE INFORMATION YOU'RE LOOKING FOR