Residential Fire & Smoke Damage Restoration in Green Island, NY
Reliable Restoration Services & Post-Fire Clean-Up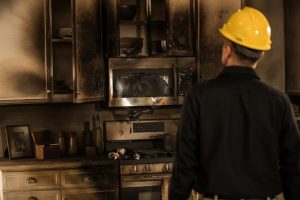 Unfortunately, extinguishing the flames is only the first step to recovering from a home fire. Once the smoldering embers cool and the smoke dissipates, you'll need to hire professionals to get to work right away. At ServiceMaster Restoration Services - Green Island, we're ready to come to the rescue. We realize that residual soot and smoke can continue to wreak havoc on your possessions and property – causing unsalvageable damage. That is why we work with the urgency and expertise you deserve – providing elite damage clean-up and restoration service to eliminate soot and smoke.
Dial (888) 678-7983 or contact us online to learn more about fire restoration near you today!
Lingering soot and smoke can be hazardous to the health of your property and the integrity of your home's infrastructure. Our professional restoration experts will arrive with cutting-edge tools and advanced techniques. We will quickly assess the damage, determine restoration costs, offer an upfront estimate, and get to work without delay.
Mitigating the Many Consequences of Smoke & Soot Damage
It is critical to contact a professional restoration company immediately after experiencing a fire. Smoke can discolor your walls, appliances, and surface finishes in mere hours.
Other common side effects of smoke damage include:
Tarnished metal
Etched glass
Corroded materials
Odorous furniture
And much more
Our emergency restoration specialists will go above and beyond to salvage your valuables and prevent the spread of smoke damage. We're on standby and available 24/7 to be of assistance when you need help the most. We understand that disasters never occur at convenient times. Fortunately, you can count on us at any hour.
Give us a call at (888) 678-7983 or contact us online to speak with a smoke damage specialist today!
Always prioritize your safety before we arrive. If your property is safe to enter, we recommend:
Change your furnace's air filter
Airing out your house
Avoiding damaged areas (the oils on your walls can permeate woodwork and upholstery)
Waiting for professionals to wash walls and remove soot
The ServiceMaster Difference
Backed by a franchise with over 65 years of experience, we have the knowledge and skills to help you regain your footing. Our residential and fire restoration specialists will:
Remove soot, odors, or stains from porcelain, chrome, brass, aluminum, tile, and marble
Clean and deodorize fabrics, carpets, and upholstery
Eliminate ash residue before it spreads
Break up smoke molecules with state-of-the-art chemical solutions
As you can see, it is wisest to rely on a restoration expert when it comes to post-fire clean-up responsibilities. Fortunately, our technicians are waiting and eager to help.
Consult with a fire damage restoration expert today by dialing (888) 678-7983 or contact us online now!