Commercial Damage restoration services
Commercial damage restoration services provide a comprehensive range of solutions to help property owners recover from the aftermath of severe weather, fire, smoke and water damage.
Homeless Encampment Cleanup in Ventura
Our homeless camp cleanup service is designed to help maintain the health and safety of those living in camps. We provide a comprehensive package of services, including trash removal and disposal, hazardous material removal, power washing surfaces for sanitization purposes, providing personal protective equipment (PPE) for workers on site as well as other necessary supplies. Our team also works with local authorities to ensure that all regulations are followed during the clean-up process. This ensures that everyone involved remains safe while we work together to create an improved environment for those who call these camps home.
Top-Notch Business & Home Restoration Services
ServiceMaster Restoration Services - Ventura is backed by a national brand that has over 65 years of experience in the restoration of commercial and residential properties. We are a trusted name in restoration services because of our well-trained and knowledgeable team of professionals, our 24/7 available service, and the quality of our work. We will take care of everything your home or business needs at this time.
CALL OUR RESTORATION COMPANY TODAY AT tel:(805) 608-3595 OR SCHEDULE DISASTER RESTORATION SERVICES IN Ventura
We have 4.5+ Stars on Google
Run By a Team with 20 Years of Industry Experience
We work around the clock to get you back on your feet
Our team has been described as "pleasant", "courteous", and "reassuring".
Team members are highly trained and IICRC certified
So, if you are looking for restoration services in Ventura, look no further and contact us today. We look forward to answering your questions and providing you with more information about our restoration company.
Interested in a career with A reputable restoration Company? Check out Jobs Available!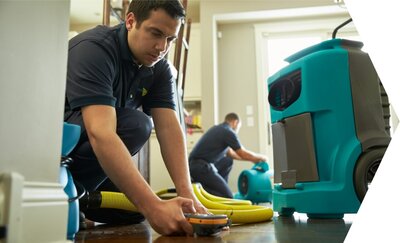 What is involved with mold mitigation and remediation?
Mold mitigation and remediation is a process used to address mold growth in homes or businesses.
It involves identifying the source of moisture that has caused the mold, removing any affected materials, treating any remaining areas with an anti-fungal agent, sealing off contaminated areas to prevent further spread of spores and ensuring proper ventilation throughout the property.
The process of mold mitigation and removal is necessary for maintaining a healthy environment and preventing further damage from occurring due to mold growth.
What is the difference between Damage Mitigation and Restoration?
While mitigation means to stop further damages and reduce the overall loss after a disaster, restoration services in Ventura are targeted at repairing or replacing damaged property and items to their pre-disaster condition. While restoration is not as urgent as mitigation, it is still crucial and must be completed with urgency. Depending on the significance of the damage to property and possessions, it could take a restoration company weeks or months to achieve complete property restoration.
One big misunderstanding about using restoration and mitigation services in Ventura is that they are more costly than replacing damaged items and property. In fact, most disaster damages can be mitigated and restored by arestoration company for much less than it would cost to replace everything. A professional restoration team can save whatever is salvageable and replace anything that isn't.
What Areas Do We Serve?
Our restoration professionals primarily provide services in Ventura County alongside some neighboring communities like Malibu to the south and Carpinteria just up on the coast. We work with businesses as well as homeowners facing disasters. Check out some of the communities we serve below.
Ventura
Oxnard
Camarillo
Simi Valley
Malibu
Canoga Park
West Hills
Chatsworth
Newbury Park
Thousand Oaks
Moorpark
Wildfires Are a Threat
Wildfires are perhaps the greatest natural disaster threat to business owners in Southern California. During the dry season, dozens of wildfires erupt across the region, oftentimes causing severe damage to businesses and their properties. At ServiceMaster Restoration Services - Ventura, we have seen enough devastation to know that knowledge and preparation are essential for protecting your facility.
Learn More about Wildfire Preparation