Ventura Mold Remediation Services
Professional Restoration Experts Here to Help You Get Back to Normal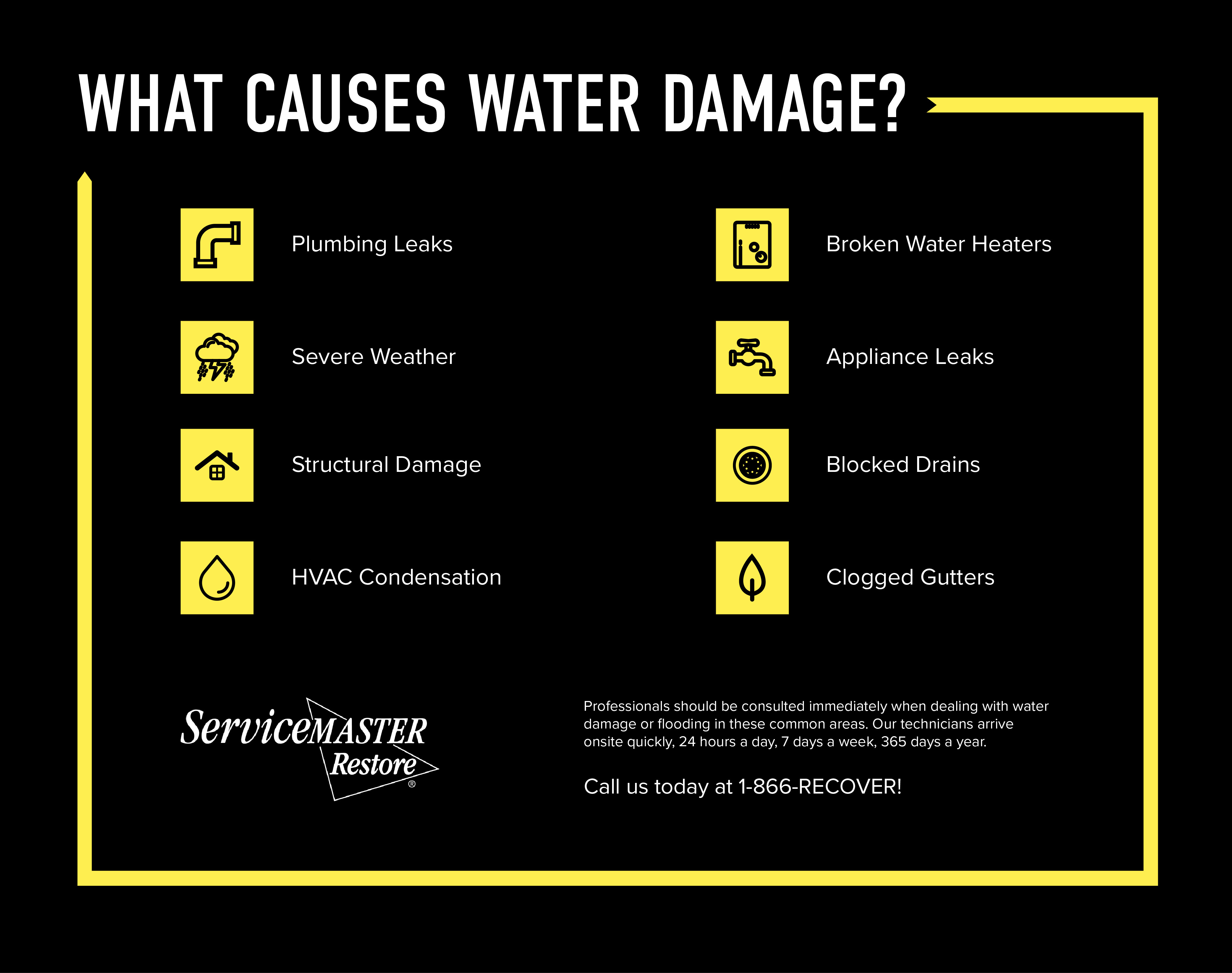 Mold can threaten any damp surface, from the ceilings, wallpaper, wood, to the drywall and wood flooring. Mold growth can start on any wet surface within just 48 hours. Without treatment, mold wreaks havoc not only on your property's very structure, but it poses serious health threats to you and your family.
If you suspect your home has a mold infestation or if your property recently has had standing water buildup, get in touch with our team at ServiceMaster Restoration Services - Ventura. Our Ventura restoration professionals answer our phone lines 24/7.
Our Mold Removal Process in Ventura
Our team has the techniques, tools, and technology to properly identify and remove mold with the proven ServiceMaster Restore strategy. Our strategy is a 6-step process:
Mold inspection and assessment
Standing water removal
Antimicrobial application
Air movement drying
Dehumidifying
Monitoring
For mold removal IN VENTURA, CA from a team of qualified specialists, call today at (805) 608-3595.
What Damage Can Mold Do to Your House?
While mold is undoubtedly unsightly, that's your least concern. Mold infestations can:
deteriorate your property foundation,
damage the heating and cooling units,
decay the drywall, cause the roof to cave in,
and the problems only escalate from there.
Toxic mold exposure is another serious threat, as exposure to black mold can:
aggravate allergies,
worsen asthma symptoms,
create breathing troubles,
lead to skin irritation,
and cause unrelenting headaches.
It's important to put professionals on the job for mold inspection and removal the very first time see mold so you can mitigate the damage it poses to your property and your health.
What Kills Black Mold on Wood?
Mold is commonly found in many places in nature, as it is a fundamental organism for decomposing and providing nutrients to the soil, making it necessary for life. However, having mold at home is a problem that can cause undesirable effects, such as health problems in people and aesthetic issues affecting the appearance of your house. Different types of mold can grow inside houses. One of the most common is colloquially called black mold and it is often found in wooden furniture and surfaces.
There are different ways to remove and prevent black mold on wood. Some popular products for removing black mold on the wood are borax, vinegar, and dishwashing soap.
You can use any of these solutions mixed with water in a spray bottle and spread it on the surface affected by black mold. Afterward, you can use a brush to brush the area to remove the mold and mildew. You may have to make several attempts to remove it. Remember to protect yourself and wear a mask, eye protection, and clothes that can be washed at high temperatures to prevent mold spores from spreading to other areas.
However, if the mold problem in your property is considerable or you have tried to solve it but are unsuccessful, there are professionals who deal with this type of problem and will help you to solve it safely and efficiently, saving money in the long run, because the longer you wait, the bigger the problem with black mold on your walls will be.
Remember that black mold can cause health problems related to a respiratory response, such as chronic coughing and sneezing, irritation to the eyes, mucus membranes of the nose and throat, rashes, chronic fatigue, and persistent headaches. Therefore, you should consider black mold a problem to be solved as soon as possible.
Our ServiceMaster Restoration Services - Ventura professionals know how to treat mold on wood. They will also help you inspect your home for mold in other places. If you want a long-lasting, effective, and cost-effective remediation, contact us today.
We Specialize in Mold Removal near Ventura for Homes & Businesses
Efficient, safe mold removal requires the knowledge of a capable team with experience and safety knowhow. That's where ServiceMaster Restoration Services - Ventura comes in handy for commercial and residential property owners experiencing mold.
Our team will be dispatched to your property to remove these harmful fungi and get the job done quickly so you can reoccupy the structure or reopen your business as soon as is safely possible.
Our team works efficiently and can make sure your home or business is ready for you to come back and return to life as usual. You're in great, capable hands with our team of mold remediation experts in Ventura.
Don't try to do it yourself – you'll ultimately reduce your suffering and save money by ensuring professionals are on the job who can take prompt action to mitigate the damage. We can also help with hoarding if you need assistance with cleaning up your property.
Call (805) 608-3595 for more info on Ventura mold remediation orfill out a form online.