Coronavirus Cleaning & Disinfection Services
The COVID-19 pandemic has drastically affected life around the world, leading people to become worried about their health and safety. As more businesses open, it is crucial for business owners and property managers to help protect the health of their employees, customers, and tenants. According to health organizations like the Centers for Disease Control (CDC) and World Health Organization (WHO), having your property disinfected is one of the best and most effective ways to prevent the spread of illness.
Working with renowned experts in the field of environmental science, ServiceMaster By T. A. Russell has developed preventative baseline disinfection protocols and standard operational practices related to the COVID-19 virus.
To best meet our clients' needs, we have developed two areas of disinfection and Covid cleaning procedures:
The first set of protocols addresses any preventative disinfection needs for facilities at a heightened risk of infection. This refers to any facility looking to take proactive measures to protect their customers, residents, or patrons.
The second set of standard operating disinfection and cleaning procedures relates to any facility that believes it has been exposed to the COVID-19 virus or has a confirmed case of the coronavirus.
Developing two sets of disinfection and cleaning procedures helps us maximize the effectiveness of the disinfection, while reducing any unnecessary cost.
Our preparation and disinfection protocols involve not only specific requirements for application, but also the disinfection systems to be used. We utilize strict personal protective equipment (PPE) standards for all employees throughout the entire process. Our technicians also use advanced equipment and EPA-registered disinfectants to eliminate dangerous pathogens.
With years of experience of handling similar outbreaks and pandemics, such as SARS and MERS, we are currently conducting disinfection and cleaning services for COVID-19 in Azusa, CA and the surrounding areas of Southern California.
Industries We Service for Coronavirus Cleaning and Disinfection Services:
Grocery Stores
Manufacturing facilities
Warehouses
Government Offices and Facilities
In a crucial situation, such as COVID-19 exposure, you need experts who not only know how to properly disinfect your commercial property or facility, but who have experience in doing so. ServiceMaster by T. A. Russell understands the delicate nature of managing a disinfection and cleaning project when a facility is exposed. We will work with you to make sure all aspects of your project are handled with the utmost professionalism.
If your commercial facility has a confirmed or suspected case of COVID-19, ServiceMaster by T. A. Russell has established protocols to provide the most effective disinfection and cleaning services available in Azusa and throughout Southern California. We developed these protocols and procedures by working with renowned experts in the field of environmental science. We will provide a detailed scope for every job to ensure the disinfection and covid cleaning plan is followed for your commercial facility.
ServiceMaster Coronavirus Cleaning and Disinfection Plan Includes:
Disinfection and covid cleaning procedures
Employee personal protective equipment (PPE)
Disinfection product use
A clear project communication plan to keep all stakeholders updated each step of the way.
We understand that the impact of exposure to a virus, such as COVID-19, goes beyond the facility itself and affects the morale of personnel, customers, residents, students, and the general public. Having an effective commercial covid cleaning and disinfection plan completed by leading experts in the field of coronavirus clean up and remediation is critical. Our professionals will work diligently to thoroughly disinfect your property, and protect your privacy as we work.
3-Step Disinfecting Process by ServiceMaster by T.A. Russell
ServiceMaster by T. A. Russell has developed a three-stage preventative commercial cleaning and disinfection process to provide the most effective results possible.
Pump-Sprayer Application: First, we use a pump-sprayer application system. This process involves spray disinfection of all horizontal surfaces, as well as any high-touch points. High-touch points include door handles, elevator buttons, escalator rails, mouse and keyboards, and more.
Manual Wiping: We follow up with manual wiping of high touch points and general areas to provide the most complete covid cleaning and disinfection of your facility.
Floor Disinfection: Lastly, we work our way backward out of each room, disinfecting the floor as we exit.
This three-stage preventative disinfecting process provides the most comprehensive preventative disinfection available. We use EPA registered hospital-grade disinfectants throughout the entire process.
Professional and Trained Disinfection and Covid Cleaning Technicians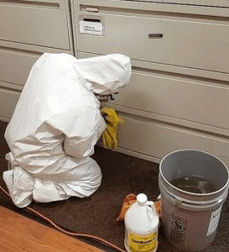 Established protocols are only effective if the technicians implementing them are properly trained. This is where ServiceMaster by T. A. Russell preventative disinfecting and cleaning services excel compared to a standard cleaning or janitorial company. We have years of experience in not only biohazard, crime, and trauma cleanup, but specifically with previous coronavirus outbreaks, like SARS. All our technicians are trained on the proper use of the disinfection products and systems, as well as the correct use of personal protective equipment (PPE). This is important to not only protect the technicians, but also to reduce the chances of cross-contamination or further spread of the virus.
Our project managers can provide pricing for the preventative disinfection of your facility. We will walk you through your specific cleaning plan, making sure to address any areas of concern. In addition, we can work with you to complete the service during off-hours to limit customer disruption, if that is preferred.
Contact Us for Commercial Cleaning and Disinfection Services in Azusa and Southern California
As the pandemic continues to grow, so does the demand for pre-and-post cleaning and disinfecting services. If you would like more information, or to schedule a walkthrough and quote for your facility or business, please call us at (866) 634-4764. We are available to provide disinfection and cleaning services in Azusa, CA and the surrounding areas of Southern California.