Water Damage Restoration NEar You
The team at ServiceMaster Restore of Redmond is here to provide the guidance, expertise, and personalized care you need during this stressful and often traumatic time.
Our Redmond water damage restoration experts are fully trained and certified and will communicate with you through every step of the process. When we are finished, we'll always follow up with you to ensure you're completely satisfied.
It is important to treat water leaks and damage as soon as possible. In addition to your furniture and belongings becoming water-logged, it also creates the perfect environment for mold. All it takes is 48 hours for a mold colony to put down its roots.
Water damage repair is essential as water damage left untreated can create future damages to your home and worst of all severe health risks. Don't let water damage affect you any longer, contact us online for water remediation today!
WHETHER YOU NEED WATER DAMAGE RESTORATION, MOLD REMEDIATION, OR ANYTHING IN BETWEEN, WE'RE HERE TO HELP! CONTACT US ONLINE TODAY.
Redmond Mold Removal & Remediation Services
If you suspect you have a mold problem, or if you recently suffered a water leak or flood, it is recommended that you have a specialist conduct a mold inspection.
By doing so early on, you may be able to avoid future damages to your home by assessing the source of the mold damage and then starting the mold remediation and removal process.
When left untreated, mold can bring a host of problems:
Health issues: Mold exposure can cause headaches, runny nose, sinus congestion, sneezing, coughing, wheezing, and more. It can also bring on asthma attacks in those who have asthma.
Structural damage: A mold infestation can damage walls, carpets, flooring, insulation, etc. In the worst cases, mold will eat away at a property's structural integrity, causing the ceiling or floors to collapse.
Please note that do-it-yourself mold removal is not the best idea. Exposure to mold, as noted above, has its health risks. In addition, it is all too easy for a nonprofessional to botch the mold remediation process.
If you've found mold damage in your home, contact our team online for fast and effective mold removal in Redmond!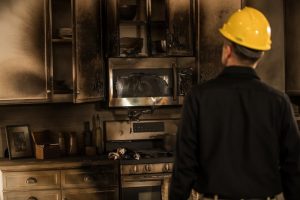 Fire damage restoration in Redmond
When fire strikes, it can be a very stressful and overwhelming experience as the road to recovery appears far off. However, with ServiceMaster Restore of Redmond by your side, we can get your home or business restored to its pre-fire condition in no time!
From fire damage repair to smoke damage restoration, our team is highly specialized in all fire damage restoration solutions to ensure you the best results.
We understand fire and smoke damage can happen at any moment's notice and the importance of quick response times which is why we offer 24/7 availability.
When you partner with our team for fire damage restoration in Redmond, you can be at peace of mind knowing you will have support at any time of day, as we strive to get your home or business restored as quickly as possible!
What goes into fire restoration?
Fire restoration is an incredibly complicated process that requires expertise, state-of-the-art technology, and the right products. Fire cleanup and repair can take weeks or even months depending on the severity of the damages.
Fire restoration involves securing hazardous locations, performing content inventory and packouts, cleaning remaining debris, mitigating fire and smoke damage, removing water from firefighting efforts, rebuilding affected areas, restoring contents that were salvaged from fire damage, and repairing any damages to existing property.
Fire restoration is an important step in allowing a home or business to return back to its original state as quickly as possible!
Don't stress about mold, water or fire damage any longer!contact us online for reliable and effective restoration in redmond!