VANDALISM CLEANUP in Des Plaines
Restoring vandalized property with efficiency and quality. Vandalism losses can vary highly in damage. Unfortunately, these losses are all too common. Our cleaning experience combined with the tools we have on hand will get your property back in tip top shape.
VANDALISM CLEANUP: HELPING YOUR PROPERTY LOOK LIKE NEW AGAIN.
Removing graffiti or other malicious damage as soon as it appears makes it easier to clean and reduces the risk of vandals doing it again.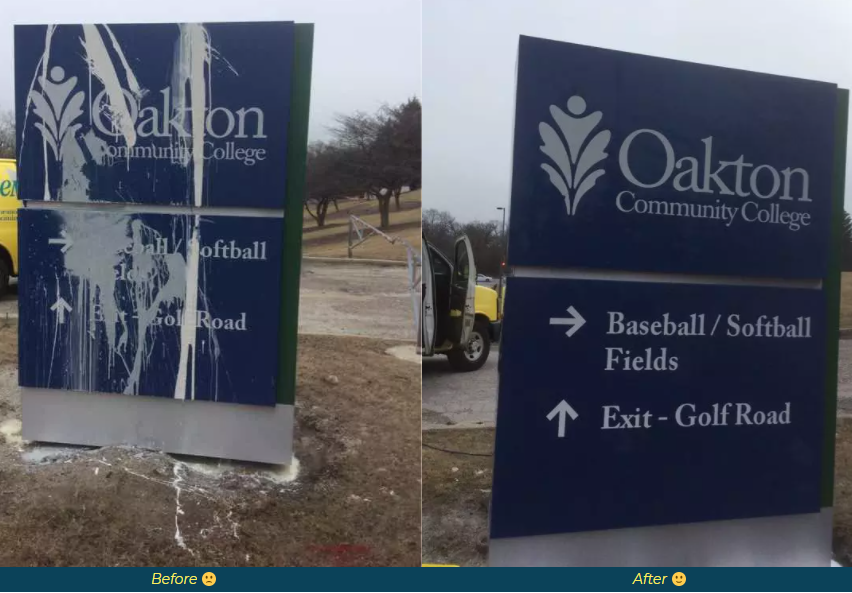 GRAFFITI / VANDALISM CLEANUP & RESTORATION
Vandalism has the potential to physically harm individuals on your property, by creating an unsafe environment. It can cause significant physical damage to the exterior and interior of your building. Paint can also become a major problem, as other vandals are likely to add to the "artwork". When these events occur, ServiceMaster Restore DCS will respond promptly and provide board up and tarping services to block off affected areas. Our technicians are highly trained and experienced when it comes to restoration and sanitization services. We leverage this experience when providing graffiti and vandalism cleanup services. When necessary, we can also work with your building contractor to guarantee a seamless rebuilding process.
By addressing vandalism and graffiti swiftly, you can return to normal operations sooner, and avoid the risk of further damage being sustained. Our services will assist with:
A reduced risk of additional vandalism
Decreased threats to security
The preservation of evidence
In residential settings, it can be frightening to know that vandals are roaming your area. In commercial scenarios, it is never easy to deal with the potential shutdown of operations. Through our services, we do everything we can to provide you with excellent results and greater peace of mind.
Graffiti and vandalism are common occurrences affecting homes and businesses, and the results are generally the same: you are stuck with cleaning or repairing the damage as you try to return to normal day-to-day activities. At ServiceMaster Restore DCS, we help you through this process with our detailed graffiti and vandalism cleanup services.
Whether you are dealing with broken windows and doors, spray paint, or compromised walls and ceilings, we have the equipment, products and procedures to restore your building. We proudly provide these services to property owners in South Wisconsin and Illinois.
OUR VANDALISM RESTORATION SERVICES
When it comes to your home or business, don't trust just anyone to clean it. We understand how shocking it can be to come home to find your property vandalized. Our certified restoration experts in Des Plaines work with precision and skill to get your place back to its previous condition. We try to make the process as seamless and easy as possible.
Graffiti Removal
Power Washing
General Cleanup
Disinfecting
Deodorization
FREQUENTLY ASKED QUESTIONS​
WHAT SHOULD YOU DO IF YOU EXPERIENCE VANDALISM DAMAGES ON YOUR PROPERTY?
Vandalism on commercial property often involves spray paint on walls, defacement of furnishings, or spreading noxious substances. It is one of the most difficult forms of damage to restore.
Prompt action can often minimize the effect of vandalism or make restoration more successful.
Do wash any egg or other residue from the building exterior.
Do remove any debris or food from carpets or interior walls. Scrape or blot carpets and furniture—do not rub.
Do vacuum glass particles from carpet and upholstery. Do not walk barefoot in the area of glass residue.
Do save any information about the type of liquid that was spread over surfaces.
Do make a list of all damage items
WHAT SHOULD YOU NOT DO IF YOU EXPERIENCE VANDALISM DAMAGES ON YOUR PROPERTY?
When faced with vandalism to your residential or commercial property, it is best to seek the aid of a professional, licensed and certified cleanup and restoration company like ServiceMaster Restore DCS specialists. Many kinds of property damage require very specific cleanup to ensure the damage doesn't spread, and that no one is hurt during the restoration process.
• Don't attempt to remove chemical stains such as ink or paint.
• Don't operate damaged electrical appliances.
• Don't throw away damaged wood chips or other small articles. They might be helpful for repair.
• Don't use household cleaning products on fabrics, upholstery, or carpet without consulting your professional cleaner.