Des Plaines Water Damage Restoration
Your Local Water Damage Restoration Company Since 1986
We bring in the best when the unexpected happens.
At ServiceMaster Restore DCS, we know that damage caused by water can increase substantially if prompt action is not taken. That is why our restoration and cleanup services team is on call 24 hours a day, 7 days a week and 365 days a year. We provide water extraction, drying, and dehumidification services to ensure that no excess moisture remains hidden behind walls or within the materials of your home.
FLOOD CLEANUP SERVICES
There are many scenarios that cause water damage to your home or business. ServiceMaster Restore DCS knows that water damage emergencies in your home can be traumatic for you and your family. That's why it's critical for professionals to immediately address, assess and fix the problem. When our team arrives on the scene, we will get to work to identify sources of water like leaks, broken irrigation, or damaged appliances. Once we isolate the origin of the problem, we will quickly begin applying the most effective solutions for drying your home and keeping water out for good.
CAUSES OF WATER DAMAGE
STORM DAMAGE THAT CAUSES FLOODING
Heavy rainfall can put any building's foundations to the test. When storms get intense, water becomes powerful and destructive literally a force of nature. Whether it's a flash flood, hurricane, tornado, or blizzard, when water hits your property all at once, it's a serious matter. No one can be prepared for every eventuality, but when something goes wrong, you'll have our help.
BASEMENT FLOODING
Basements are magnets for runoff water, whether from rain, roof drainage, a malfunctioning sump pump, or some other source. It only takes one crack in the foundation for water to flow in. ServiceMaster Restore DCS professionals are highly trained to get water out of your basement, clean and preserve your possessions, and dry everything quickly to minimize damage. We don't quit until we verify that the job is done.
SEWER BACKUPS & PROBLEMS
Not only can a sewer backup lead to flooding, the result is sometimes dangerous. Gray- or black-water contamination can contain pathogens that lead to infection or serious illness. Flooding from sewer blockages should be considered an emergency and be dealt with immediately.
APPLIANCES LEAKS & BROKEN PIPES
When your faucet, tub, water heater, or other appliance leaks, the results can vary from annoying to devastating. Water that builds up on a floor can make its way inside, collecting in hard-to-reach places. You then run the very real risks of wood damage and mold contamination.
FIREFIGHTING RUNOFF
If your property caught on fire and firefighters were called in, or you dealt with the fire yourself with water, you may be dealing with the one-two punch of both fire damage and water damage. ServiceMaster Restore DCS has the expertise to fully restore your home, addressing both types of damage at once..
CONTENT AND DOCUMENT DRYING
At ServiceMaster Restore, we set industry wide standards and apply more than 65 years of experience to recovering your important documents, using a step-by-step process to return them to pre-loss condition. Call the experts at ServiceMaster Restore today.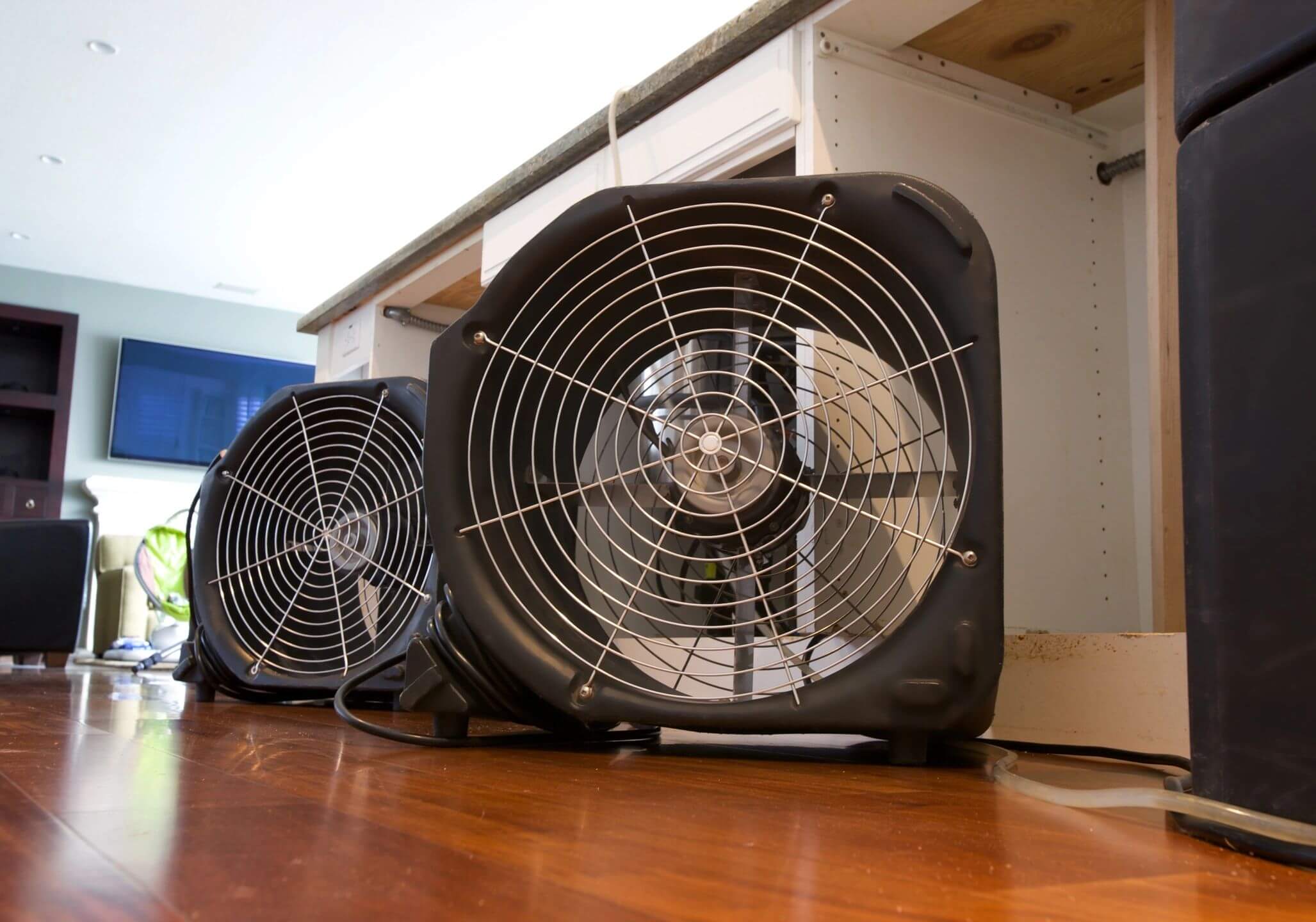 For dependable water damage restoration and repair services in Des Plaines, call us at (847) 957-9746 or contact us online today.
Flooded Basement Cleanup
Basements are the lowest point in a home and tend to flood first during any kind of rainstorm. When the unanticipated happens, we are onsite within 2-4 hours to bring back your home as quickly as possible. With rapid response, your floors, walls, and personal estate can often be restored. Water interruptions can occur in basements from sources inside and outside the building.
Excessive rain or snow melt can over-saturate the ground, resulting in hydro-static pressure. Hydro-static pressure occurs when moisture outside of the basement or foundational wall exceeds the pressure inside. Water will naturally seek the lower pressure, resulting in foundational leaks and even cracks.
HERE'S HOW WE GET YOUR HOME BACK TO ORDINARY:
We use branded products developed solely for ServiceMaster Restore.
We eliminate the water quickly and professionally—before the water starts to cause structural damage and secondary water problems.
We bring in dehumidifiers that work to eliminate the moisture and start changing the air to help to dry out the basement.
Once the water and the moisture are eliminated, we will clean, sanitize and treat the area with an antimicrobial agent to make sure that fungus does not form.
We work with you through every step of the procedure and often work with your insurance company to get your claims handled as quickly as possible.
A flooded basement is not only one of the most devastating events your home can encounter. It's also one of the most emotionally hectic events you may ever go through. Our crew of trained, caring and professional water-damage specialists is here for you and your loved ones. We will guide you through the procedure and do everything as quickly and efficiently as feasible in order to get your home and life back to normal. We can also guide you on how to avoid future problems from flooding and moisture.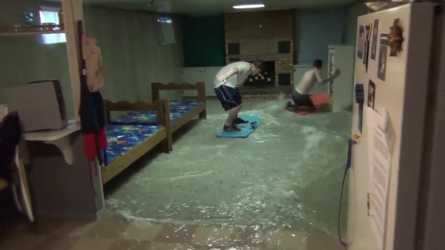 SERVICEMASTER RESTORE DCS WATER MITIGATION AND RESTORATION SERVICES
ServiceMaster Restore DCS is always there for you with 24/7 emergency services. Whatever the cause of the water damage in your home or business, we offer a full menu of service options to restore your property, including:
Water Damage Assessment
Water Extraction
Drying Of Affected Areas
Cleaning and Restoration
Remediating Mold and Mildew Damages
Locating and Repairing the Source of Leaking Water
Reconstruction Services and Storm Damage Repair
Using special equipment, chemicals, and protective suits, our technicians will isolate, clean, disinfect and decontaminate each surface properly. We clean and sanitize the building, neutralize any odors and seal and remove all contaminated materials for disposal at a licensed waste facility.
Why Choose Us?
When it comes to water damage restoration, you need a company you can trust to handle the job efficiently and effectively. At ServiceMaster Disaster Clean up Services, we have provided top-quality restoration services to the Des Plaines community since 1986.
Here are a few reasons why homeowners choose us:
Experience: With years of experience in the industry, we have the knowledge and expertise to handle any water damage restoration project.
24/7 Emergency Services: Water damage doesn't wait for convenient hours, and neither do we. Our 24/7 emergency services ensure we're always prepared to respond quickly, minimizing damage and restoring your property promptly.
Advanced Equipment: We use modern equipment and advanced techniques. Our commitment to using the latest technology allows us to perform thorough and efficient water extraction, drying, and restoration. We'll help remove excess moisture and prevent further damage to your property.
Trained and Certified Technicians: Our technicians are highly trained and certified in water damage restoration. They undergo regular training to stay current with industry standards and techniques, ensuring you receive the best service possible.
Insurance Assistance: Dealing with insurance companies during a water damage emergency can be daunting. Our team is well-versed in navigating the insurance process and will work directly with your insurance provider to ensure a seamless and stress-free experience.
Don't let water damage disrupt your life. Contact ServiceMaster Disaster Clean up Services today for all your water damage restoration needs.
For professional water mitigation and restoration services in Des Plaines, call us at (847) 957-9746 or contact us online today.